---
Appreciating Asimen: Ethnobotany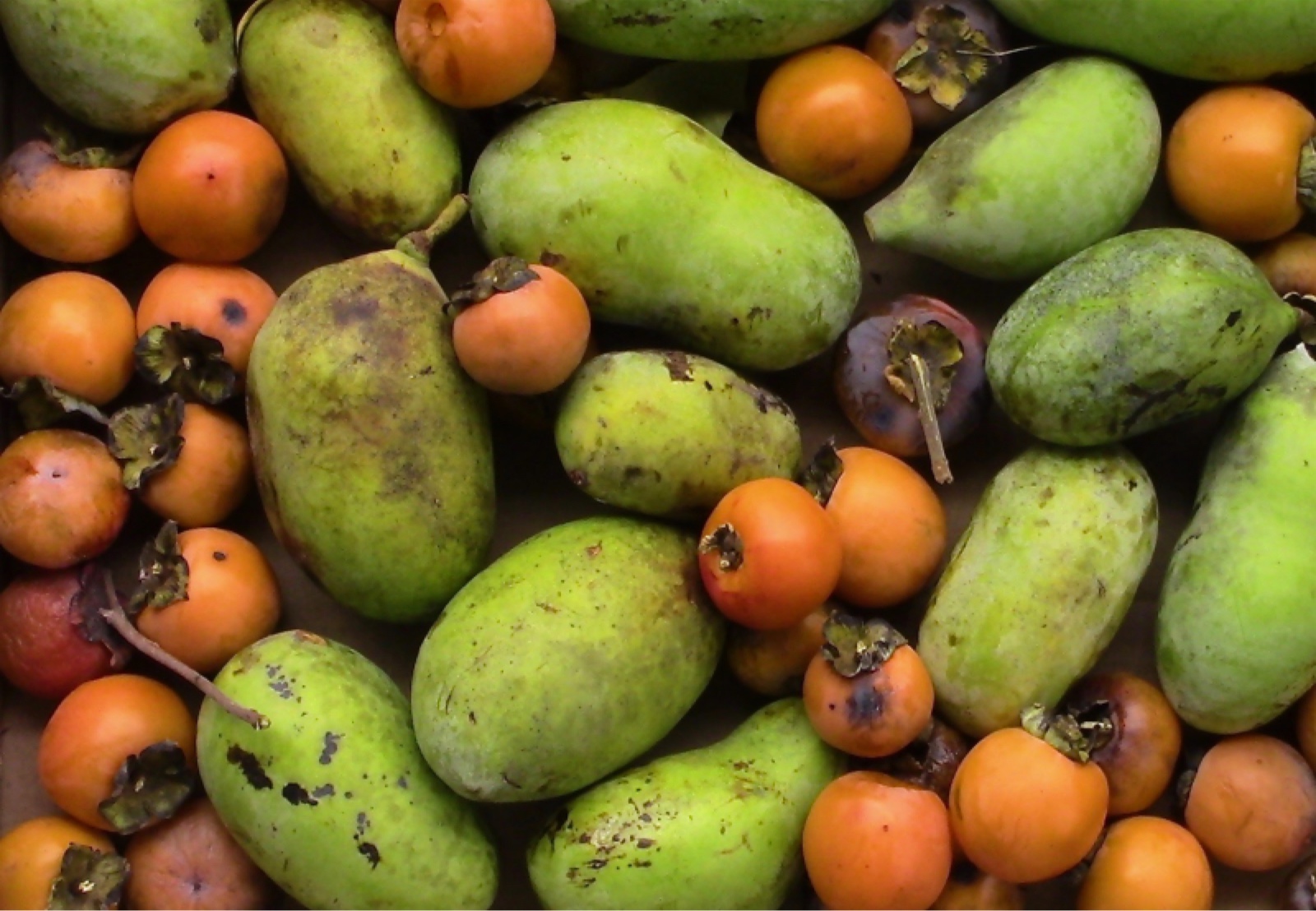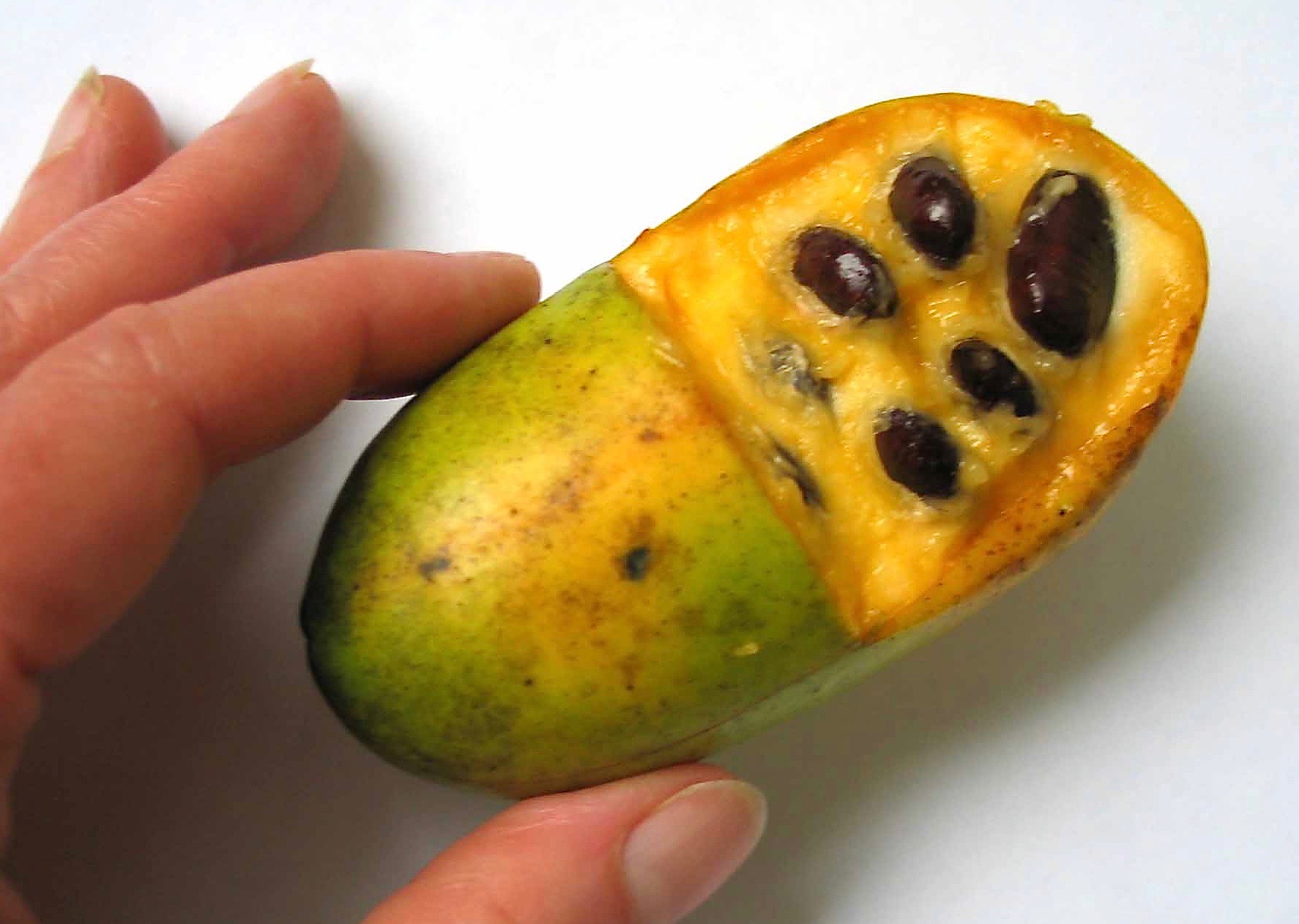 Photos by Connie Barlow
ABOVE: Connie Barlow purchased this box of native pawpaw and persimmon at the U-pick orchard of Marc Boone, near Ann Arbor MI, early October 2020.
ASIMEN is not only the largest fruit in America, it also excels in taste and nutrition, as in this characterization by Sheri Beth Crabtree, in her master's thesis at the University of Kentucky, 2004, titled "Sexual and Asexual Reproductive Characteristics of the North American Pawpaw":
The fruit is very sweet, with a strong aroma when ripe and soft custard-like flesh. The flavor of the pawpaw fruit is unique, having been described as resembling banana, mango, pineapple, or melon. The fruit are also highly nutritious, containing double the vitamin C of apples, peaches, or grapes, amounts of vitamin A similar to apples and grapes, higher levels of many minerals, including potassium, phosphorus, magnesium, calcium, and iron, than apples, peaches, or grapes; and high levels of several essential amino acids (Peterson et al., 1982).
There are many references to INDIGENOUS and EARLY SETTLER uses and appreciation of pawpaw fruit. For example:
"Some Native American tribes cultivated the pawpaw for fruit and are responsible for its widespread range today. The Cherokee and many other tribes used the pawpaw fruit for food. The fruit, which is the largest edible fruit native to America, is high in amino acids. The Iroquois used the mashed fruit to make small cakes that were dried and stored. The dried cakes were soaked in water and cooked to make a sauce or relish that was served with corn bread. Raw and cooked fruits were dried by the sun or on a fire. These were stored for use in the future or taken on hunts. The Cherokee used the inner bark to make cordage. By twisting the bark, they made string and strong ropes." Excerpted from "USDA Plant Guide: Pawpaw".
"The pawpaw has a rich history as an important food source to Native Americans, early European explorers, and early settlers of North America (Pickering, 1879). Native Americans likely aided in the distribution of pawpaw across North America, with evidence of the Iroquois tribe bringing pawpaws into central New York, where they were not found previously (Keener and Kuhns, 1997). The pawpaw was first formally noted in 1541, by the De Soto exploration group in the Mississippi River valley (Sargent, 1890). Lewis and Clark wrote in their journal that when rations were low, their exploring party subsisted mostly on pawpaws, and enjoyed the taste (Pomper and Layne, 2005). Early settlers depended partially on pawpaw to sustain them in times of crop failure (Peterson, 1991)." Excerpted from "Sexual and Asexual Reproductive Characteristics of the North American Pawpaw [Asimina triloba]", master's thesis by Sheri Beth Crabtree, 2004, University of Kentucky.

"There is evidence that humans played a role in pawpaw dispersal as well. 'Natives in the eastern half of the country have always used pawpaws,' said Dr Devon Mihesuah, a citizen of the Choctaw Nation who holds the Cora Lee Beers Price professorship in International Cultural Understanding at the University of Kansas. 'Iroquois reportedly mashed pawpaws and made the flesh into cakes and then dried them in the sun. They were used as a travel food or mixed with water into cornbread.'" Excerpted from "The revival of a forgotten American fruit", by Jonathan Shipley, 2022, BBC Travel.
Connie Barlow queried a friend, Lamar Marshall, who documented the traditional trail system of the Cherokee, using archived texts and maps followed by field investigations of each. His work was sponsored and is owned by the Eastern Band tribe of Cherokee in western North Carolina.
LAMAR MARSHALL replied to Connie 2 April 2021: "... Regarding pawpaws, we don't have near as many in the Southeast as the central and northeast states. They occurred down through Alabama but they rarely fruit there and here in the Blue Ridge. I was told by old timers down in Alabama that pawpaw was used for firemaking and cordage. We used it extensively for hand drills and fire boards. One of the best and softest for getting coals fast. As far as primary sources, very few in my possession and I haven't checked the archaeological research from those recovering seeds and food remains in fire pits. U.T and Chapel Hill folks have done a lot. I attached two references you likely have. One from the encyclopedic Native American Botany by Moerman and the other Plants of the Cherokee by William Banks. The latter is from a thesis done about 1950 with the author actually gathering first-hand data from Cherokees. It includes the Cherokee name. I have attached excerpts from both books. If I find anything further, I will get it to you."
John Ambrose, a retired botanist in southern Ontario Province, wrote in an email (4 August 2021) to Barlow:
"I remember thinking that the pawpaws in s. Ontario must have arrived by canoe; all are delicious and the ones in the US are sometimes said to be insipid, so some human selection likely has taken place, plus almost all Ontario populations occur in river floodplains."
An excellent academic paper that aggregates previous studies in listing pawpaw among some 20 native fruit and nut trees planted by the Indigenous prior to European colonization is: "Native Americans as active and passive promoters of mast and fruit trees in the eastern USA", by Marc D. Abrams and Gregory J. Nowacki, 2008, The Holocene:
Fleshy tree fruits were used for complex carbohydrates, vitamins and minerals and at least 20 fruit- and berry-producing trees native to the eastern USA were commonly consumed by Native Americans (Table 1). In the southeast USA, persimmon (Diospyros virginiana), elderberry (Sambucus), hackberry and sugarberry (Celtis), hawthorne (Crataegus) and pawpaw (Asimina triloba) were most accessible (Fogelson, 2004: 62). They eliminated the astringent taste of persimmon by leaving the fruit on the tree until after the first frost (Briand, 2005). Fruits and berries could be eaten in season or dried and used throughout the year (Lieberman, 1984). Cherokees girdled trees and used fire to clear areas to stimulate production of woody shrub and vines important to their diet, such as raspberry, elderberry, blackberry, blueberry, huckleberry and grapes. They ate wild cherries (Prunus), pawpaw, mulberry (Morus), serviceberry (Amelanchier) and persimmon. Creek Indians ate fruits of plum (Prunus), mulberry, persimmon and honey locust pods (Fogelson, 2004: 375-76). Seminole Indians in northern Florida were reported to have large groves of wild sour orange (Citrus aurantium; introduced by the Spanish) near their villages, and their diet also included native fruits of wild plum, wild cherry, pawpaw and the berries of many shrubs (Fogelson, 2004: 342, 431, 456).
... The northern migration of pawpaw to Ohio and New York was thought to have been facilitated by Iroquois transport and planting (Keener and Kuhns, 1997), but it was later argued that the distribution of the species could be explained by mammal dispersal (Murphy, 2001).
Tim MacWelch, published this survivalist advice 27 August 2021 in Outdoor Life magazine: 9 Reasons the Pawpaw Is the Ultimate Tree for Survivalists.
EXCERPT: "7. Make a Friction Fire: Pawpaw gave me one of the best results I have ever had in front of a class with a field-built bow drill set. While taking a class to look for friction fire equipment along a river's edge, a small pawpaw grove just kept giving and giving. I found some great branches for a drill and board that were both dead and dry, but not rotten. I was able to find another branch that was flexible enough for a bow. I stripped off some very rotten fibrous bark for tinder, and less rotten bark for cordage on the bow. The only part that wasn't pawpaw was my handhold block, which was a local piece soapstone that I drilled out with a small chunk of harder stone. The whole kit came together in roughly 30 minutes, but the most astounding part of the demo was the part where it worked on the first try. Field-built kits often need tweaking and part substitutions before they start working, but that sweet little kit worked right away (which, as any instructor will tell you, usually doesn't happen when people are watching). Pawpaw can give you great wood for friction fire components like drills and boards. As we've already discussed, the rotten bark can also be found in stages of decomposition that allow it to be both tinder and cordage material. You could even use branches as bows and chunks of wood for handhold blocks."
---
Pawpaw: In Search of America's Forgotten Fruit

This 296-page book by Andrew Moore was published in 2015 by Chelsea Green. It surveys past and current uses and appreciation of asimen by indigenous cultures and early settler cultures. Chapters 13-19 survey past and present human relationships with asimen region by region. "Pawpaw is ancient and belongs to an earlier culture." (p. 86)

Pages 9-10, 155: brief survey of indigenous ways of preparing and preserving the FRUIT of asimen, including drying the pulp for later use, and its nutritional values.

Pages 11, 172, 223: Indigenous uses of fibrous INNER BARK for rope, nets, and footwear were widespread in the eastern USA.

Page 83 (and other pages): Asimen is ideally suited for wild gathering in that its foliage is not browsed by deer and its fruit hosts no insect larvae.
The beginning chapters of Moore's book reveal that the pawpaw cultivars now sold by nurseries and planted in commercial orchards were selected by the dominant culture barely a century ago from wild patches. Very little, if any, subsequent breeding ensued. (Nurseries propagate cultivars not from seed but by grafting cut stems onto rootstock; this ensures stable fruit qualities.)
Because these cultivars trend from northern states (like Indiana, Illinois, Ohio, and Michigan), evidence is strong that native Americans not only greatly assisted pawpaw in migrating as far north as climate warming enabled, but also selected seeds from their preferred patches. The first peoples thus engaged in horticultural selection of pawpaw for human consumption, just as they did for traditional crops of squashes, beans, and maize.
In 2021, a photo-rich essay summarizes the horticultural history of pawpaw from the standpoint of colonial, settler culture: "The Mad Scientist of Pawpaws", by Bill Heavey, February 2021, Garden and Gun Magazine.
---
Toward Renewing and Expanding Reciprocity

PRACTICAL OUTCOMES: Might this field study yield results that help recover reciprocal interactions for assisting asimen in the wild, along with renewed gathering opportunities for humans?
Q: If the wild patch is missing pollinators, will we find ways to encourage pollinators to return?

Q: If the wild patch lacks genetic diversity and thus cannot self-fertilize, will we offer the patch seeds from elsewhere?

Q: If the patch is too shaded to bring fertilized flowers into fruit, will we seek out where and how to offer canopy breaks?

Q: But if this ancient wild patch regards seeds as a necessity only following disturbance, how will we hear that and how will we respond?

And just who is WE? And by what process will discernment be undertaken?
"The idea of reciprocity with land is fundamental to many indigenous belief systems. Indeed, such beliefs serve as the foundation for what have been described as cultures of gratitude. In such cultures, people have a responsibility not only to be grateful for the gifts provided by Mother Earth, they are also responsible for playing a positive and active role in the well-being of the land. They are called not to be passive consumers, but to sustain the land that sustains them. Responsibilities to the more-than-human world are simultaneously material and spiritual, and, in fact, the two are inseparable. Ecological restoration can be viewed as an act of reciprocity, where humans exercise their care-giving responsibility for ecosystems."
• REVITALIZING HUMAN RECIPROCITY WITH THE FRUITS OF ASIMEN. There is little debate that humans in North America have been crucial dispersal agents for helping Asimen track the warming climate northward as the glaciers retreated. Whether or not seeds were intentionally selected, carried, and planted, it is indisputable that,
"As the ice retreated from its last southward advance, which peaked about twenty thousand years ago, four of the five above-mentioned anachronistic trees of eastern and central North America would have been helped to reclaim former territory by newly arriving humans. Pawpaw and persimmon fruits would have been carried back to camp, their seeds removed or spit out at the time of eating." — Connie Barlow, 2001, "Anachronistic Fruits and the Ghosts Who Haunt Them", Arnoldia
• WIKIPEDIA "Asimina triloba": "The natural distribution of the common pawpaw in North America, prior to the ice ages and lasting until roughly 10,000 years ago, was done by certain megafauna until they became extinct during the Quaternary extinction event. After the arrival of humans and the subsequent extinction of megafauna that were distributing A. triloba, the probable distribution of these large fruit-bearing plants has been by humans."
ABSTRACT: Predictions of species' responses to accelerating global climate change require an understanding of historical range shifts. However, large-scale phylogeographical studies of Eastern North American understorey plant taxa are relatively scarce. Here we employ ecological niche modelling and genetic analyses for inference of optimal pawpaw habitat in the past and future.... Models suggest that 22,000 YBP A. triloba was restricted to two major refugia in narrow bands of mostly now-submerged habitat and possibly several small inland refugia. Molecular data are consistent suggesting that the eastern refugia expanded to give rise to the eastern cluster which is characterized by higher genetic diversity. The Gulf of Mexico refugium likely gave rise to populations in the western cluster, which is characterized by lower genetic diversity.

22,000 years ago Year 2070 projected range

ABOVE: Green signifies the geographic range of the most suitable habitats past and future. LEFT: Refuges for pawpaw during last glacial maximum, 22,000 YBP (low sea level at that time enabled retreat to coastal areas now underwater). RIGHT: Projected ideal range in 2070 (using IPCC high emissions scenario).

"Given the low fruit-set observed in populations at the northern edge of the current range (Wyatt, unpublished data) and limited vagility of contemporary seed dispersal vectors (gravity and small mammals), A. triloba is unlikely to expand its range rapidly and track environmental changes in lockstep.... Although our models indicate that optimal habitat will expand significantly, between the possible loss of southern populations and environmental change that outpaces the rate of dispersal and colonization at the northern edge, the realized distribution of A. triloba may diminish by 2070."