Location is NE-facing slope of a NW-to-SE ravine with perennial creek at the bottom, in Corneille Bryan Native Garden, Lake Junaluska NC (2,600 feet elevation). The uppermost canopy above this specimen may be entirely white and red oak, thus affording sun for growth mostly in early spring and late fall.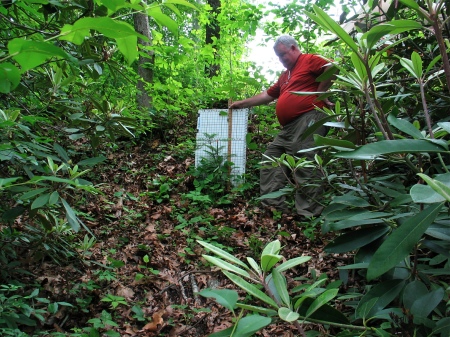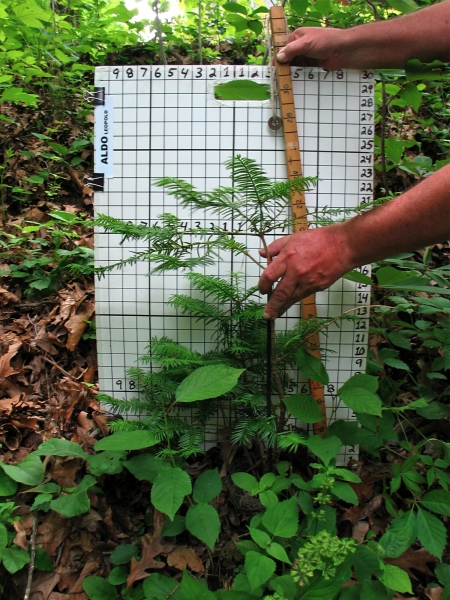 LEFT (May 18, 2012): Lots of rhododendron immediately to the left and right of this specimen. Associated herbaceous plants include trillium, jack-in-pulpit, hydrangia, virginia creeper, and others unidentified. Caged against voles at base.
RIGHT (May 18, 2012): On a scale in which "Celia" specimen is rated by Lee Barnes as a 10, this specimen is rated a 10.5.
---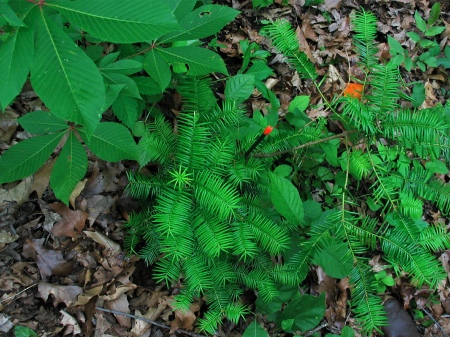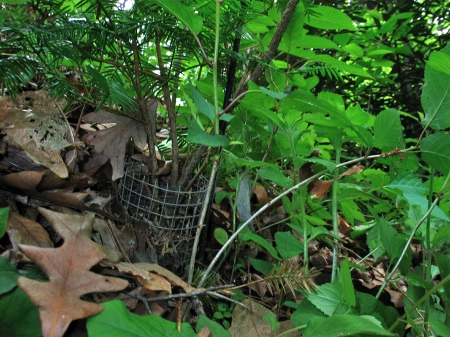 LEFT (May 18, 2012): Vigorous light-green new growth both apical and lateral. Young buckeye seedling visible in photo.
RIGHT (May 18, 2012): After 3 of the 10 original specimens planted were killed by vole predation of lower bark and root cambium during the first winter, all 7 remaining specimens were caged and thus fully protected.
---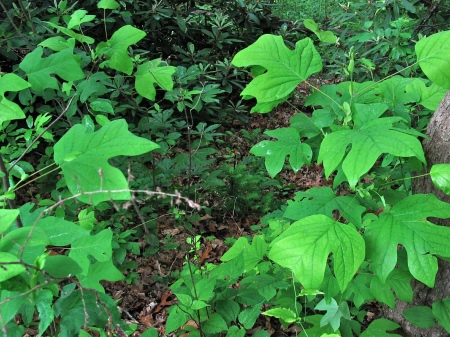 LEFT (May 18, 2012): A paved road borders the garden at the top of the east-facing slope. Homes are on the other side of the road. This photo was taken from the road, looking steeply down onto "Aldo", which is the darker green plant in exact center of photo (rhodie to its left).
---
NOTE: Spring 2013 photos below taken April 23, but spring was delayed nearly 2 weeks, so it is more like April 10. Thus, instead of light-green new growth photographed above in spring 2012, there is only light-green leaf buds to indicate the vigor of the plant.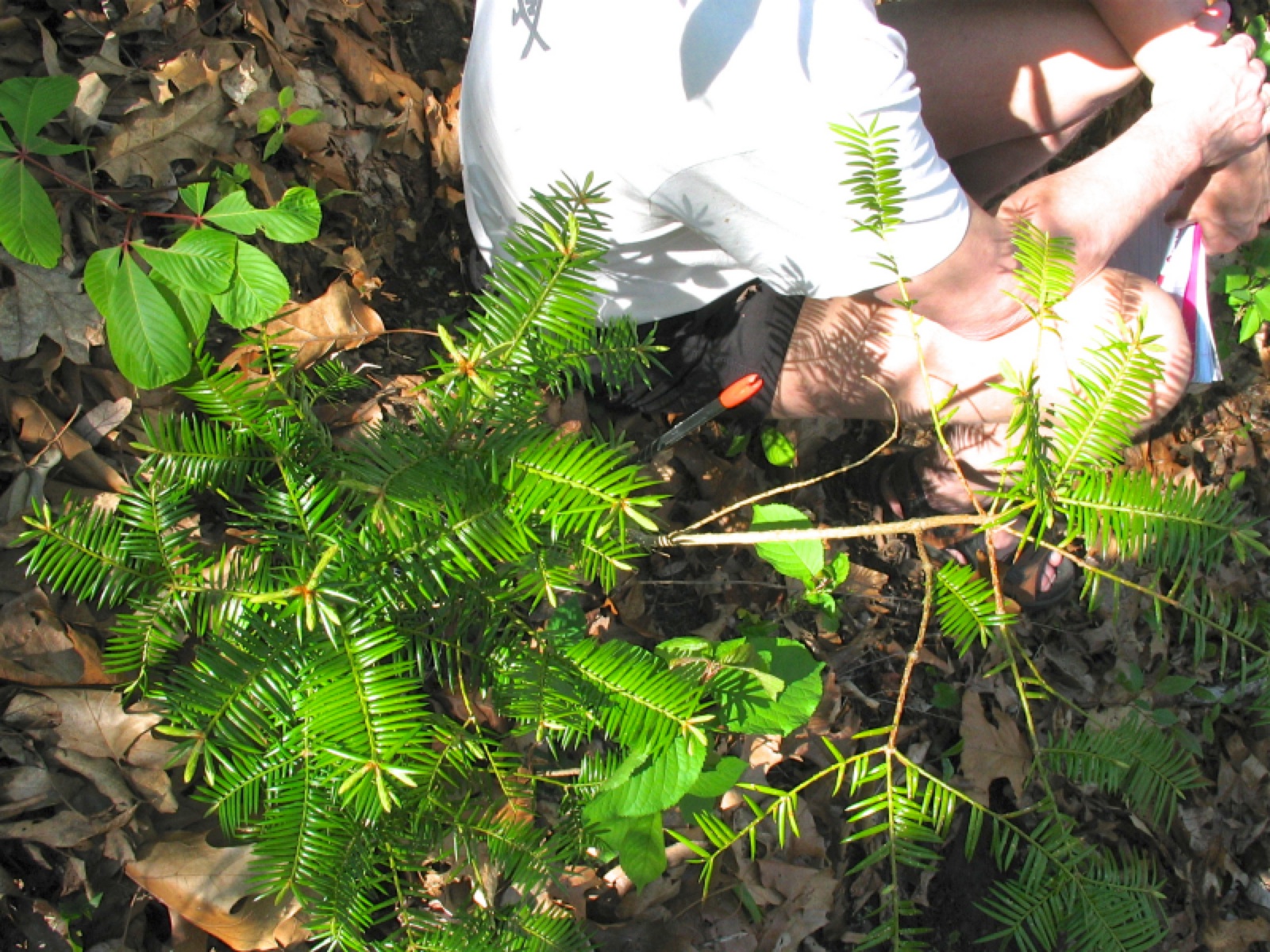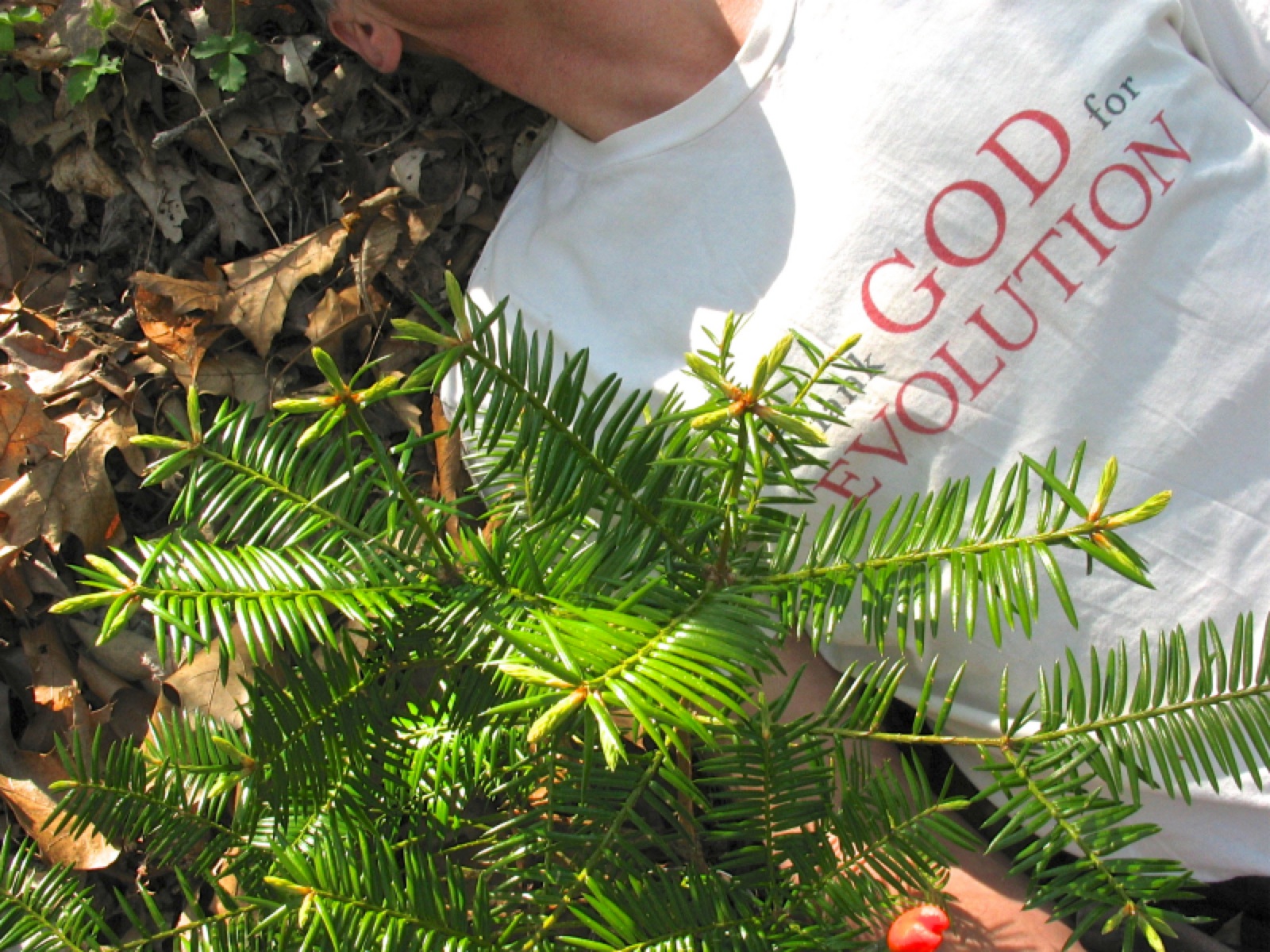 LEFT (April 23, 2013): Michael Dowd with the Aldo specimen, which exhibits two distinct stems of vertical growth.
RIGHT (April 23, 2013): The bushiest stem. Overall: a very healthy plant.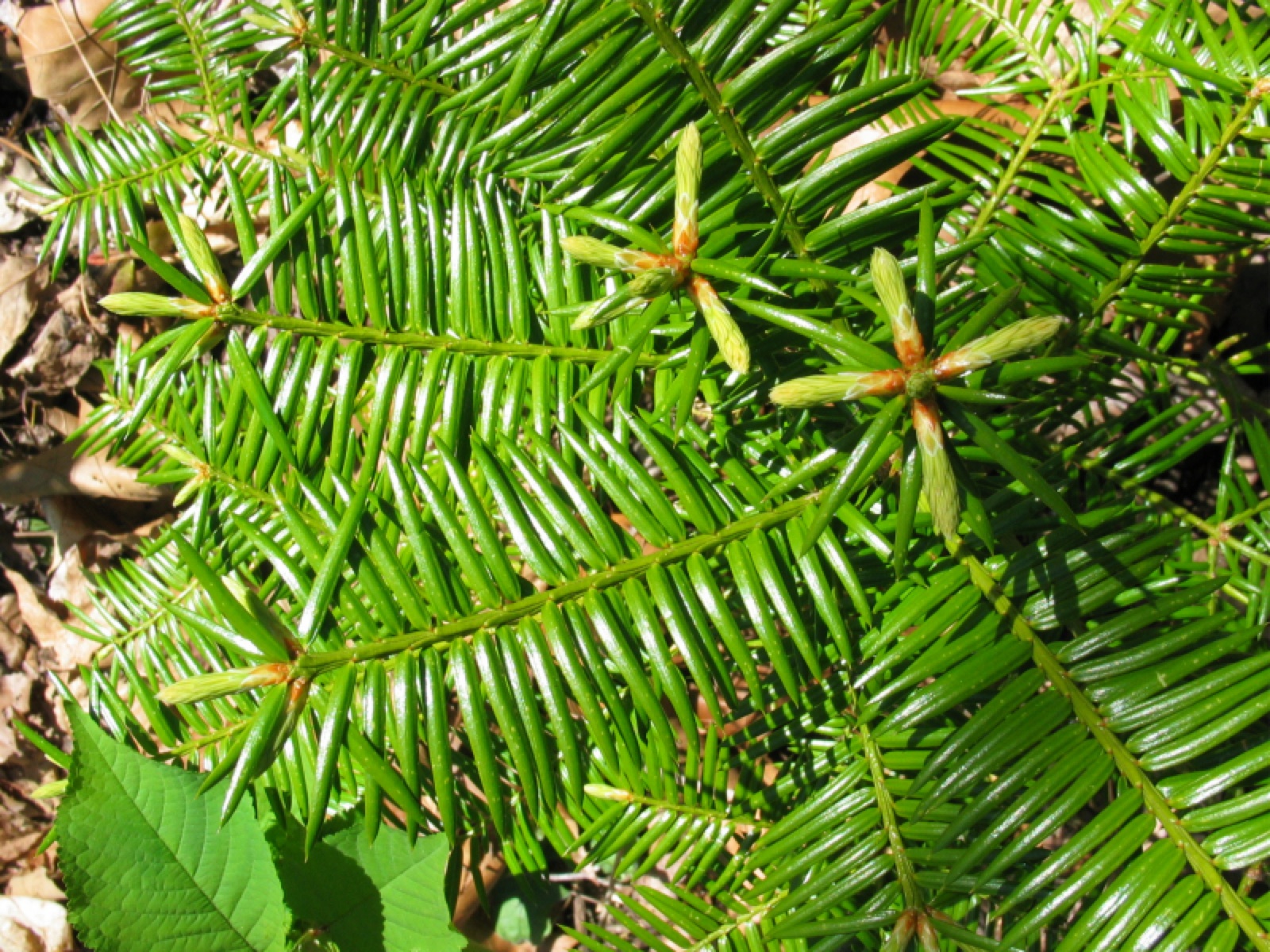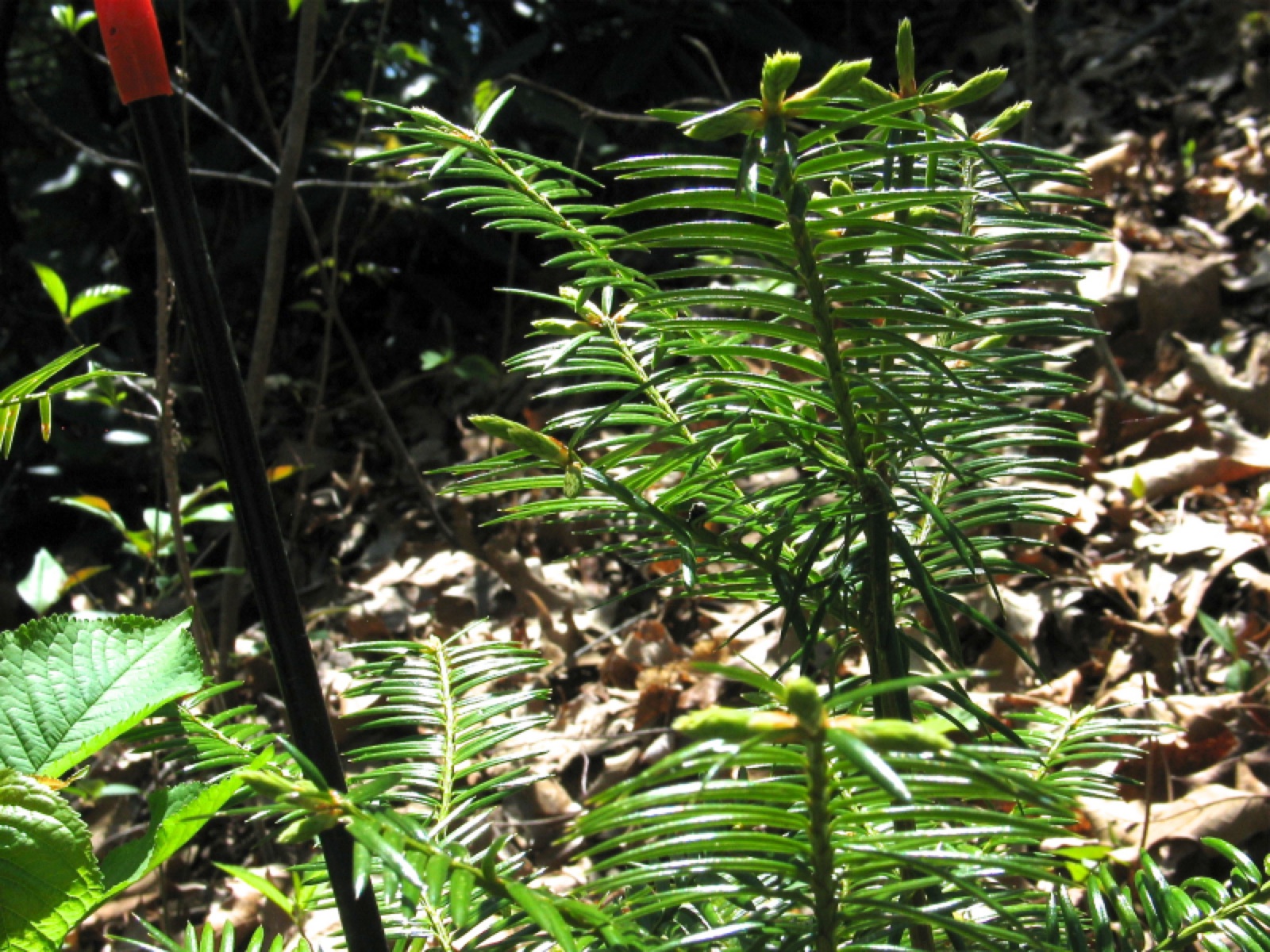 LEFT (April 23, 2013): Top-down view of the doublet main stem, showing both apical and radial leaf buds at the top of the vertical stem of growth from previous year. Notice at left the leaf buds at horizontal tips of top layer of lateral growth from previous year. Young hydrangea growing in lower left of photo.
RIGHT (April 23, 2013): Side view of the top region of main growth stems. (Same hydrangea leaf at lower left.) Overall: a very healthy plant.
NEW MEASURE OF HEALTH IN 2013: leaf bud count = 90 (total) on the 3 main stems and 0 on the (absent) ancillary basal stem.