Location is NE-facing slope of a NW-to-SE ravine with perennial creek at the bottom, in Corneille Bryan Native Garden, Lake Junaluska NC (2,600 feet elevation). The uppermost canopy above this specimen may be entirely white and red oak, thus affording sun for growth mostly in early spring and late fall.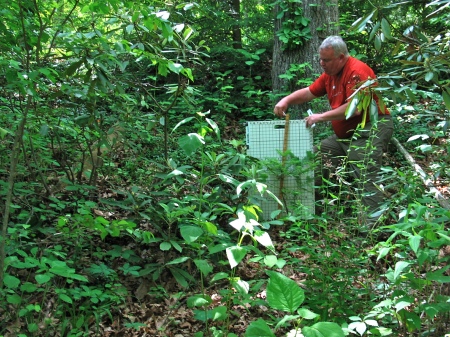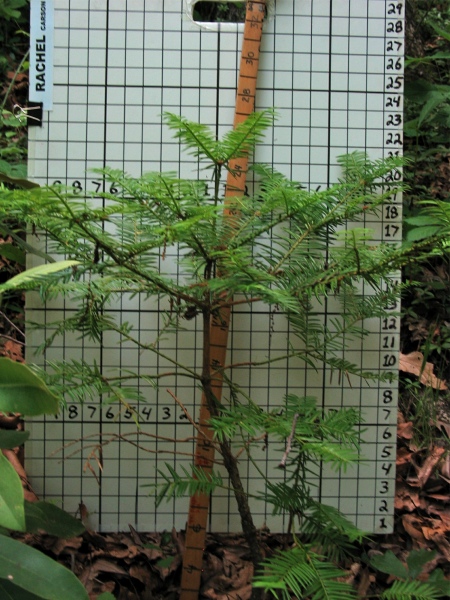 LEFT (May 18, 2012): Associated herbaceous plants are typical moist woodland species of this east-facing ravine slope. Caged against voles at base. Notice rhododendron shrub in upper right of photo.
RIGHT (May 18, 2012): On a scale in which "Celia" specimen is rated by Lee Barnes as a 10, this specimen is rated a 12.
---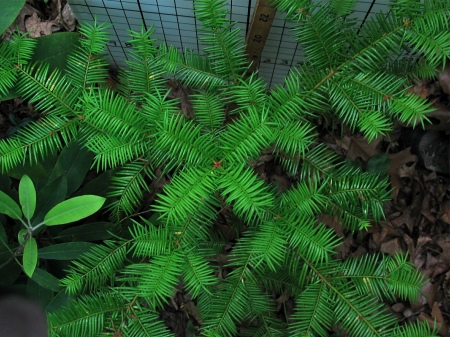 LEFT (May 18, 2012): Notice the abundant new (light green) growth at the outermost points of all three levels of radiating branches.
---
NOTE: Spring 2013 photos below taken April 23, but spring was delayed nearly 2 weeks, so it is more like April 10. Thus, instead of light-green new growth photographed above in spring 2012, there is only light-green leaf buds to indicate the vigor of the plant.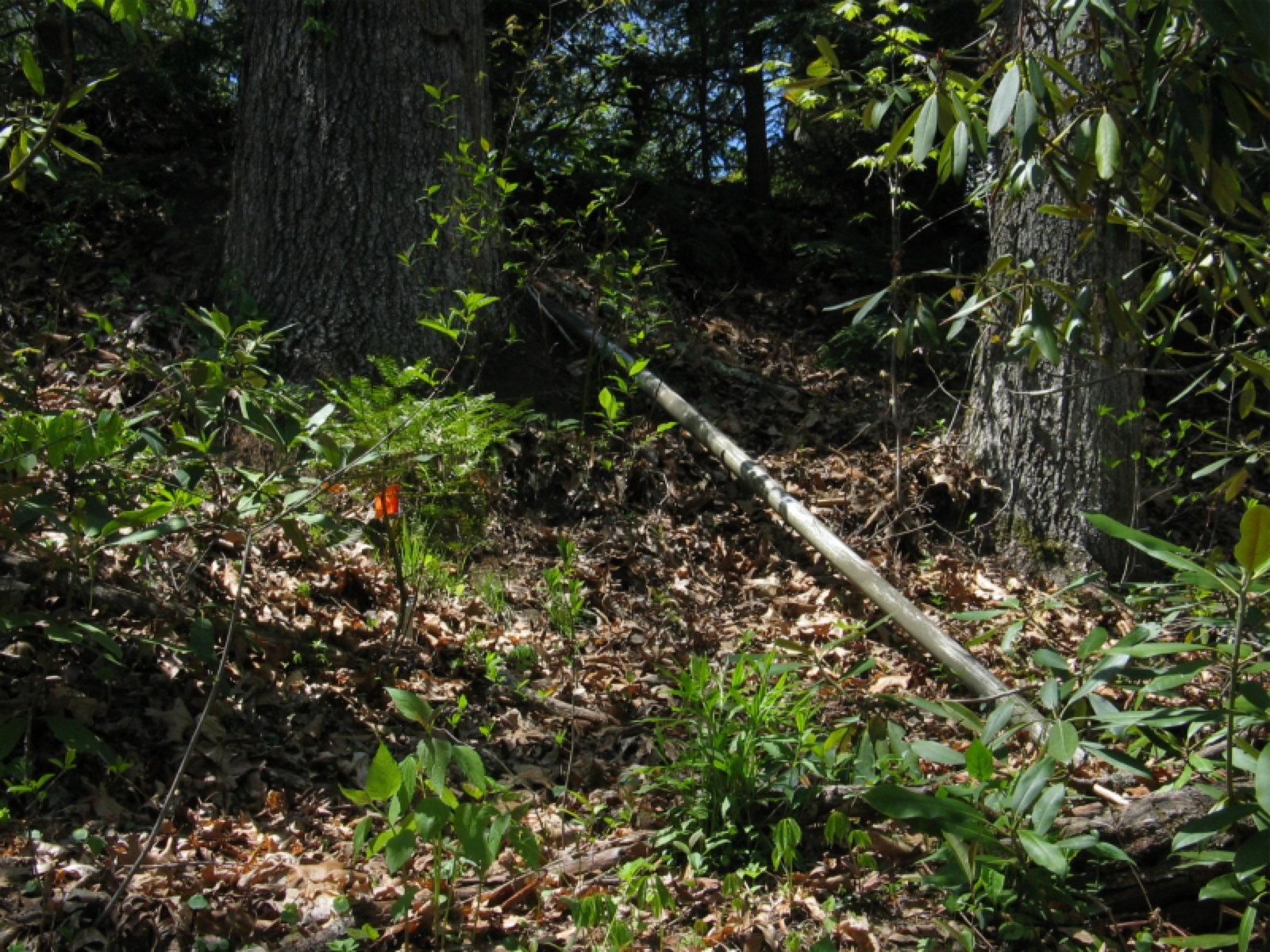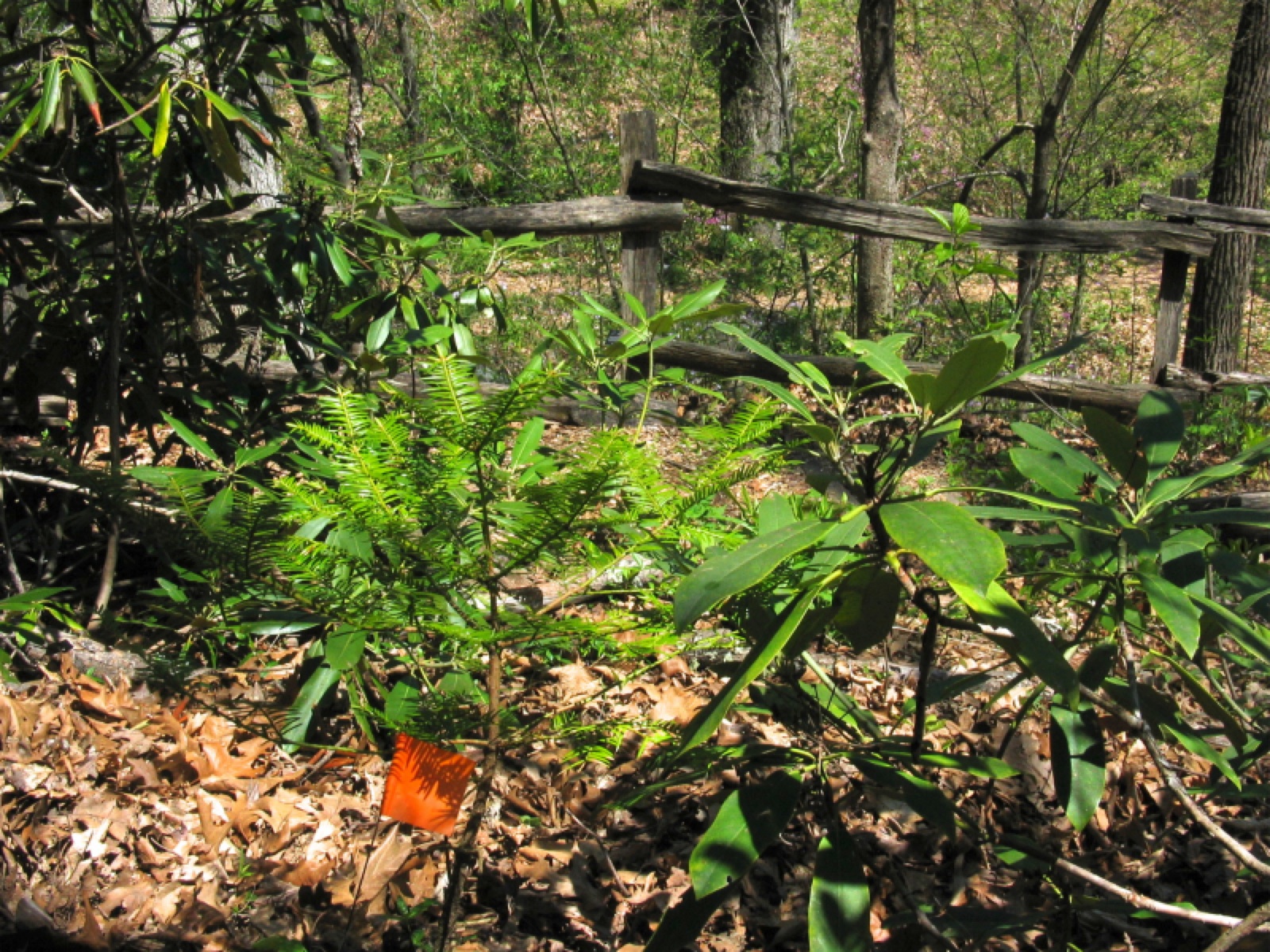 ABOVE LEFT (April 23, 2013): Looking uphill from the trail. "Rachel" Torreya is marked by the orange flat. Large shaded trunk of White Oak immediately behind.
ABOVE RIGHT (April 23, 2013): View of Torreya looking downhill toward trail, just in front of wooden fence. Notice the Rhododendron immediately to its right.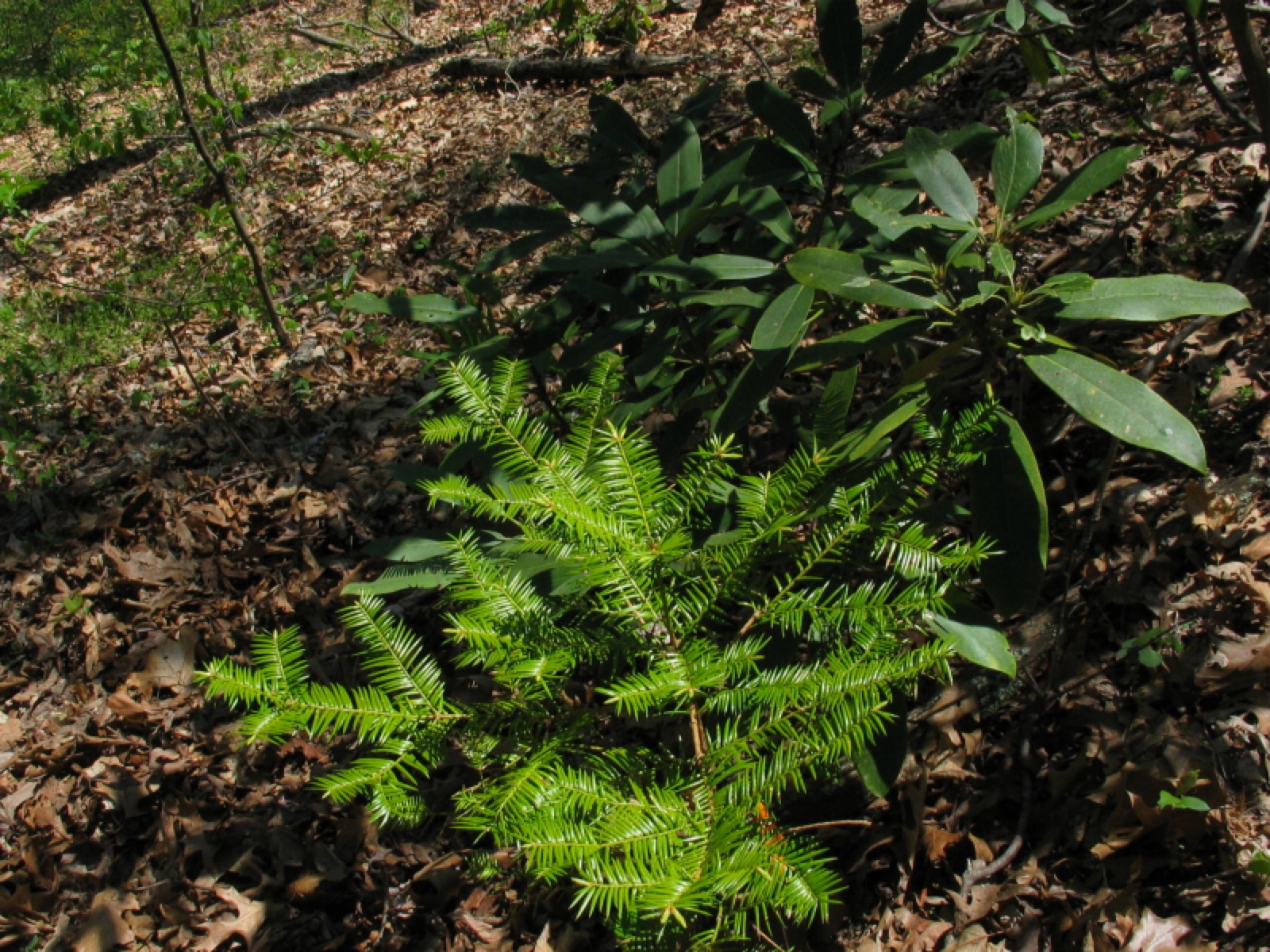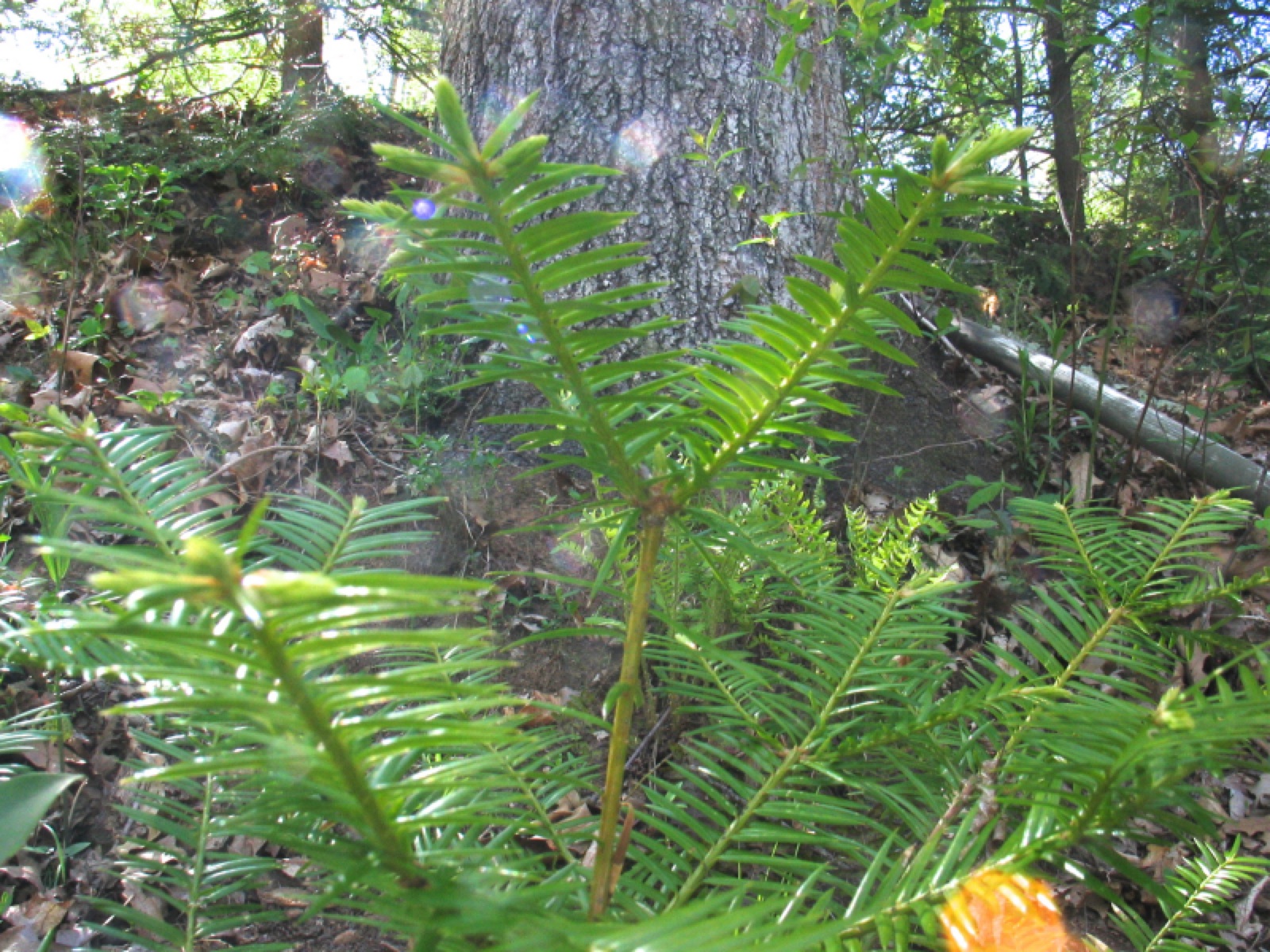 LEFT (April 23, 2013): Looking down onto the Torreya, with Rhododendron alongside.
RIGHT (April 23, 2013): Side-view of the upper growth layers of "Rachel". Notice that the central stem gained 4 inches of vertical height last year, before culminating in a final radial growth of 4 lateral branches.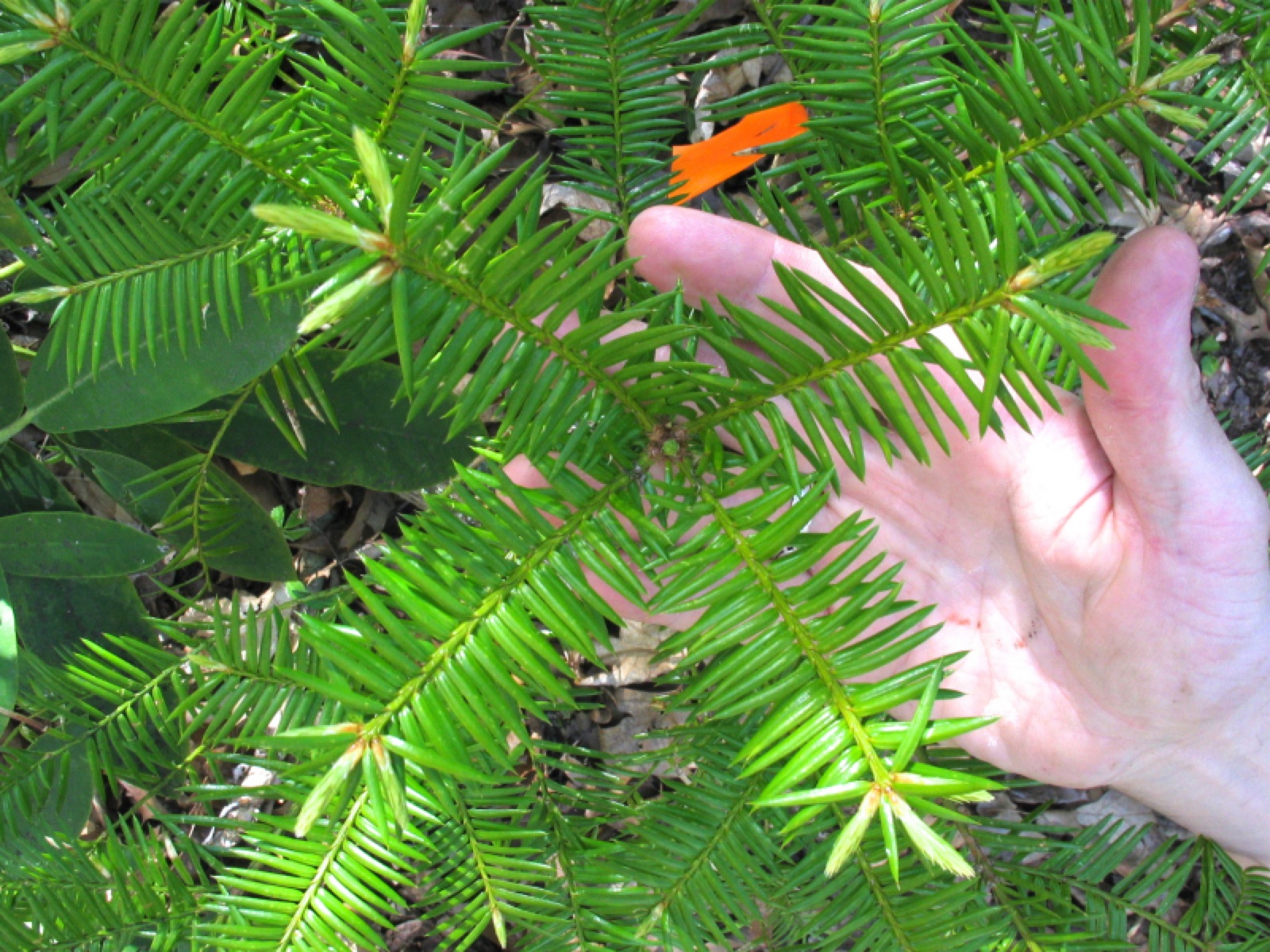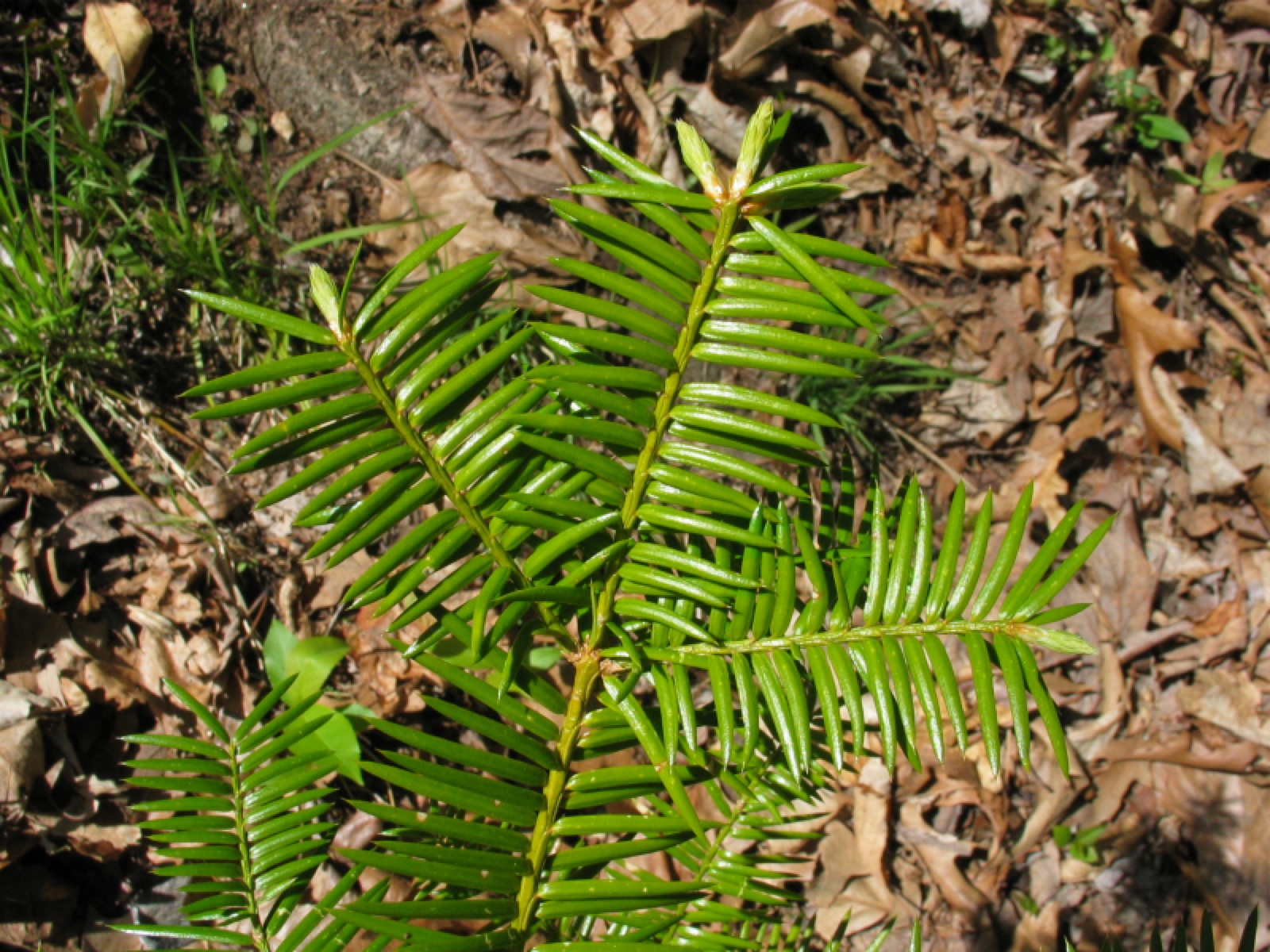 LEFT (April 23, 2013): Looking down onto the uppermost layer. The apical bud atop the center stem is quite small. Notice the two leaf buds at the tip of the lateral branchlet stretching toward the right.
RIGHT (April 23, 2013): Tip of branch of third radial layer down. The triplet branchlets bear a single bud at the tip of the two side growths, but a triplet at the tip of the center main lateral stem.
NEW MEASURE OF HEALTH IN 2013: leaf bud count = 58 on main stem and only 4 on the ancillary basal stem.
---
"To understand the living present, and the promise of the future,
it is necessary to remember the past."

— Rachel Carson (1907-1964)
The Edge of the Sea (1955; p. 194)