This "Celia" specimen is the only one on the west side of the Evans property that is upstream of the waterfall / weeping rock wall. It is on a very moist, steep, and jungle-like bank on the east side of the perennial creek. (3,400 feet elevation)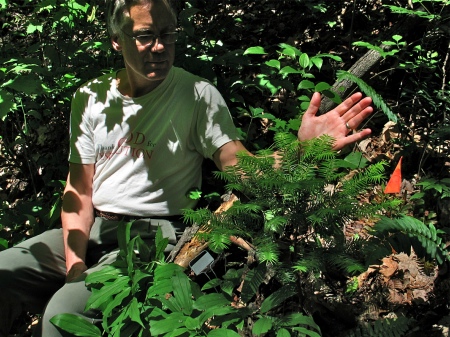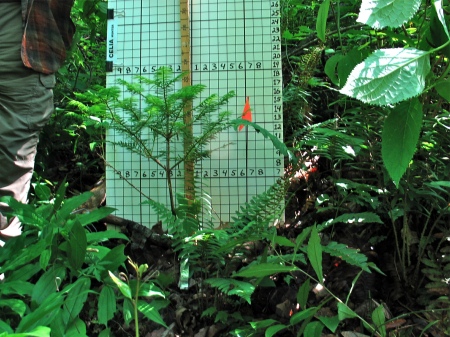 LEFT and RIGHT (May 18, 2012): Surrounding the Celia specimen are moisture-loving deciduous plants, including poison ivy, virginia creeper, false solomon seal, and especially hydrangia and black kohosh. There are also a lot of Christmas ferns, and a sword fern to the right. In early spring there are many trout lilies within a few feet. This photo was taken from the path that leads from the house to the waterfalls down below.
---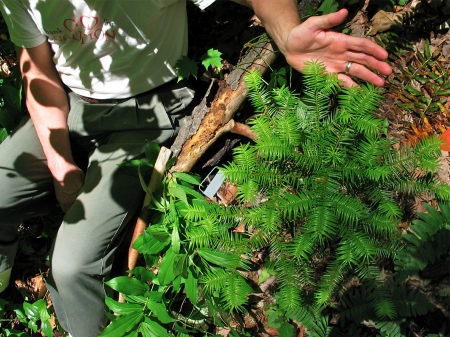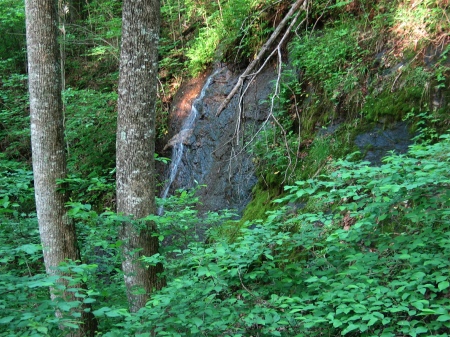 LEFT (May 18, 2012):As of 2012, Celia has the most luxurious and healthy growth of all of the specimens planted on the Evans property in 2008. We created the "10-point-scale" in 2012 to evaluate the quality of all the trees — and it was Celia that the "10" is calibrated to. (Note: Later that day we also photographed and assessed the 7 remaining specimens planted in 2008 at the Corneille Bryan Native Plant Garden in Lake Junaluska. There we discovered that all specimens rated higher: between an 11 and a 16.) Look carefully at the photo for light-green new growth at lateral branch tips: when the new growth is a "triplet" (rather than a doublet or a singlet), that is a sign of exceptional health.
RIGHT (May 18, 2012): View down from Celia toward the waterfall, just beyond which grows the "Maxilla Evans" specimen, which rated a 9 on the 10-point scale.
---
NOTE: Spring 2013 photos below taken April 24 on an overcast day, but spring was delayed nearly 2 weeks, so it is more like April 10. Thus, instead of light-green new growth photographed above in spring 2012, there is only light-green leaf buds to indicate the vigor of the plant.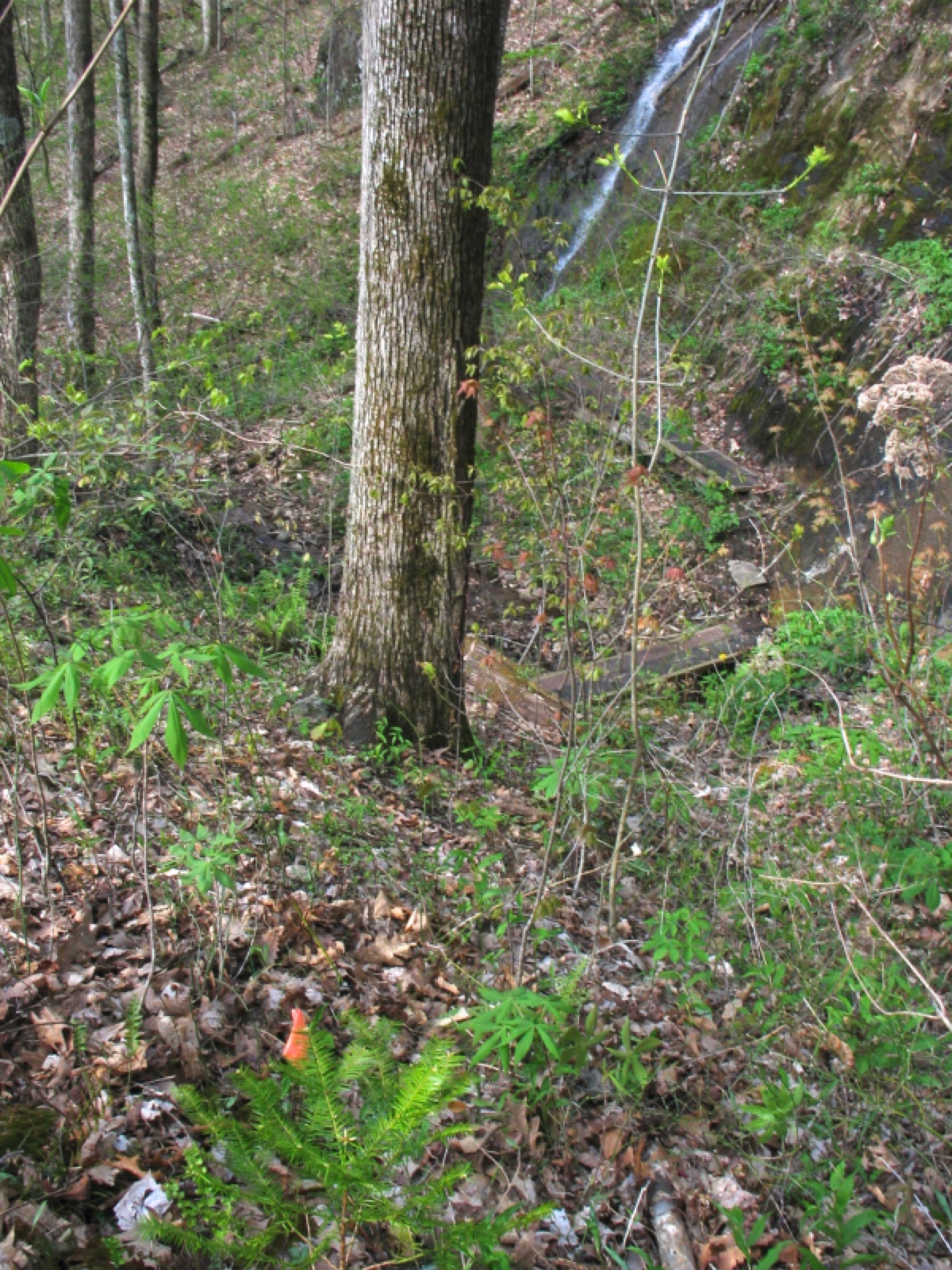 ABOVE LEFT (April 24, 2013): View downslope standing uphill from Celia (lower left by orange flag), with view down to waterfall. "Maxilla" is not visible on the distant slope left of the lowest part of waterfall.
ABOVE RIGHT (April 24, 2013): Celia, looking uphill and left. Young sword ferns and solomon seal in foreground. Notice that Celia has no ancillary basal growth, which Torreys tend to put a lot of energy into if the main stem falters.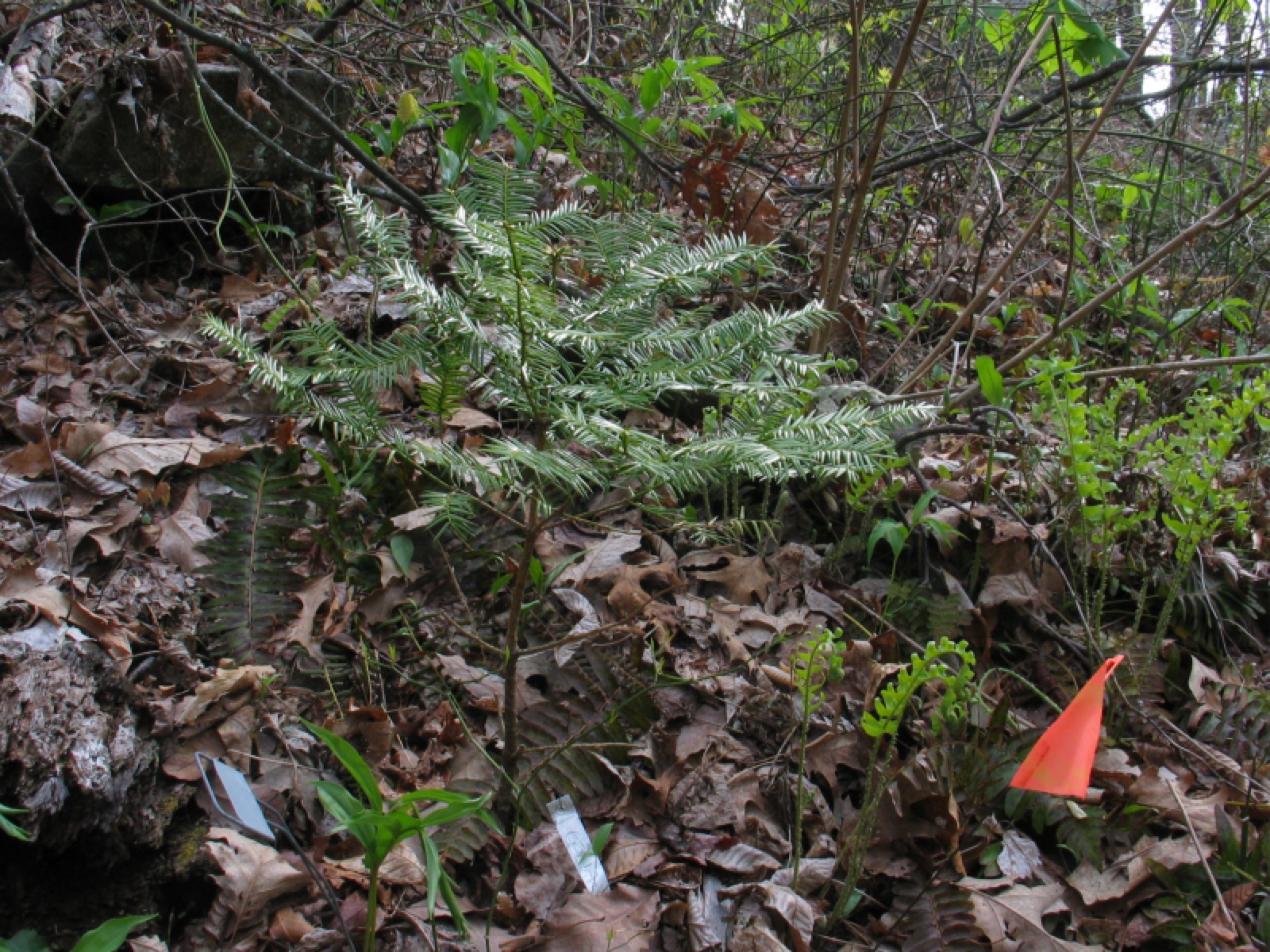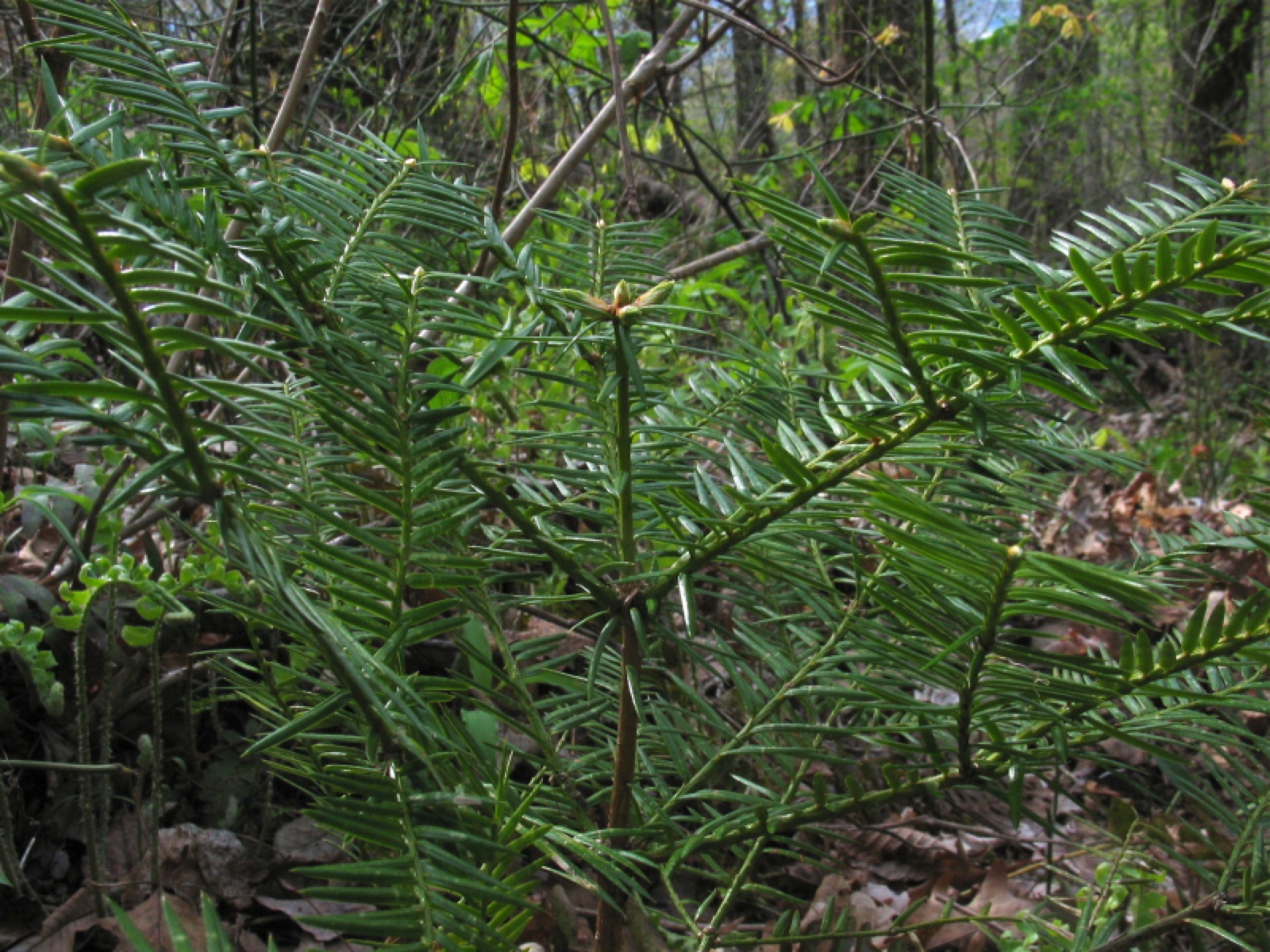 ABOVE LEFT (April 24, 2013): Notice no ancillary basal growth on Celia. And there are just 3 years of radial branches (3 layers) that constitute the entire tree (prior year branches have dropped off).
ABOVE RIGHT (April 24, 2013): 2012 and 2011 vertical stem growth visible, each about 3-4 inches per year. The 2010 vertical main stem growth is also 3-4 inches, but is below the level of this photo.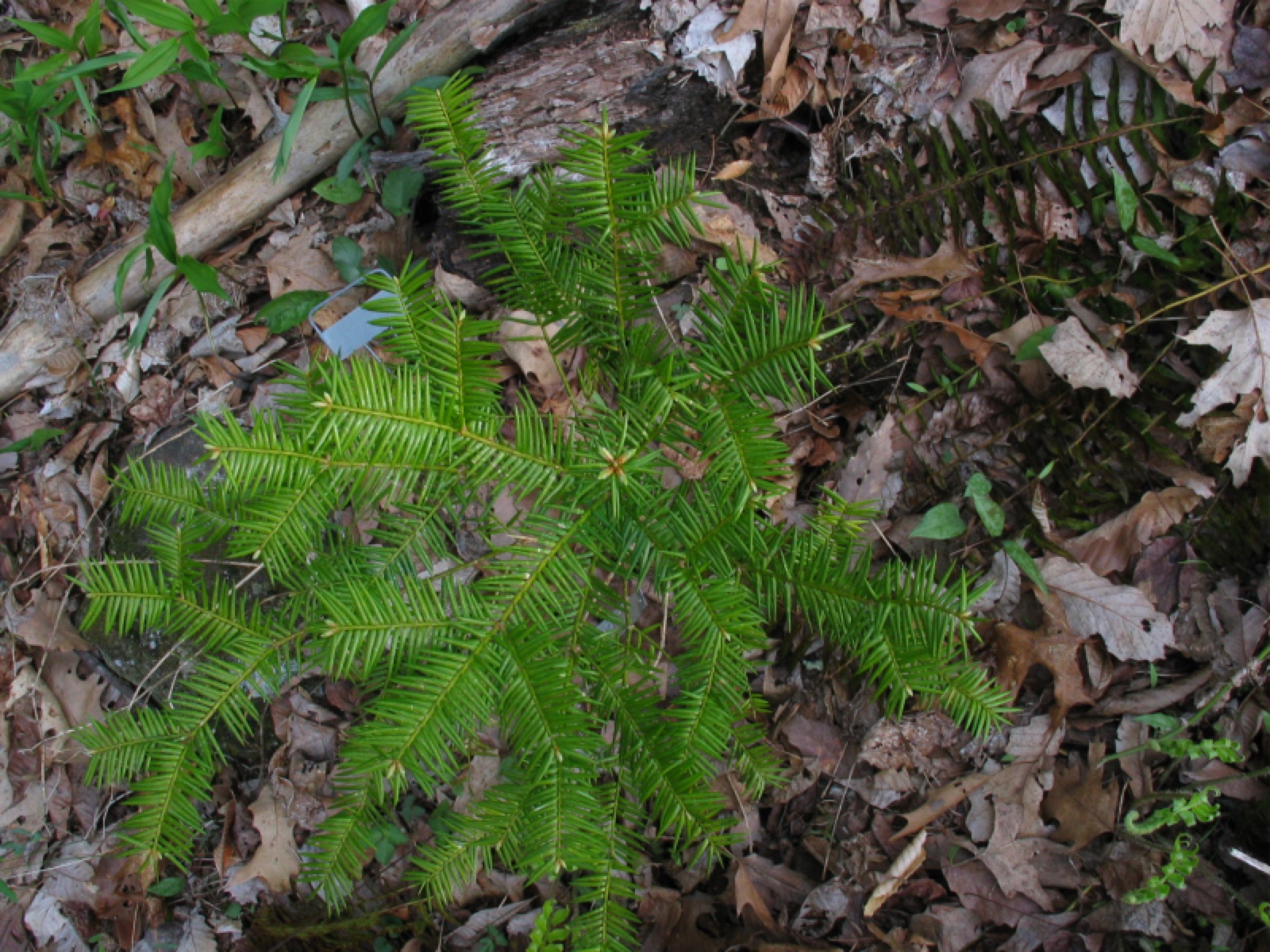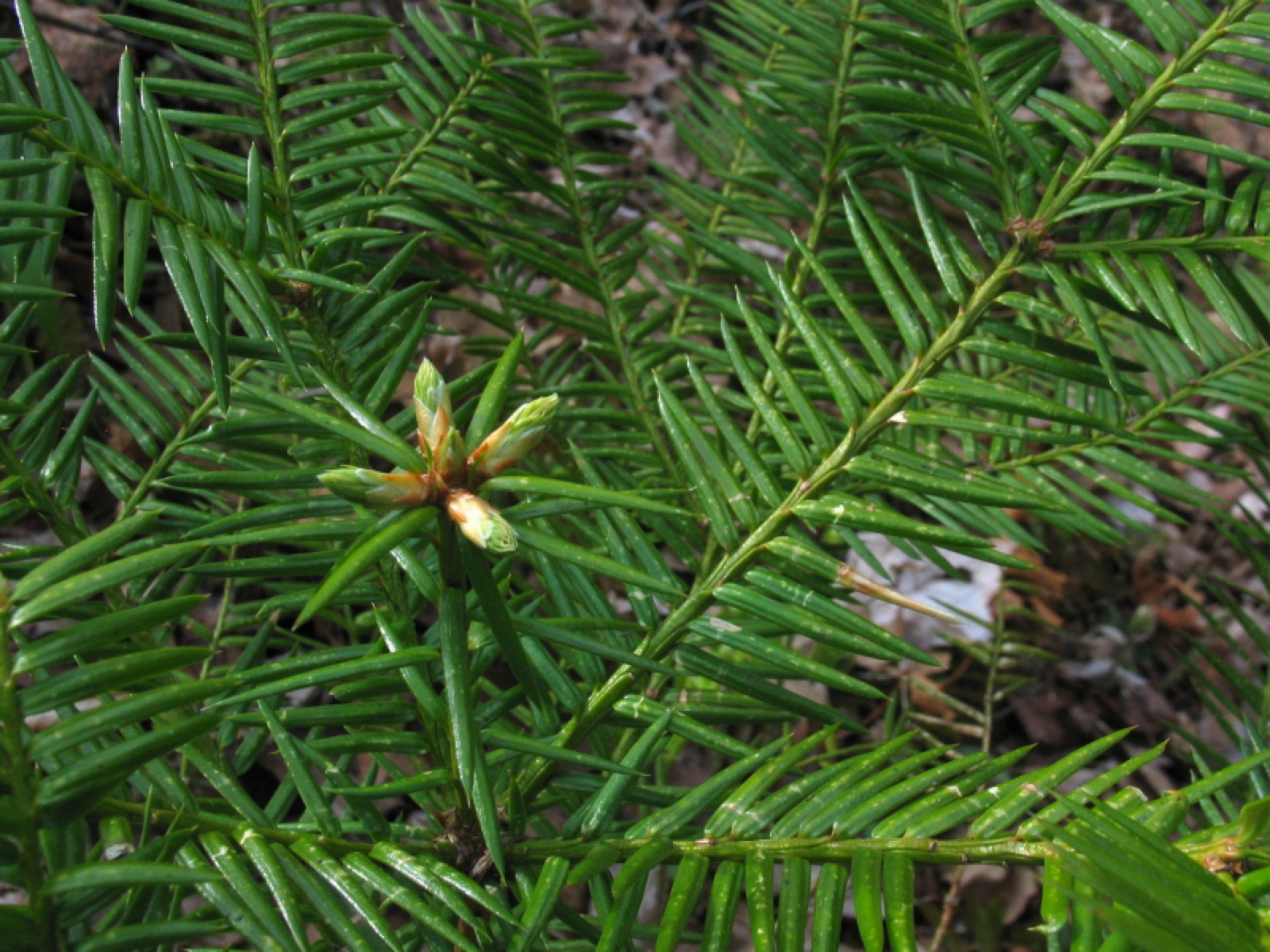 ABOVE LEFT and RIGHT (April 24, 2013): Top-down view of Celia. All three layers (all three years) show 4-part branching, whereas some other specimens tend to produce 5 or even 6 radiating lateral branches from the central stem. Notice at right that the new leaf buds at tip are a single small apical bud with 4 radiating laterals.
NEW MEASURE OF HEALTH IN 2013: leaf bud count = 51 on main stem; 0 on (absent) basal ancillary growth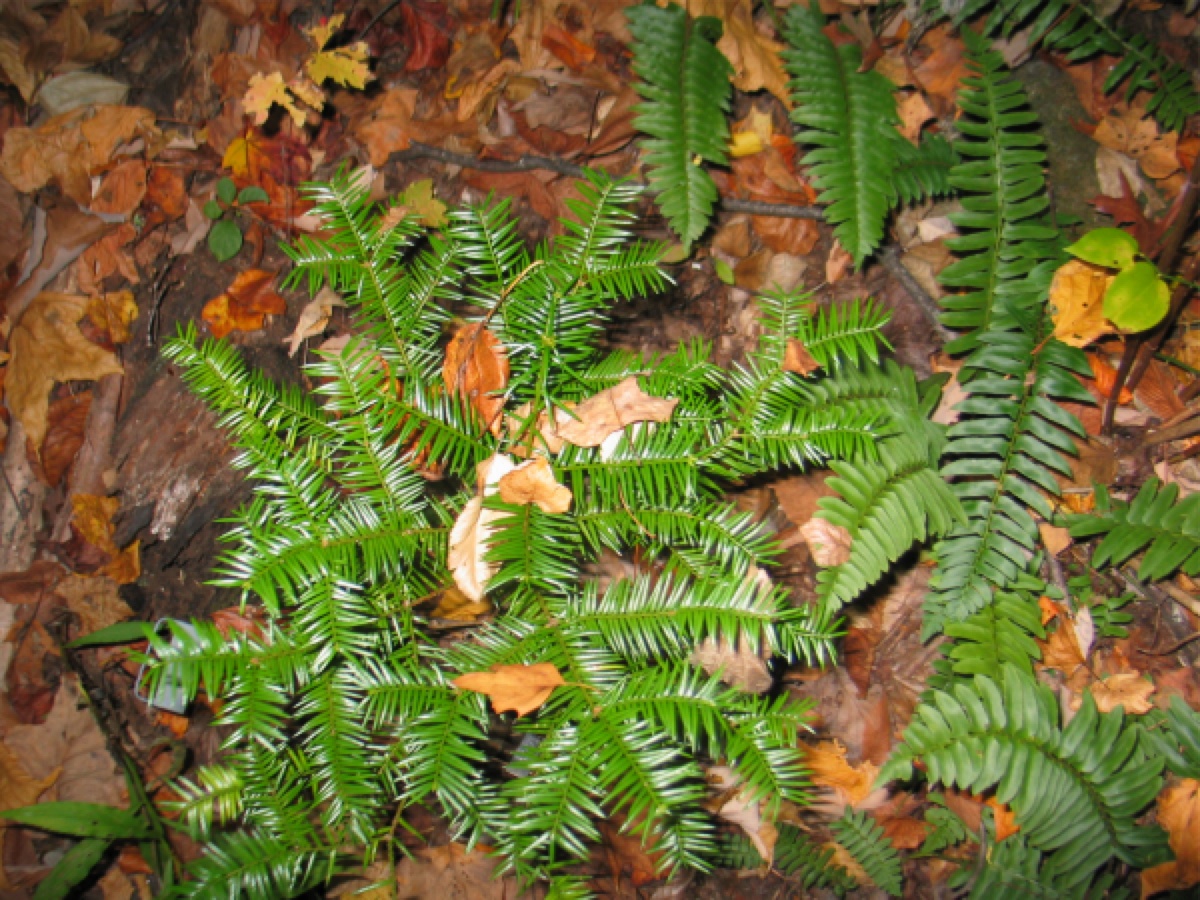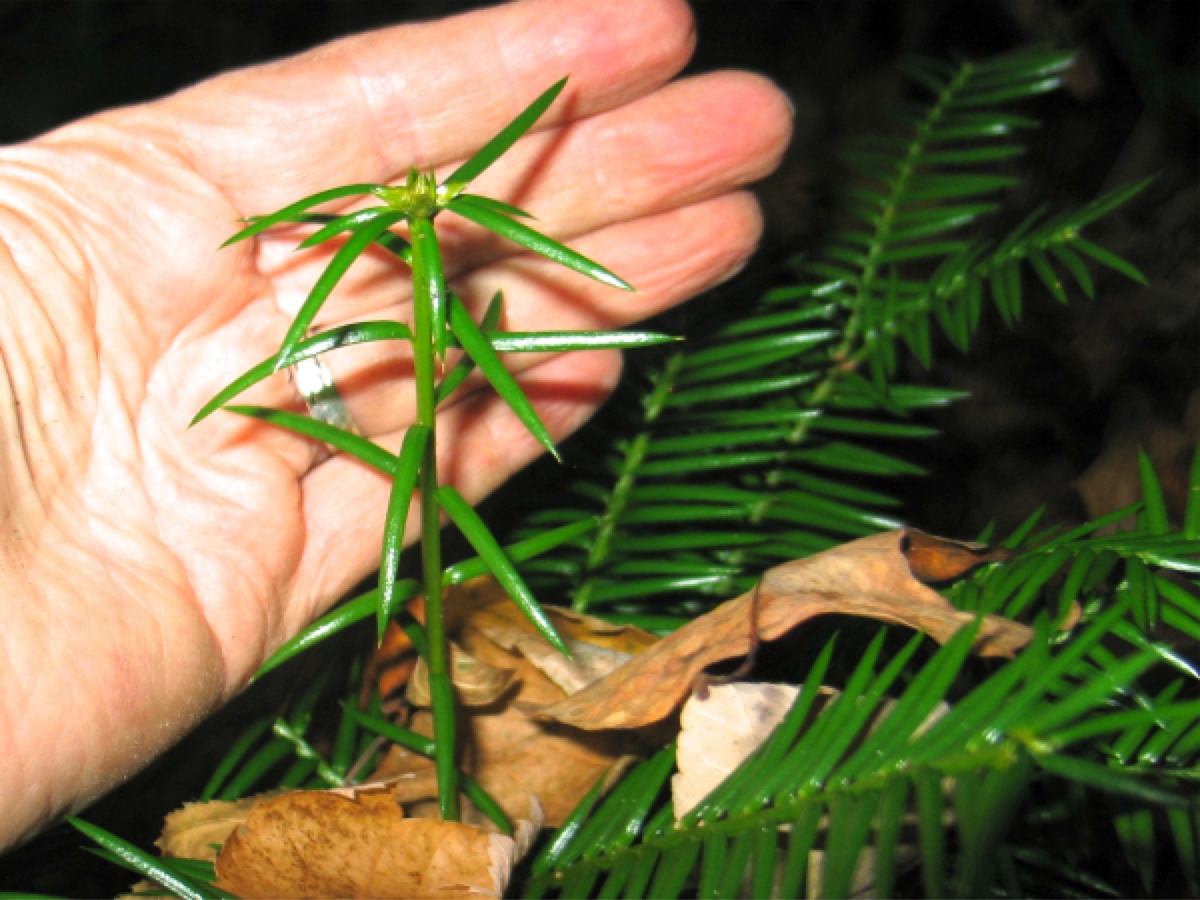 ABOVE LEFT and RIGHT (October 28, 2013): Healthy new vertical growth and overall horizontal photosynthetic capacity is evident in these 2 photos. (photos by Connie Barlow)