Location is south-facing slope beneath a mostly oak-hickory canopy, with sourwood mid-canopy and lots of shrub-size sassafras, some azalea and vaccinium low red maple, and one silky dogwood. A lack of evergreen and deciduous ferns also indicates dryness. (3,400 feet elevation)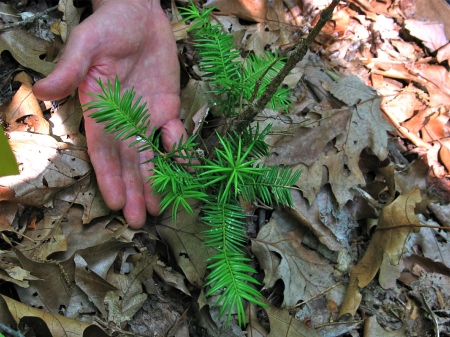 LEFT (May 18, 2012): The main stem is definitely dying; there was no new growth on this stem this year or last.
RIGHT (May 18, 2012): The only new growth, and it is meager, are on 3 small coppice sprouts at base. On a scale in which "Celia" specimen is rated by Lee Barnes as a 10, this specimen is probably a 2 or 3.
---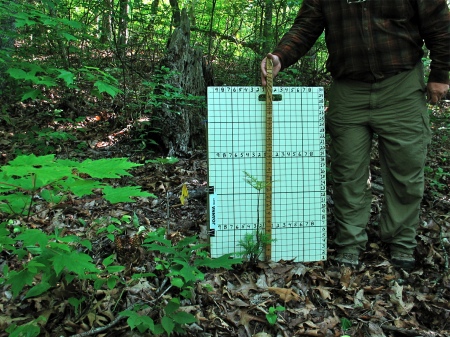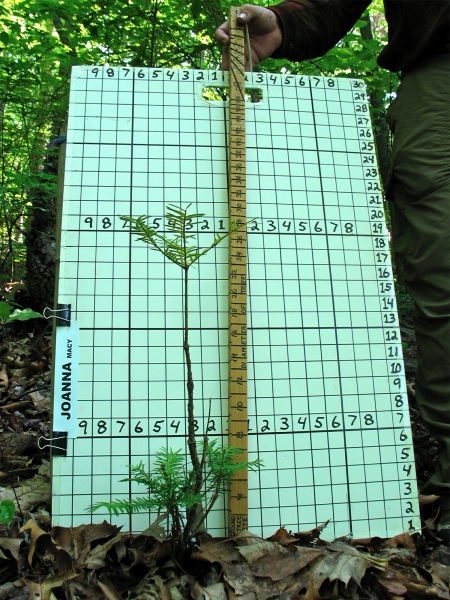 LEFT (May 18, 2012): Notice how bare of herbs the surrounding forest floor is. Our experience is that, absent human assistance in getting water during dry spells, this degree of bare forest floor is a very bad indicator for Torreya success.
RIGHT (May 18, 2012):
---

Click here for NEXT TREE PLANTED at Evans Property, Waynesville.


Click here to return to EVANS PROPERTY IN WAYNESVILLE PLANTING.


Click here to return to MAIN PAGE OF TORREYA REWILDING PHOTOESSAY.
---