---
Above left: The main planting location, a mixed forest with acidic sandy loam soil.

Above right: Tertiary winter.
This resembles Paleocene fossil slabs that I collected in western North Dakota.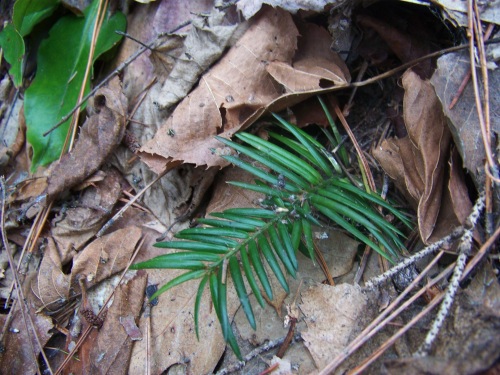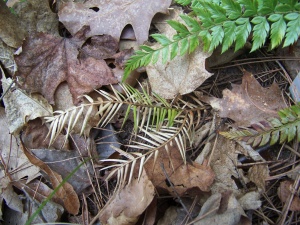 Above left: Torreya taxifolia rooted cutting after its first winter. It was covered by snow for 3.5 months.
The plants only survived the winter on steep slopes.
APRIL 26, 2010 UPDATE: All of the Torreya taxifolia ended up dying (above right) and the parts of Taxus floridana exposed at -12F did get killed. Photo below show Taxus floridana post-winter, with the one on the right showing more damage from exposure.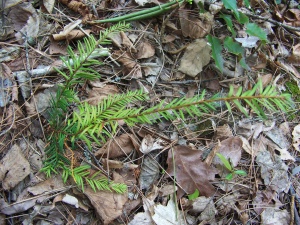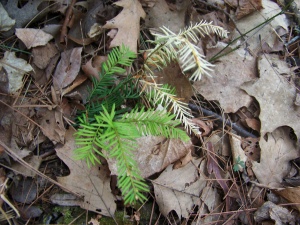 Funny it took until now (April 26, 2010) to show up. Anyway, it was a good learning experience and shows that these highly endemic spp. became that way for a reason during the Pleistocene or perhaps even before. On the other hand, maybe their northern populations were eliminated by environmental change and only the less hardy southernmost ones survived. Guess we might never know. The good news is that several Torreya nucifera came through in perfect shape! The box huckleberries also came through splendidly. My biology students collected baseline data on them last week and I'm thinking they'll put on lots of new growth & runners this summer if the drought doesn't stay too severe.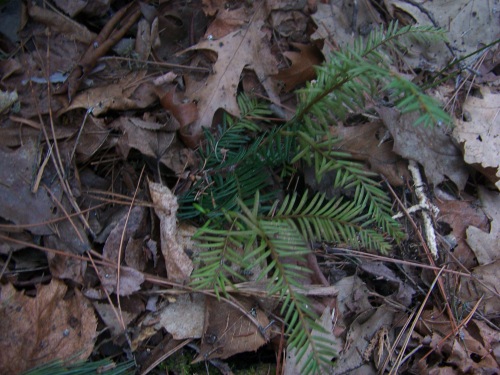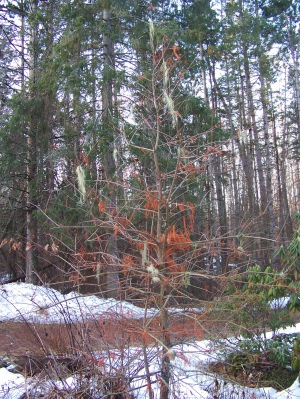 Above left: Taxus floridana rooted cutting after its first winter. This species is much more site-tolerant
than Torreya and was exposed to minus 12F without injury.
Above right: Eight foot tall deciduous Taxodium, which I planted, in our front yard.
It is now covered in Usnea and other lichens which resemble Spanish-moss.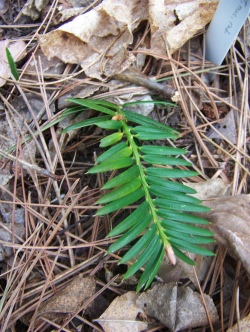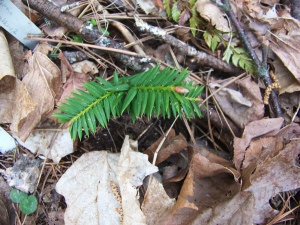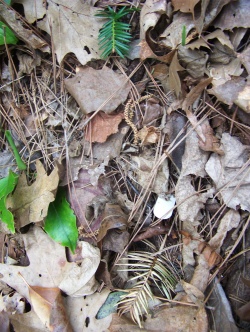 Above left and middle: The Japanese species of genus Torreya, T. nucifera radicans, seems to thrive on the property.
Above right: T. nucifera (at top) is thriving, while T. taxifolia (bottom) is dead.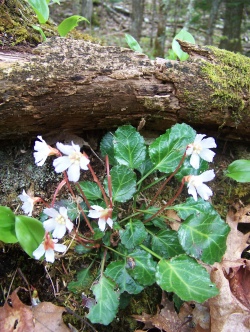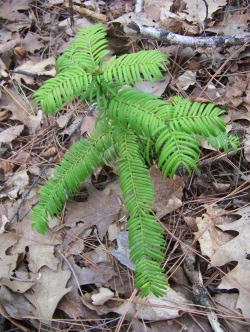 Above: Shortia (left) and Cephalotaxus (right) seem to thrive in this Wisconsin habitat.