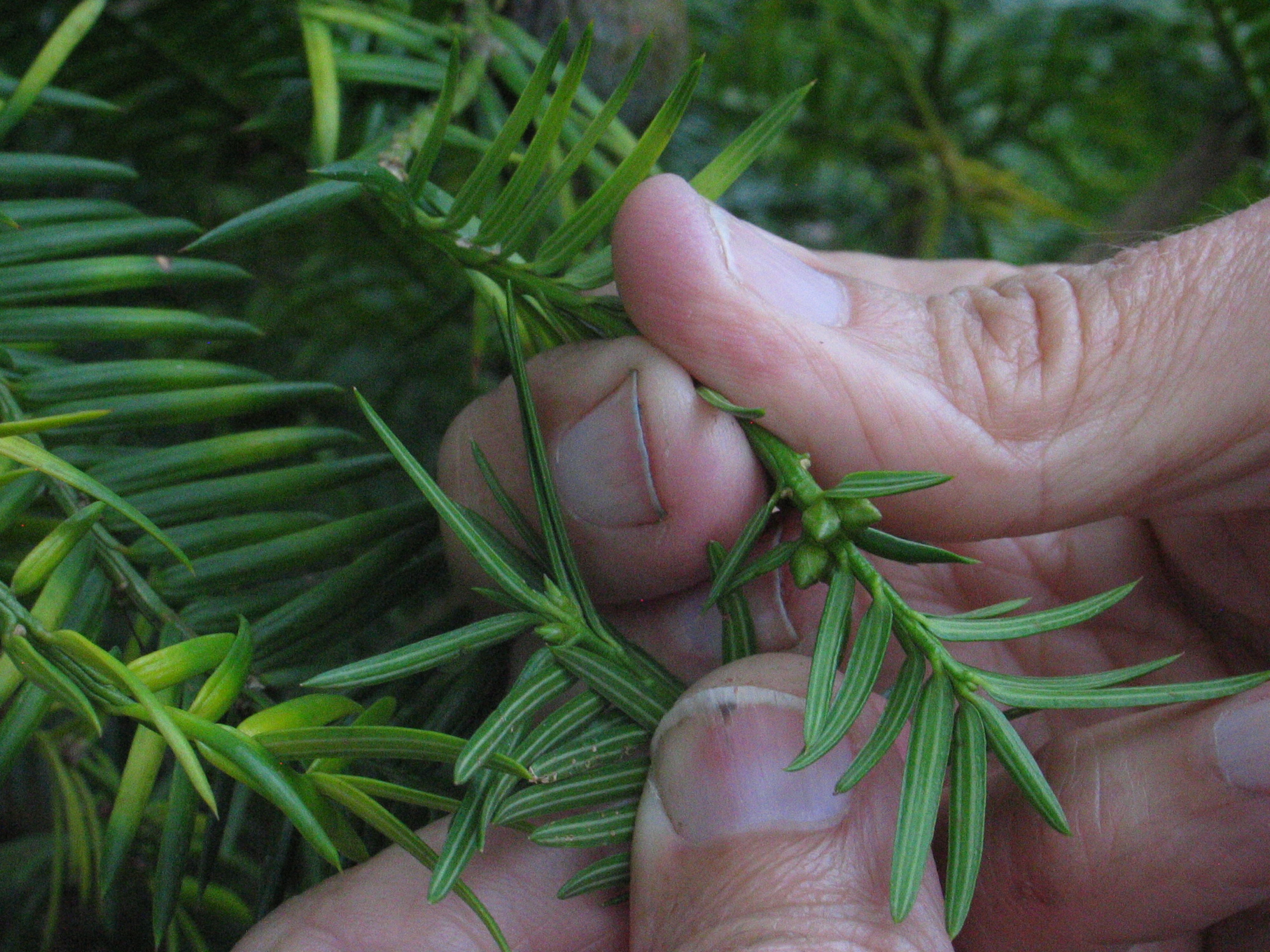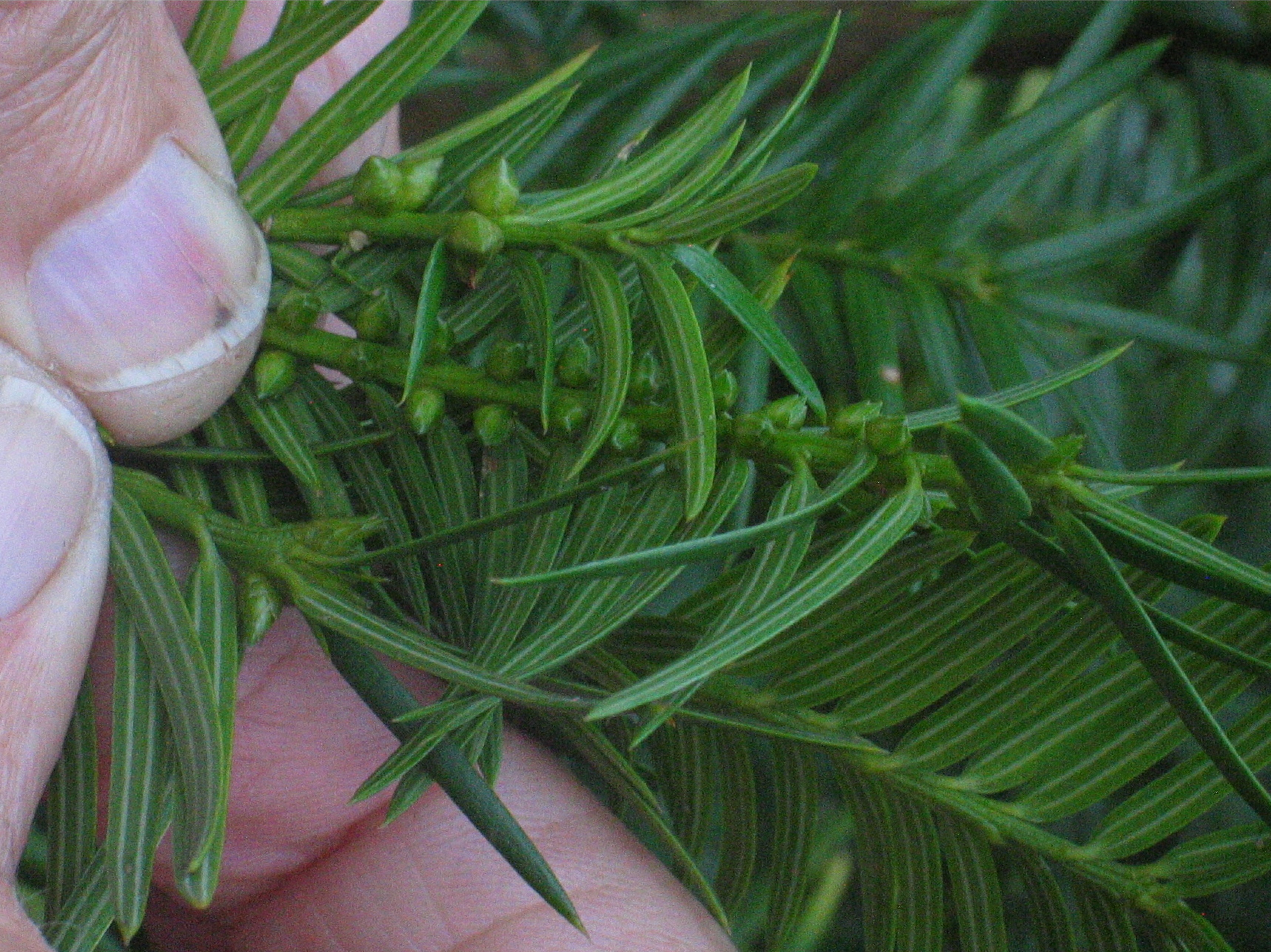 ABOVE LEFT: Torreya vegetative buds always grow at the apex or tips of the branchlets. The male and female cones grow farther back up the stem. A.J.'s left hand holds a pair of vegetative buds; his right hand holds a set of 3 female cone-buds. Notice the pair of light-colored lines of air-exchanging pores, stomates, on the underside of all the Torreya leaves (very similar to what appears on the underside of Hemlock leaves).
ABOVE RIGHT: Here A.J. compares 3 branchlets, all growing on the squat specimen. From top to bottom: female cone-buds, a series of male cone-buds along a branchlet, and a pair of vegetative buds at the branchlet's tip. Notice that the female buds are the largest and most angular; the male buds are most numerous in a series; and the vegetative buds are the scaliest (least smooth).
THIS IS CONCLUSIVE EVIDENCE THAT INDIVIDUAL TREES WILL PRODUCE BOTH MALE AND FEMALE REPRODUCTIVE CONES.
Note added September 2014: For those who may be skeptical that Torreya sp. can possibly produce male and female cones on the same individual (as the bulk of the literature refutes this), please google the terms "facultatively dioecious" and "geitonogamous selfing". The latter will get you to a pdf overview: "The Role of Geitonogamy in the Gradual Evolution towards Dioecy in Cosexual Plants", 2001, Jong and Geritz.
On p. 127 of "Conifer Reproductive Biology" by Claire G. Williams, one finds: "Selfing, only possible for monoecious conifers, can only be geitonogamous because conifers are monosporangiate. Geitonogamy refers to the case where male and female strobili occur on the same plant but not in a single strobilus. Conifers do not have autogamy."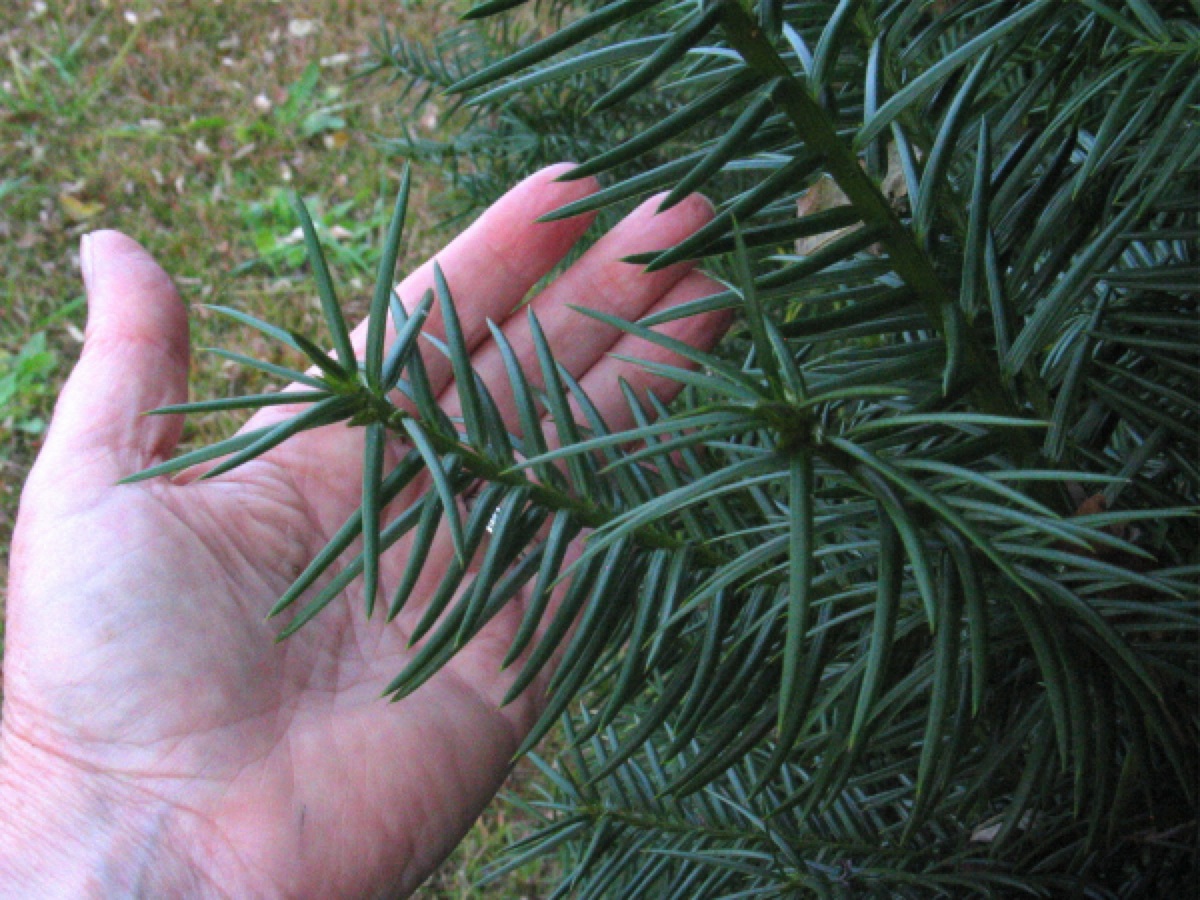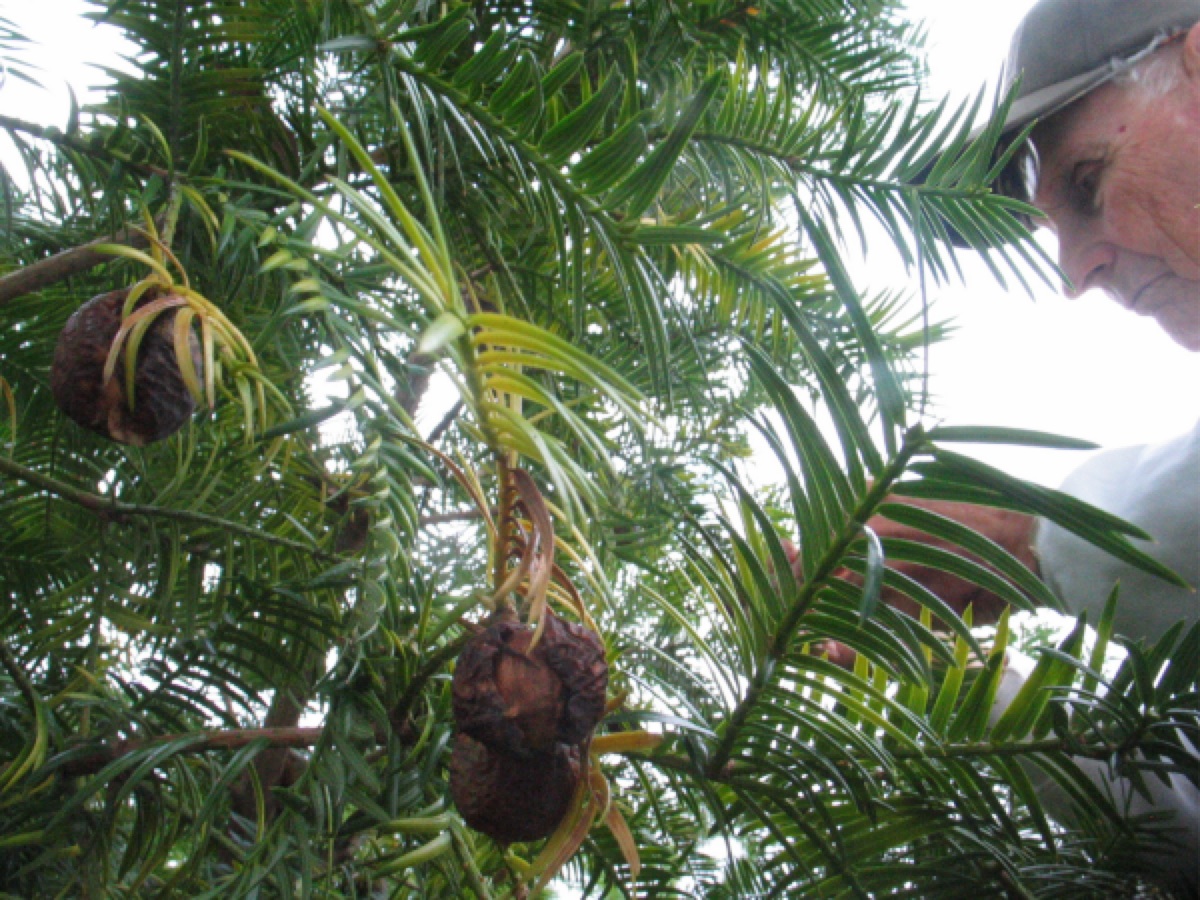 ABOVE LEFT: Superb vegetative growth on all sides of both individual trees.
ABOVE RIGHT: A.J. Bullard with Torreya seeds and branches in foreground.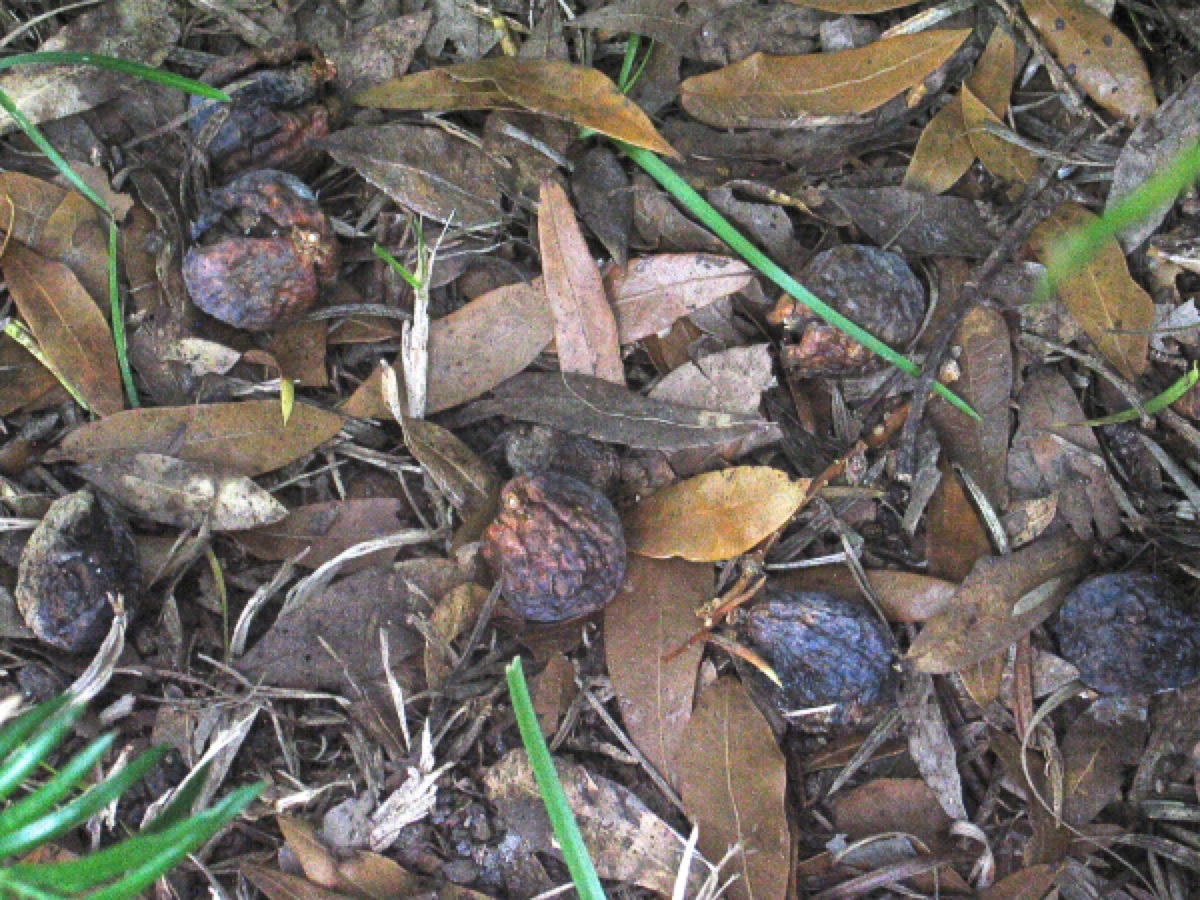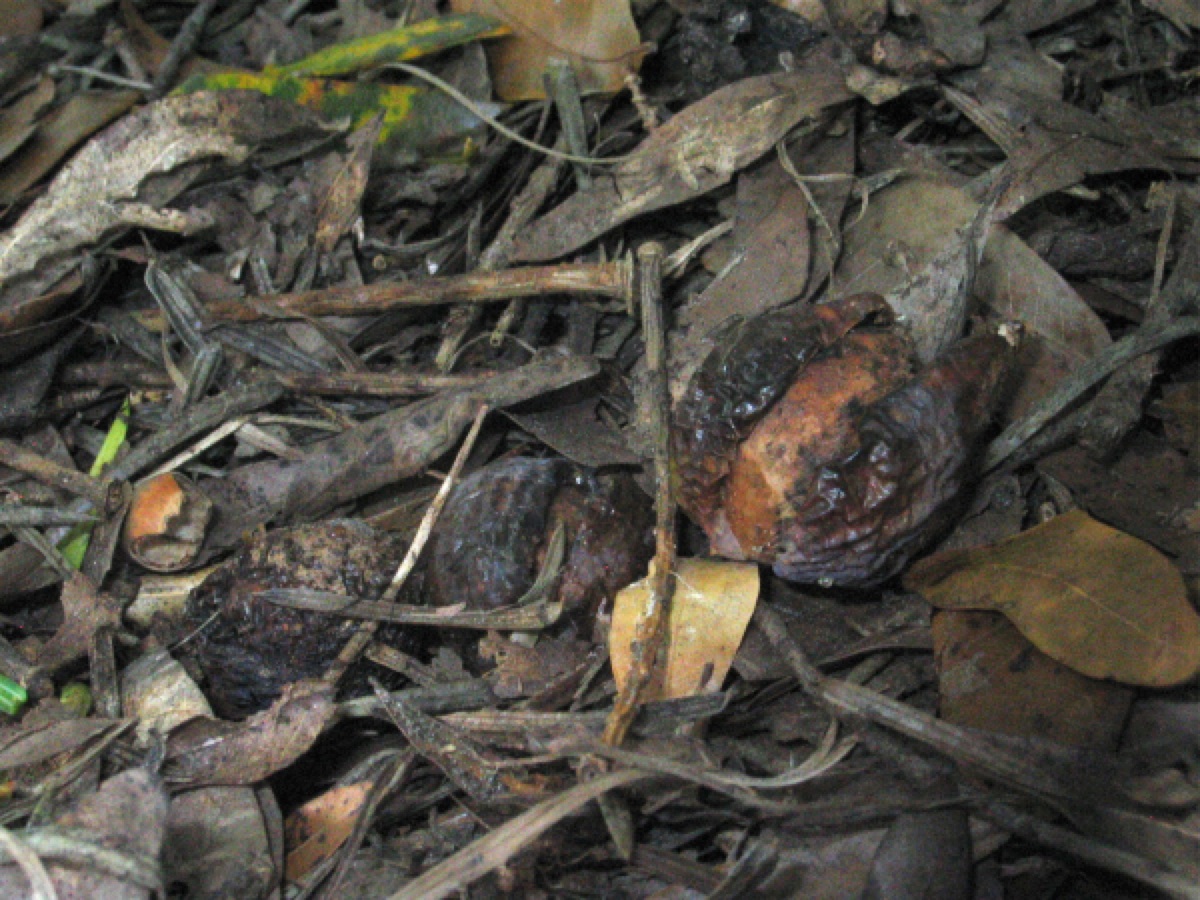 ABOVE LEFT: Seeds dropped in place beneath the tree show no evidence of harvesting by squirrels (in contrast to the intense squirrel activity evident at the Clinton Torreya site the same day). Note the abundance of fallen leaves from the nearby Darlington (aka Laurel) Oak.
ABOVE RIGHT: The drying fleshy covering of the Torreya seed cracks on its own, making the seed easy for a squirrel to remove and carry away.
---
2009 TORREYA INFO FROM A.J. BULLARD
: A 2009 issue of the magazine Wildlife in North Carolina contained an editorial correction by Greg Jenkins titled "More N.C. Torreyas." It reads:
"Mount Olive botanist A. J. Bullard called to inform us that some information was missing from our story "Rewilding a Native" by Sidney Cruze in the Aug 2009 issue. When we asked what was missing, Bullard blew our minds by revealing that there is another living Torreya taxifolia tree in North Carolina that is well over a century old. This tree was one of the two that were planted in Clinton in the 1850s, around the same time that it is estimated the state champion tree in Norlina was planted. A storm in the late 1990s knocked down one of the Clinton Torreyas, but the other survives today. Bullard also explained that the researchers had traced the Norlina and Clinton trees to a single source. Pomaria Nurseries, an antebellum outfit near Columbia, SC, sold a tremendous variety of native and exotic fruit trees, ornamental trees, shrubs and flowers during that era. Scientists made the connection because Osage orange trees were planted near both Torreya sites, and Pomaria sold both types of trees. Bullard and his late cousin, Bob Melvin, verified the identity of the Clinton trees in 1995 and collected 5,000 seeds from the trees, which they distributed to botanists across the state for attempted propagation. Seeds were planted at sites from Meredith College in Raleigh to Western Carolina University in Cullowhee. Perhaps the most surprising fact Bullard provided was that, contrary to botany textbooks, Torreya is not dioecious — that is, having male and female reproductive structures on separate plants. Rather, it is monoecious, because both the Norlina and Clinton trees are producing viable seeds with no other Torreya around. Bullard knows this firsthand because he ha two Torreya trees on his own property — both bearing fruit."
Access Clinton NC Torreya essay by Connie Barlow of her December 2009 phone interview of A.J. Bullard on the Clinton Torreyas and the whereabouts of their offspring.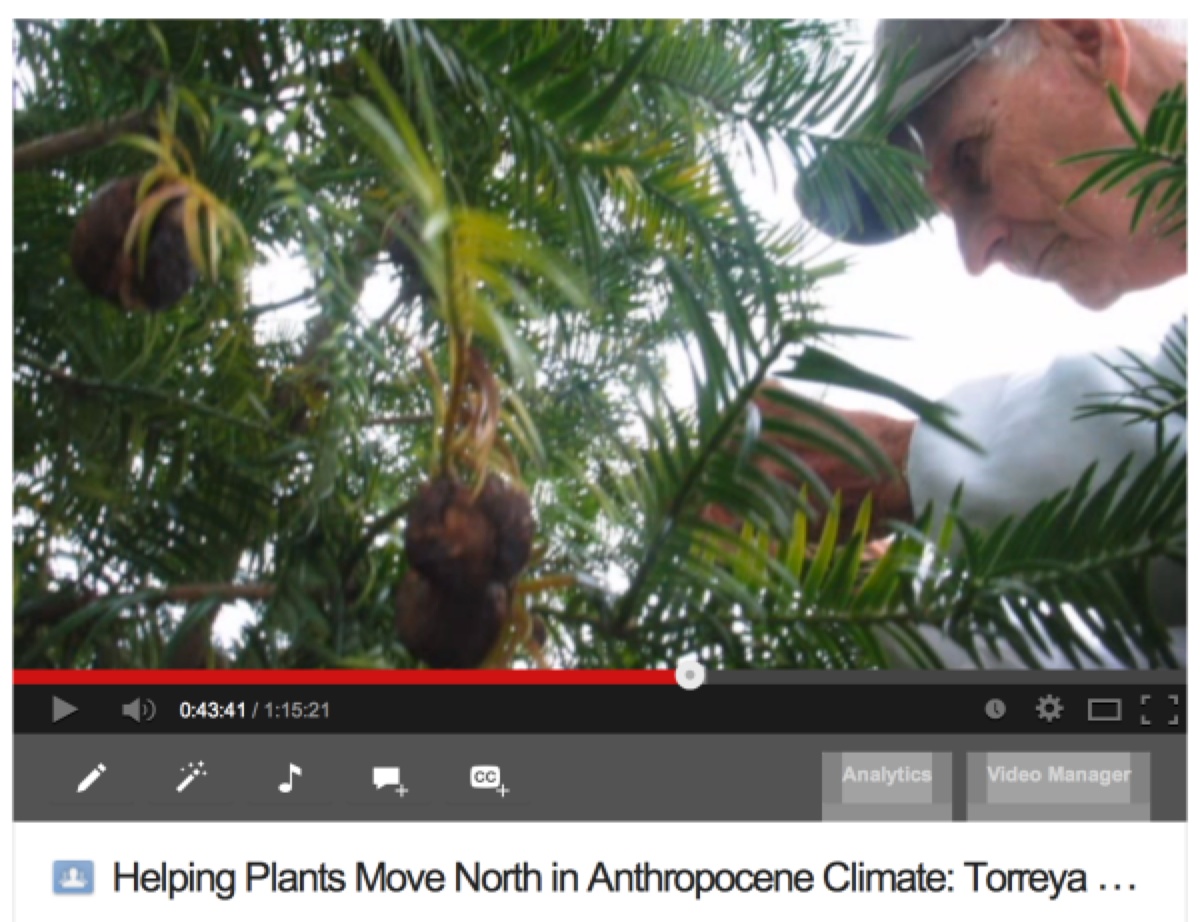 Click above image for the Clinton / Mt. Olive section in the VIDEO
made by Connie Barlow in 2013 on Torreya Guardians actions.
---
•