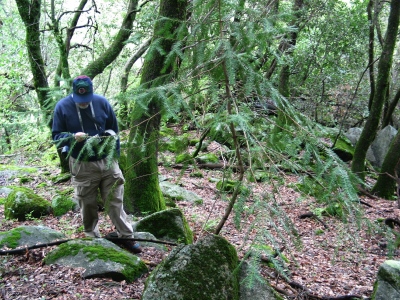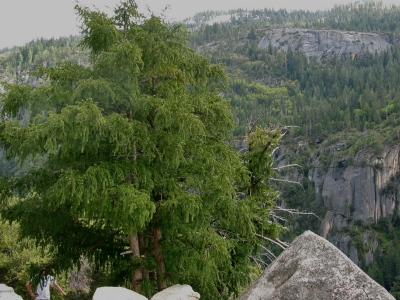 4 PHOTOS ABOVE AND BELOW: All of these photos were taken by Connie Barlow in 2005, during site visits to native habitat of the California species of Torreya (Torreya californica). The purpose of showing these California photos here is to suggest that it is ill-advised to attempt to ascertain the habitat preferences of the EASTERN North American species of this ancient genus without also becoming familiar with the range of habitats which currently support North Amercia's WESTERN species of genus Torreya.
ABOVE LEFT: A typical yewlike (planar) form of leaf growth on branches manifests when Torreya grows beneath a largely evergreen canopy of California Live Oak and California Bay Laurel. This photo was taken May 5, 2005 (by Connie Barlow) in Sequoia National Park, on a western slope at 4,100 foot elevation. More photos here.
ABOVE RIGHT: Once a Torreya breaks through into the canopy, it may take an astonishingly more luxurient growth form, as does this specimen just downhill of a road on a steep south-facing slope in Yosemite National Park, elevation 5,000 feet (photo taken May 19, 2005). Connie initially mistook this specimen for a Douglas Fir! More photos here. Note: The huge single seed encased within the fleshy sarcotesta of a Torreya provides a huge initial energy increment, which allows this species to grow even within a tumble of tall boulders that challenge it with shade during its first several years of growth. The multi-trunked specimen in this photo arises from such a bed, which you can see in photo 9 on the Sierras page.
LOWER PHOTOS: In the coast range of California, Torreyas typically are found in association with redwoods. When challenged by shade, they assume a yewlike growth form, as in the photo left below (with giant redwood right behind it; flash on camera automatically triggered because of the intense shade). The photo to the lower right shows, nonetheless, what a Torreya is capable of achieving even in a redwood forest. Connie is shown standing alongside the champion Torreya californica tree, which occurs on an elevated terrace of a creekbed that is only several hundred feet above sea-level, just five miles inland of the ocean north of Santa Cruz. The frequent fogs during the winter dry season likely have played an important role in producing a large number of very large (and canopy-tall) Torreyas within and on the slopes of this particular valley. See more photos here.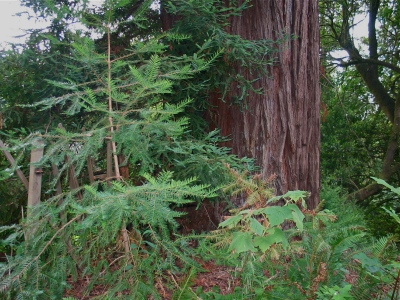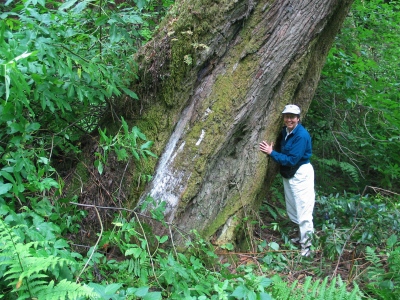 ---
THE IMPORTANCE OF SITE VISITS
PHOTOS ABOVE: Connie Barlow strongly recommends that all persons in official decision-making roles with respect to ESA management of the endangered EASTERN species of genus Torreya make site visits to at least the Santa Cruz, Napa, Sequoia Park, and Yosemite Park native expressions of the western species. At minimum, the photo-essays of California habitats posted online by Connie should be studied and discussed.
As well, this photo-essay with links to more detailed photo pages is intended to acquaint all those with an interest in the future thrival of the eastern species of genus Torreya with the ongoing learning experiences that accrue via the volunteer work of Torreya Guardians in actual field tests of assisted migration into Appalachian habitats of various types.
---
GROWTH DIFFERENCES BETWEEN WAYNESVILLE AND JUNALUSKA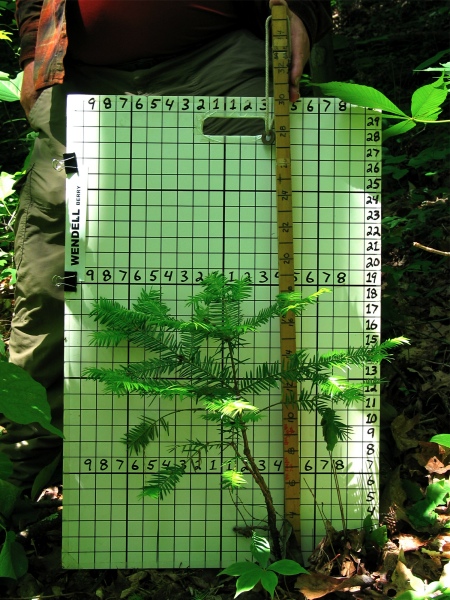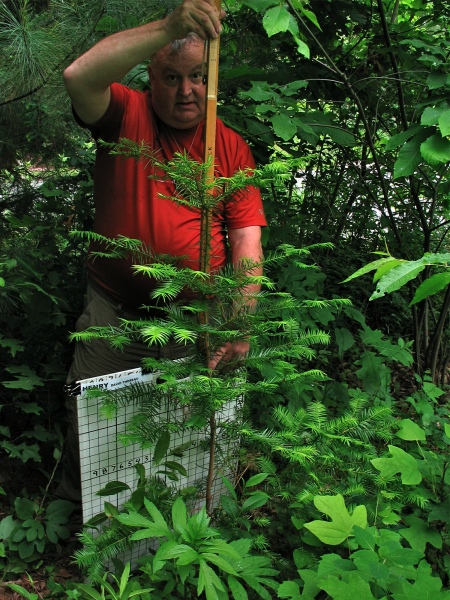 Above photos compare the most vigorous individuals between the two different properties into which potted seedlings were planted in July 2008. Left is at Waynesville of the "Thomas/Wendell Berry" tree. Right is at Junaluska of the "Henry David Thoreau" specimen. Both photos were taken in late May 2012.
The photos below show how similar in size the two specimens were when initially planted in July 2008, with Berry on left and Thoreau on right. The fact that the Berry specimen is not a great deal taller in 2012 than it was at planting is not a disappointment, as examination of the seedlings during planting revealed that they had stayed in their pots for a year or two or three too long — and thus we expected some initial dieback and the likelihood of a long period of root establishment before a main stem would evidence obvious and sustainable growth.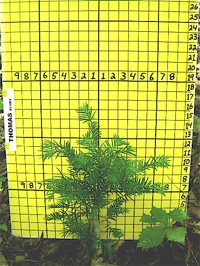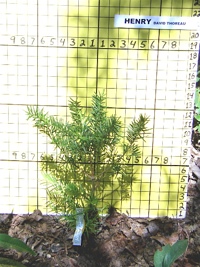 ---
SUCCESS RATE DIFFERENCES BETWEEN WAYNESVILLE AND JUNALUSKA

Connie Barlow created the matrix below (includes both Waynesville and Junaluska NC plantings) to help assess why some individuals are thriving, some are failing, and several died. Note that all the Junaluska trees show more luxurient growth than any of the Waynesville trees, on a "rate" system spanning 0 (dead) to 16. Although Junaluska initially lost 3 of its 10 initial plantings to voles, once short wire cages were added to prevent future losses, not a single specimen has died. More, every specimen in Junaluska is thriving.

In contrast, the matrix below shows a wildly varying success rate at the Waynesville site, with declines and deaths having nothing to do with voles. This high variability in success is welcome, as it offers the opportunity to begin discerning distinctions between favorable and unfavorable habitats and plant associations for this Torreya species.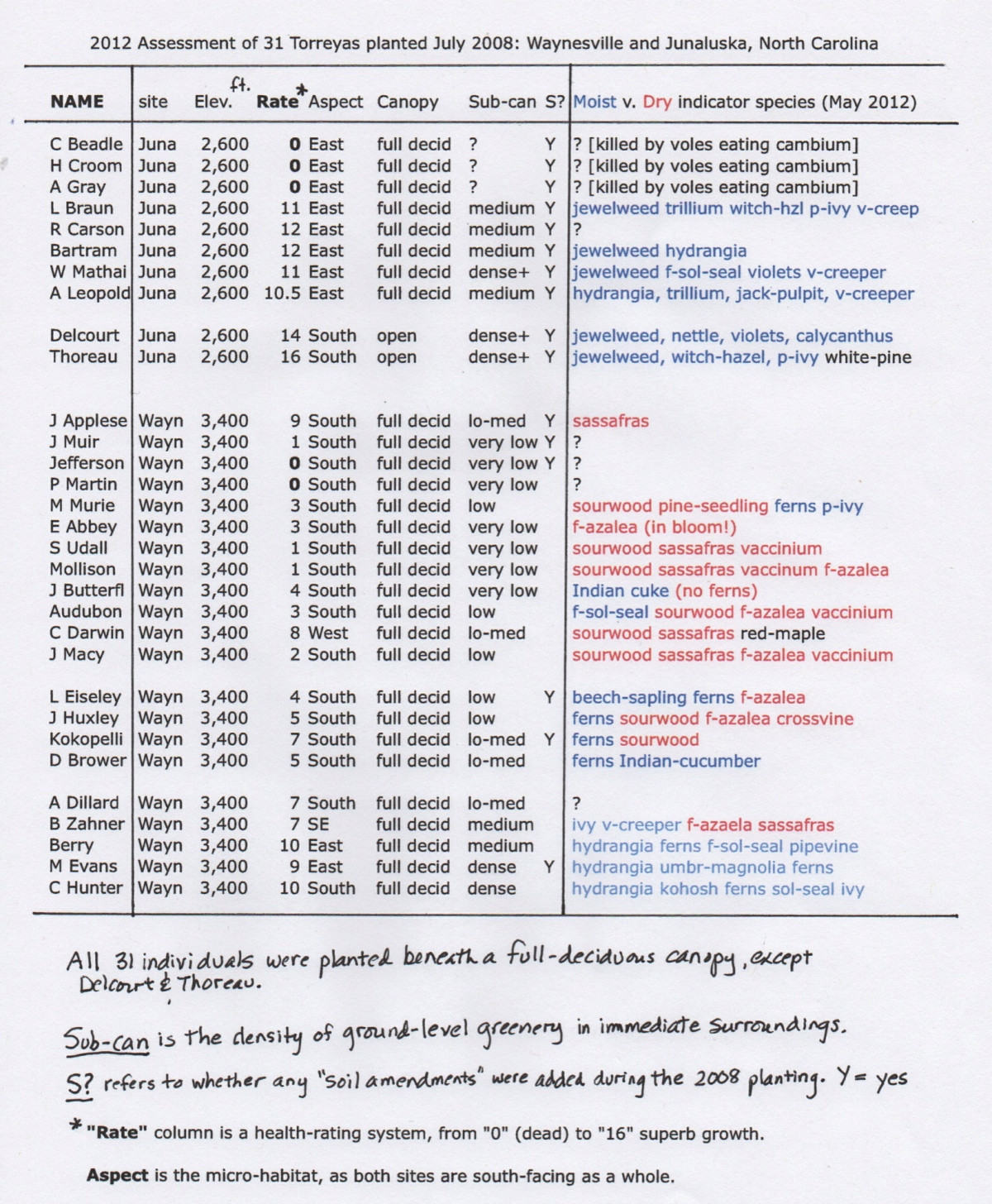 ---

ELIMINATING POSSIBLE CAUSES OF SUCCESS DIFFERENCES
Not SOIL SUPPLEMENTS: The column titled "S?" in the matrix above denotes whether or not soil amendments were mixed into the specimen at the time it was planted in July 2008. While all the Junaluska specimens were given soil supplements (marked by "Y"), less than a third of the Waynesville plantings received such supplements. Note that the two most successful trees at Waynesville (those rated a "10") received no supplements, and one of the two trees that died had received supplements. Overall, by analyzing the success rates within the Waynesville site, we see we can eliminate soil supplements as a causal factor.
Not SUPPLEMENTAL WATERING: For several months directly following the July 2008 planting, all specimens at both Junaluska and Waynesville were given supplemental water by hand. But after that, no supplemental watering was given. Indeed, with the exception of the basal stem cages at Junaluska and a bit of greenbriar pruning and hardwood-seedling pulling when photographs were taken, all individuals were left entirely alone — thus with the freedom to live or die as "rewilded" individuals (that is, seedlings that had germinated in a nursery and which spent the first 4 or 5 years of their life in pots at a nursery).
Not GENETICS: Thirty of the 31 seedlings planted in total at the Waynesville and Junaluska NC properties in July 2008 are very genetically similar. Those 30 were purchased from Woodlanders Nursery in Aiken, South Carolina. The nursery owners wrote, "I believe all of the Torreya we have propagated and distributed in recent years (including the ones you refer to) were seedlings from plants here in Aiken. Years ago on a nearby estate we planted two female trees and a male. The females were cutting-grown from the famous old Torreya in Norlina, NC and the male was cutting grown from a specimen at the Henry Foundation in Gladwynne, PA.
Seedling No. 31, "Celia Hunter," was donated by Atlanta Botanical Garden. It grew from one of many seeds produced by the Garden's "potted orchard," which was cloned from branchlets harvested in 1991 from living original, wild trees in the Apalachicola pocket reserve. So this particular seedling has a pedigree directly related to the wild genotypes. (At the time of donation, the ABG had no idea that the donated seedling might be used in an assisted migration project.)
NOTE: Torreya Guardians are aware that the genetics of these plantings are dangerously inbred. We look forward to the time when the officials in charge of the Endangered Species Management Plan for Torreya taxifolia will conclude (with us) that the benefits (in both knowledge acquisition and species longevity) of assisting the northward migration of this highly endangered conifer far outweigh the possible risks of invasion and disease that some parties put forth as reasons to preclude experimentation with assisted migration as part of ESA plant management. At such time, the property owners at both sites would likely be very receptive to (a) additional plantings to increase the genetic diversity, and (b) ESA-sanctioned visits to monitor site progress. For more on this topic, see the online essay by Torreya Guardian Connie Barlow, "Paleoecology and the Assisted Migration Debate: Why a Deep-Time Perspective Is Vital." For access to the ESA management plan and other pro-assisted-migration comments that were filed, click here.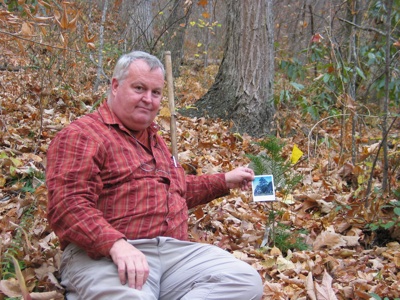 Lee Barnes returns to Evans Property site November 2008. Here, by seedling "Loren Eiseley," he displays a photo he took 20 years earlier of the biggest Torreya taxifolia tree: a female in Norlina, NC. She is "Grandma" to all but one (all but "Celia") of the 31 seedlings that were planted in NC July 2008. Note: Lee Barnes studied Florida Torreya for his PhD dissertation at the University of Florida (1985), available online: "Clonal Propagation of Endangered Plants: Rhododendron chapmanii, Taxus floridana, and Torreya taxifolia".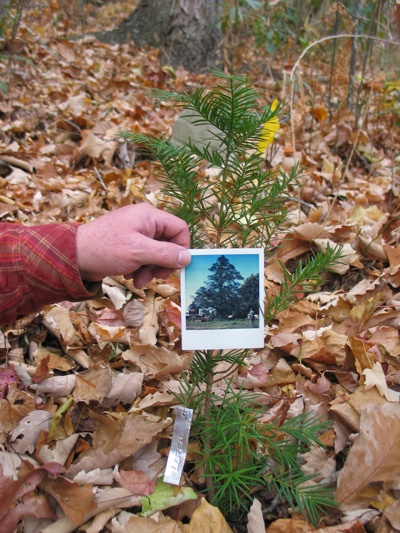 ---

POSSIBLE CAUSES OF SUCCESS DIFFERENCES (for further testing)
Elevation Difference: The Junaluska site is 800 feet lower in elevation than the Waynesville site (2,600 feet compared to 3,400 feet). Lee Barnes, who lives in Waynesville, observes that during the winter there will often be moist snow falling up at the Waynesville Torreya site when there is only rain down in Junaluska. So this difference could be significant and calls for further investigation.

PHOTO LEFT: The specimen "Celia Hunter" after a moist snow at the Waynesville site in December 2008.
Amount and Timing of Direct Sunlight: In the matrix above, note the "Aspect" column. At a macro scale, all specimens at the Junaluska and Waynesville sites were planted on south-facing mountain slopes. But there were big differences in the micro-scale aspect, which is what is depicted in the matrix. Much more investigation needs to be conducted on the matter of sunlight (but, as noted below, "indicator species" may be a more practical site characteristic to assess).
It is important to know that by far the most successful individuals were the only two planted in pretty much full sun: "Hazel Delcourt" and "Henry David Thoreau." The photo below left shows the context of "Hazel Delcourt" immediately after planting in July 2008 (photographer is facing north, and Hazel is directly under the crouched man's left hand). At right is "Hazel Delcourt" in May 2012, which now just overtops the poster grid Lee Barnes is using to measure growth (photographer is also facing north). Note how lush all the new growth is in this untended part of the garden.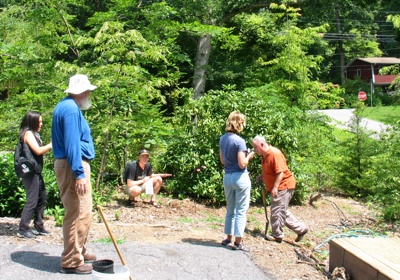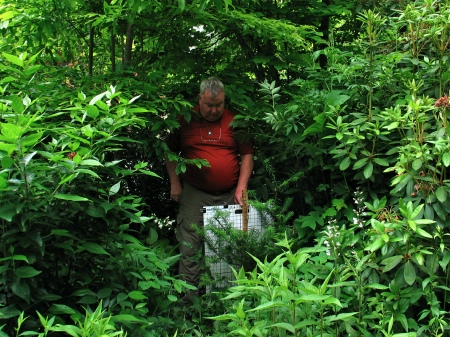 Hydrology: It is reasonable to surmise that, with the exception of perhaps the first year of site acclimation, specimens that grow in the most sunlight generally do best. Indeed, one of Connie's observations of naturally occurring California Torreya is that seeds are only produced on trees/branches that receive a good deal of direct sunlight. (See, for example, the captioned photos at the bottom of this page documenting a California site visit on the slopes west of Napa Valley.) However, too much sunlight can be problematic in seasonal drought times. Hence, the importance of hydrology. But, here again, a survey of naturally growing herbs and shrubs (and to a lesser extent, canopy trees) that are neighbors to a Torreya individual may provide the most direct and easy to acquire information about soil moisture levels. Hence, the importance of undertaking inventories of plant associations, as detailed below — and, from those, working to determine "indicator species."
Soil Chemistry: Torreya Guardian Russ Regnery (and steward of out-planted seedlings near Franklin NC) supplements this field report with a suggestion that soil pH would be important to test as a possible causal factor in the growth differences apparent between and within the Waynesville and Junaluska sites. Direct testing along these lines would be useful. Nonetheless, as with the other possible causes, differences in associated plant species may also indicate soil chemistry differences.
Importance of "Indicator Plant Species": The MATRIX above includes a first attempt to catalog and compare possible indicator plant species.
BLUE font indicates moisture-loving plants

RED font indicates plants that are typically found in drier conditions
It is reasonable to conclude that hydrangia and trillium are indicators of plentiful soil moisture, and thus are likely good locales for planting Torreya. It is also reasonable to conclude that it is unwise to plant a Torreya seedling near sassafras, vaccinium, and flame azalea.
A classic OAK-HICKORY CANOPY is thus to be avoided — which is precisely where we planted the cluster of 12 specimens shown on the matrix headed by the specimen named "Johnny Appleseed." The question, then, is Why (among those 12) are Johnny Appleseed and Charles Darwin doing so well? Careful site inspection, followed by group dialogue, would surely reveal important considerations.
WHAT ABOUT JEWELWEED IN JUNALUSKA? Impatiens capensis, jewelweed, is the only moisture-indicating species that was found (often in abundance) around all but one individual at the Junaluska site — but at none of the Waynesville locales. A quick internet search reveals this:
Impatiens capensis is an annual plant native to North America. It is common in bottomland soils, ditches, and along creeks. The preference is light shade to partial sun, wet to moist conditions, and a fertile soil with an abundance of organic material. Submergence of the roots by flood water is tolerated for up to 2 weeks without apparent ill-effects.
Overall, now that the 2008 specimens have established (or died or severely declined), we have a terrific opportunity to make qualitative and quantitative observations that might lead to real breakthroughs in understanding the habitat preferences of America's eastern species of genus Torreya.

Experienced ecologists are encouraged to survey the matrix above and to click on the photo-essays for each individual specimen planted in Junaluska and Waynesville (the links to each specimen are listed at bottom). Please email your conclusions and speculations (and any advice for future on-site observations) to Connie Barlow: conniebarlow52 at gmail.com
---

"REWILDING" AS THE ULTIMATE GOAL
Ideally, habitats will be found not only where Torreya taxifolia may survive with continuing human-assistance, but also habitats where the species can sustain and propagate independently — as it seems to have done in recent years, thanks to squirrels dispersing seeds at three verified locations: Biltmore Gardens near Asheville NC and on other private lands in Clinton, NC and Highlands, NC.

Ideally, humans will be able to help this conifer genus return to the rich deciduous montane forests of eastern North America as a self-perpetuating contributor to natural plant ecologies within the "discordant harmonies" and "ever-shifting" dynamics wrought by climate change and phylogenetic flows over the course of geological time. As some have speculated, perhaps Torreya taxifolia, over the course of millennia, might be able to fill in for the ecological devastation wrought by the invasive disease (woolly adelgid) that has virtually eliminated the only other canopy evergreen in moist low-mountain forests of the southern Appalachians: hemlock, genus Tsuga.

PHOTO LEFT: A naturally dispersed seedling on private lands in Highlands, NC. The photo was taken with a flash camera during a site visit in August 2006, made by Lee Barnes, Connie Barlow, Jeff Zahner, and two others. (Jeff is the son of famed forester of North Carolina Bob Zahner, for whom one of the Torreya seedlings planted in 2008 on the Waynesville property was named.)
---

A DEEP-TIME PERSPECTIVE ON WHAT IS "NATIVE"
From the very beginning, a symbiotic working relationship between Torreya Guardian activists and the professionals who are bound to abide by the specifications of the Endangered Species Management Plan for Torreya taxifolia has been thwarted, largely because of a disagreement about what constitutes "native" range and "native" habitat.
So long as the professional botanists and ecologists in charge of endangered species continue to assume that "native range" is limited to where these species were living when Europeans first arrived on this continent, mutually beneficial coordination of activities will be difficult to achieve.
In this time of rapid climate change, we simply must acquire a deep-time perspective. We've got to look at the migratory patterns of species and habitats with eyes that honor the flow of biological history — not just human history. It is time to begin thinking about "native range" over the genus and species' entire biological lifespan. That means in thousands and millions of years, not just a few centuries.
To move weedy plants from one continent to another is, unquestionably, ill-advised. But moving a native and highly endangered conifer tree a few hundred miles northward on its home continent should be even less controversial than helping the California Condor re-establish nest-holds on the Colorado Plateau — where it lived only in prehistory. (See the 2008 paper by Jillian Mueller and Jessica Hellmann, "An Assessment of Invasion Risk from Assisted Migration".)
See also the comments filed by Connie Barlow in 2010 re the USF&WS request for comments on the proposed update of the ESA Management Plan for Torreya Taxifolia. She subtitled her comments, "An Opportunity to Shift to a Deep-Time Perspective of Native Habitat." See also this short-version, illustrated webpage: "Paleoecology and the Assisted Migration Debate: Why a Deep-Time Perspective Is Vital."
Finally, although portions are now outdated, see the original paper that launched the debate in 2004, co-authored by Connie Barlow and (the late) Paul S. Martin: Bring Torreya taxifolia North — Now."
---

THE APPALACHICOLA HABITAT AS GLACIAL REFUGIUM
Palynologist Hazel Delcourt, in her 2002 book, Forests in Peril: Tracking Deciduous Trees from Ice-Age Refuges into the Greenhouse World, has well established that the Apalachicola region of the Florida panhandle is one of a handful of primary "pocket refuges" along the Gulf Coast and the southern Atlantic to which the rich flora of the central and southern Appalachians retreated during the peaks of glacial episodes. Indeed, it can be reasonably inferred that had this continent lacked such large riverine environments with banks of rich soil (contrasting to the predominant sandy soils of the region), North America would have lost to extinction genus Liriodendron (tuliptree) — as did Europe.

The MAP (left) shows the primary watercourse routes that rich-soil and moisture-loving species of America's eastern deciduous forests would have taken to find refuge during peak glacial times. The "Alatamaha" refugium would have extended out onto the continental shelf of the Atlantic side of Georgia, when ocean level was at a low because of all the water bound up as glacial ice. It was along the lower Alatamaha that the only specimens of the nearly extinct Franklinia shrub species were ever found.

It is plausible that Torreya taxifolia once took refuge along the lower Alatamaha, but it has never been seen there in historic times. Its only "historic" sightings have been at or near the Appalachicola River (marked in orange on the map) — which served as another key glacial refugium for temperate species of eastern North America.
| | | |
| --- | --- | --- |
| | | CONCLUSION: The best explanation for why Torreya taxifolia is now endangered is not that it is poorly adapted for continued existence in eastern North America after a legacy of millions of years. Rather, the eastern species of this Northern Hemisphere genus is a glacial relict in its current location. It was "left behind in near time," in its ice-age refugium, according to the late Pleistocene ecologist Paul S. Martin. Observe (left) that the large seed would have required squirrels (who extract and bury the seed) to help this species move in tandem with climate change. Paul Martin and Connie Barlow surmised that, because the Apalachicola refuge habitat was so limited, and because the riverine habitat would have been so attractive to the first peoples 13,000 years ago, the local squirrel population may have been extirpated, thus depriving this species of an animal disperser. Hence, the call today for "assisted migration" to help this conifer quickly sync with a warm, interglacial climate. |
Map of how rising sea-level at the peak previous interglacial period (Sangamon Interglacial, 125,000 to 75,000 years ago) would have forced the coastline of Florida to recede. Where would have been "native range" for Torreya taxifolia during that time — and where should it be today?

Source: Rachel Carson, The Edge of the Sea, 1956 (p. 195). On the facing page to this map, Carson wrote, "To understand the living present, and the promise of the future, it is necessary to remember the past."
---
A. J. Bullard with his Torreya taxifolia in Mt. Olive NC, which he planted from a seedling from the mother Torreya in Clinton NC.

Squirrels are repulsed from stealing unripe seeds still hanging on the tree; the branches are too long, the leaves too prickly, and the seeds borne too far out on slim branches for any squirrel to access. Rather, squirrels have to wait for seeds to fall to the ground when ripe.

This contrasts with seeds produced at the Atlanta Botanical Garden from specimens that began as rooted cuttings from branches of wild Apalachicola genotypes. Those branches retain a "memory" of being on a much older tree; even though they were cut and rooted as the new main stem of a growing individual, they retain a shrubby stature and tend to produce seeds more than a decade earlier than a Torreya tree germinated from seed.
---

CALLING FOR PROFESSIONAL AND ACTIVIST COLLABORATION
Overall, the pattern of success and failure resulting from even these first 4 years of fieldwork by Torreya Guardians offers important guidance for homing in on preferred habitat specifications for North America's eastern species of Torreya under the climate conditions that prevail today (and as projected into the future).
Site visits, consultation, and further experimentation northward of the species' glacial refugium are highly recommended toward coming to understand the preferred habitat and the survival/thrival boundary conditions of North America's eastern species of genus Torreya — the only endangered species of genus Torreya in the world. Thus far, it is the activists within the Torreya Guardians collective, and the private landowners they work with, who are in the lead for doing the actual fieldwork by which to best discern the species' habitat preferences under today's climate conditions (and with an eye to how plants zones may continue to shift over the course of even a single generation of trees assisted in migrating). See how much the zones have already shifted, as indicated in the February 2012 release of a new plant zone map for the USA by the US Department of Agriculture.
Observational work and conjectures in the tradition of "natural history" will continue to be highly useful. Professionals and avocational volunteers with broad experience are both needed for formulating hypotheses for rigorous testing, while field testing and assisted migration continue.
Qualitative assessments and tentative conclusions will also continue to be necessary, especially in assisting private landowners who wish to abide by current best practices in how best to aid this species in migrating to habitats that today (and in the future) will offer its best prospects.
By discerning Torreya's preferred habitat conditions and doing our best to plant seeds and seedlings in such habitats, we will be giving the tree a chance to use its natural defenses to thwart Phytophthora water molds (and other plant diseases) that have already destroyed its reproductive capabilities in its historically native habitat (northern Florida).
It thus will be humans who help the species to "migrate" northward, but it will be up to the species itself as to whether "colonization" is the long-term result. This is a hugely important distinction. By experimenting with possible habitats well northward and altitudinally higher of its "historically native range," we Torreya Guardians are aiming for results that will enable species preservation without the need for continuing taxpayer support. In contrast, so long as the ESA management plan limits Torreya restoration to the region best understood as its peak-glacial refugium, there is little realistic hope that the species will ever be restored to independent viability. See the online post: advocating the term "assisted migration" and the communications with scholars upon which it is based.
"My personal and professional odyssey as a historian of deciduous trees
has brought me to the realization that the future of the eastern deciduous forest is now at risk.
We can provide corridors to allow for species to migrate successfully
in the face of climate change. We may also need to be prepared to transplant
endangered species to new locations where climate will be favorable."

— Hazel Delcourt
Forests in Peril (2002, pp 97, 207)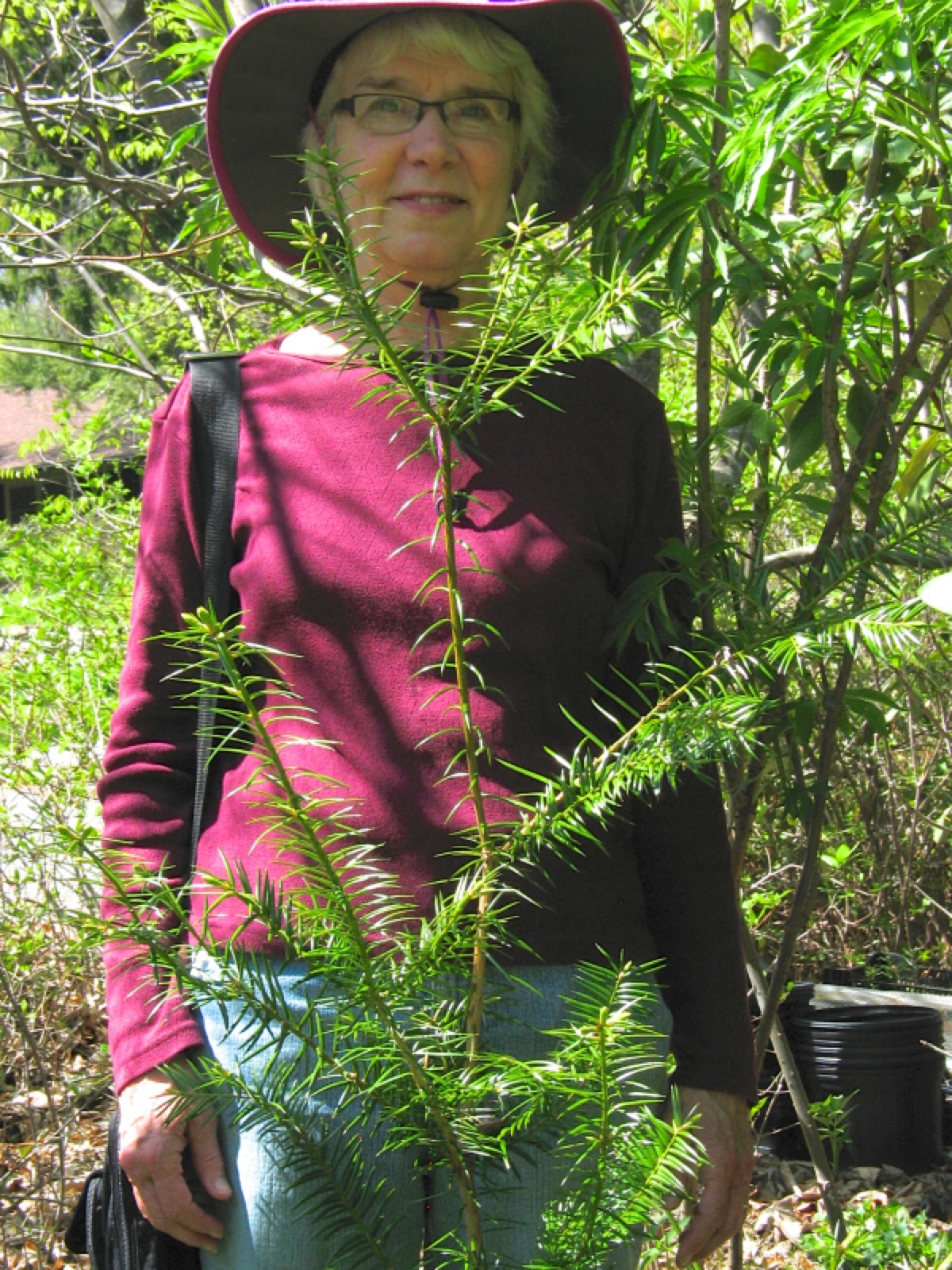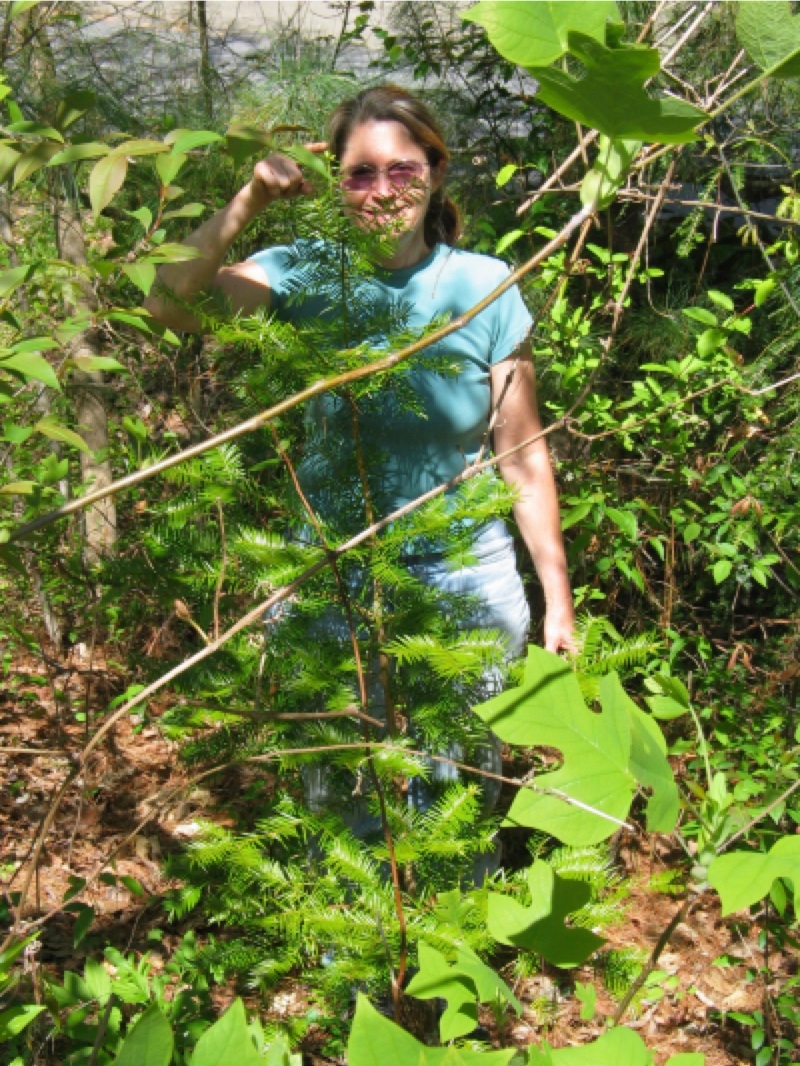 Hazel Delcourt Torreya tree with Sara Evans (left). Henry Thoreau with Janet Manning (right).
Photos April 2013 by C Barlow.
---
Return to HOME PAGE

Annotated List of Papers/Reports Online re Assisted Migration

Contact: conniebarlow52 at gmail dot com