Rewilding Torreya taxifolia
to Junaluska, North Carolina, July 2008

10 potted seedlings to Corneille Bryan Native Garden (Lake Junaluska)
at 2,600 feet on east-facing ravine slope of a south-facing mountain slope

supplement to photo-essay by Connie Barlow

---



In photos below, wherever you see an outstretched hand with palm flat toward the ground, look for the seedling directly beneath it. (Each seedling was given the name of a botanist or conservationist.)

Scroll to bottom for UPDATES, ASSESSMENTS, and to access INDIVIDUAL WEBPAGES (with captioned site-visit photos) for each of the 10 individual trees planted in 2008.

"Chauncy Beadle", shown by Michael Dowd (July 2008)

"Hardy Croom", shown by Ken Gehle (July 2008)

"Asa Gray", shown by Chris Carder (July 2008)

"Lucy Braun", shown by Jane Thomas (July 2008)

"Rachel Carson", shown by Janet Marinelli (July 2008)

"William Bartram", shown by Russell Regnery (July 2008)

"Wangaari Mathai", shown by Linda McFarland (July 2008)

"Aldo Leopold", shown by Connie Barlow (July 2008)
"Hazel Delcourt" "Hazel Delcourt", and "Henry David Thoreau (July 2008). "Hazel" is already planted in this photo and is being shown by Michael Dowd (crouched at center). "Henry David" will be planted next, right behind the trailing leg of Lee Barnes (in orange shirt). Janet Marinelli (in black), Russell Regnery, and Jane Thomas also in photo.

Note on genetics of seedlings: All 10 seedlings were purchased from Woodlanders Nursery in Aiken, South Carolina. The nursery owners wrote, "I believe all of the Torreya we have propagated and distributed in recent years (including the ones you refer to) were seedlings from plants here in Aiken. Years ago on a nearby estate we planted two female trees and a male. The females were cutting-grown from the famous old Torreya in Norlina, NC and the male was cutting grown from a specimen at the Henry Foundation in Gladwynne, PA."
Access DETAILED RECORDS of the progress of each tree:

1. Chauncey Beadle (killed by voles winter 08/09)
2. Hardy Croom (killed by voles winter 08/09)
3. Asa Gray (killed by voles winter 08/09)
4. Lucy Braun (killed by voles winter 15/16)
5. Rachel Carson
6. William Bartram
7. Wangaari Mathai (killed by voles winter 15/16)
8. Aldo Leopold (seriously injured by voles winter 15/16)
9. Hazel Delcourt
10. Henry David Thoreau


UPDATE November 2011: Janet Manning at this location (Corneille Bryan Native Garden) in Lake Junaluska received 40 seeds distributed by Torreya Guardians from the fall 2011 harvest, to be planted and germinated in an outdoor rodent-proof seed bed.

UPDATE May 2012: Connie Barlow and Lee Barnes carefully assessed and photo-documented the health of the remaining 7 specimens. All are superbly healthy; "Hazel Delcourt" (below left) and "Henry David Thoreau" (below right) specimens are outstandingly huge and healthy. (Click on the individual specimen names above to see the captioned photos about the progress of all the Torreya trees.)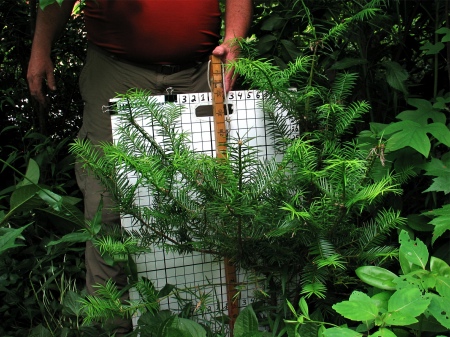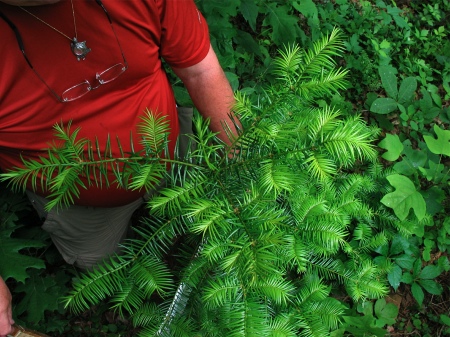 ---

Connie Barlow created the matrix below (includes both Waynesville and Junaluska NC plantings) to help assess why some individuals are thriving, some are failing, and several died. Note that all the Junaluska trees show more luxurient growth than any of the Waynesville trees, on a "rate" system spanning 0 (dead) to 16.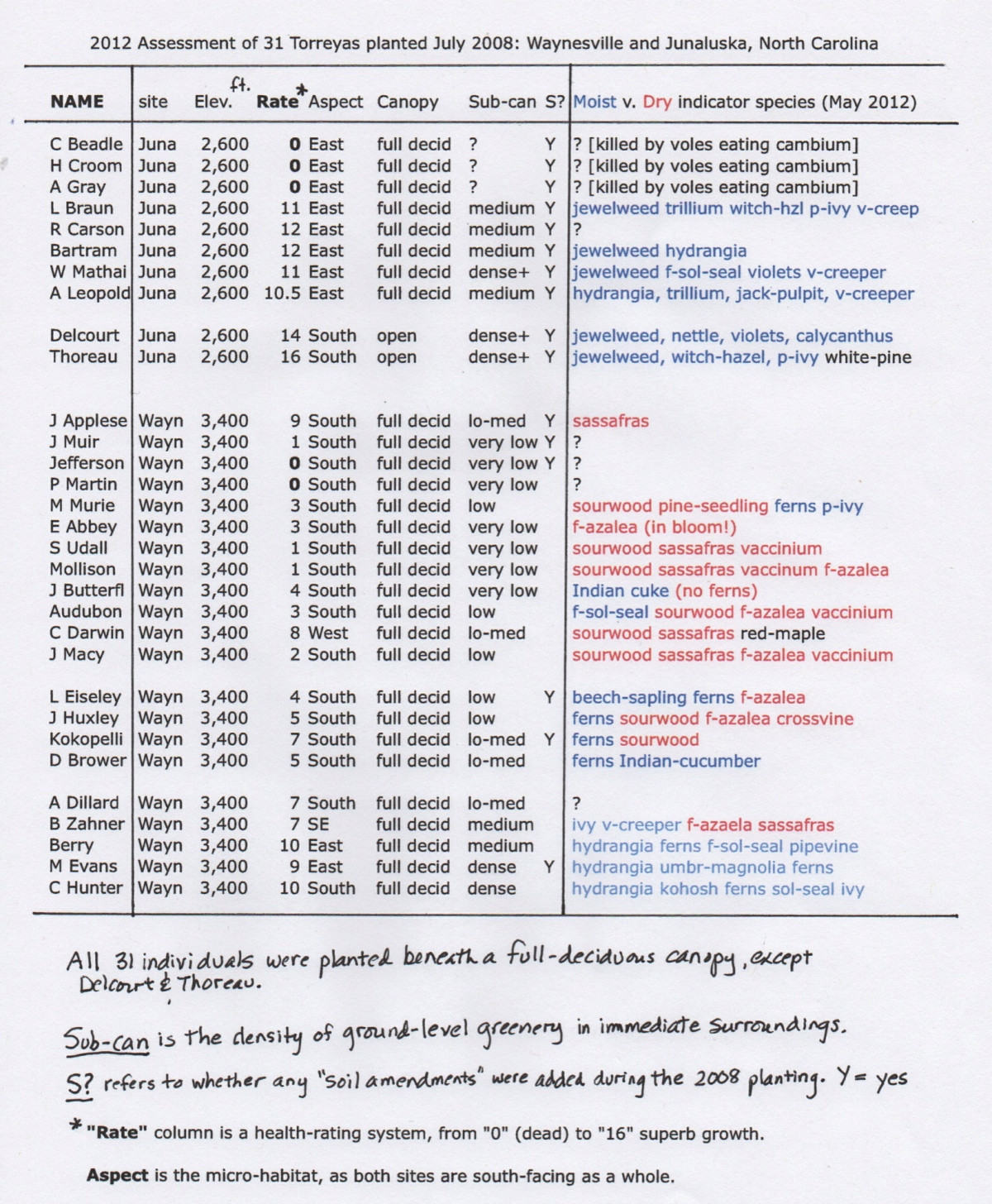 UPDATE November 2012: Janet Manning at this location (Corneille Bryan Native Garden) in Lake Junaluska received 20 seeds distributed by Torreya Guardians from the fall 2011 harvest, of which 5 have thus far germinated. She reports: "Seeds were not planted until December 2011, and two had started to germinate before I planted them. I had kept them in a ziploc bag in my basement. Seeds were planted in two outdoor seed beds — one at the garden and one at home (ten each) — in about 3 inches of fafford germinating mix, layered over 6 inches of a mix of old and new potting soil. The 2 pre-germinated seeds were among those planted at the garden. All of the 5 seedlings are in the bed at the garden. The seedlings are about six inches tall. I am hoping to have more come up in the spring of 2013."
---

APRIL 2013 STATUS REPORT

Leaf bud counts and vertical stem measurements at Evans property were by Lee Barnes; data recorded in field notes by Connie Barlow. Bud counts and stem measurements at Bryan Garden by Connie Barlow; data recorded in field notes by Michael Dowd.
The big news in assessing the health of our 2008 seedlings planted at the Evans property near Waynesville NC and the Corneille Bryan Native Garden in Junaluska is three-fold:

(1) Corneille Bryan plants are thriving

(2) Mixed results at Evans property

(3) New quantitative data format

The table at left shows the results of end-April data collection. Only the healthiest plants (those that are thriving or at least have a chance to better establish and grow) are shown at left — in order of health.

BRYAN GARDEN: Of the 31 potted seedlings planted July 2008, 15 remain in excellent or reasonable health. Except for the 3 seedlings killed by gnawing voles at Corneille Bryan Garden during the first winter, all 7 remaining there are thriving. (These are marked by a prefix of "1" before the plant's name in chart at left.)

EVANS PROPERTY: The 3 plants nearest the waterfall (to the west of the creek) are doing well. These have the prefix 2W and are named Maxilla, Celia, and T Berry. The 2 plants farther from the falls on the West side are in fair condition: Bob Z and Annie. Only 1 of 4 seedlings that were planted centrally (2C) is in fair condition. And on the dry east side of the property (2E), only 2 of the initial 12 seedlings planted there are in fair condition. The other 10 on the east side are either already dead or in a consistently diminishing condition.
These results offer meaningful opportunities to begin assessing habitat preferences of Torreya taxifolia within the mountainous conditions of North Carolina. We welcome interpretive suggestions from knowledgable parties. Please continue reading this assessment and then click on the photo + data pages of individual plants (at the bottom of this page). Also, visit our North Carolina main page, as there are a half dozen other sites (some much older than ours) where Torreya taxifolia has been planted in garden or semi-wild settings in North Carolina.
NOVEMBER 2013 UPDATE by Connie Barlow: During the last week in October, while I was planting seeds on the Evans property in Waynesville NC, Janet Manning (head gardener at Corneille Bryan Native Garden) came over and I gave her 43 seeds from the main Torreya Guardians 2013 seed harvest (which Jack Johnston had given me in early October).
---
SPRING 2015 UPDATE (by Connie Barlow)
VIDEO REPORT: FL Torreya to North Carolina (pt 2): 2015 progress report (Junaluska, NC).
| | | |
| --- | --- | --- |
| | | Second half of video progress report on our 2008 rewilding to North Carolina. Key findings include recommendations for measuring vigor, perils of cohabiting with rhodies, long-term negative consequences of planting root-bound conifers, the stress of seedlings needing to re-orient growth to wild light conditions. Note: The final 12 minutes of the video include the Waynesville findings in the comparative assessment. 45 minutes - filmed April 25, 2015. |
25 APRIL 2015 DATA COLLECTED ON THE 7 TREES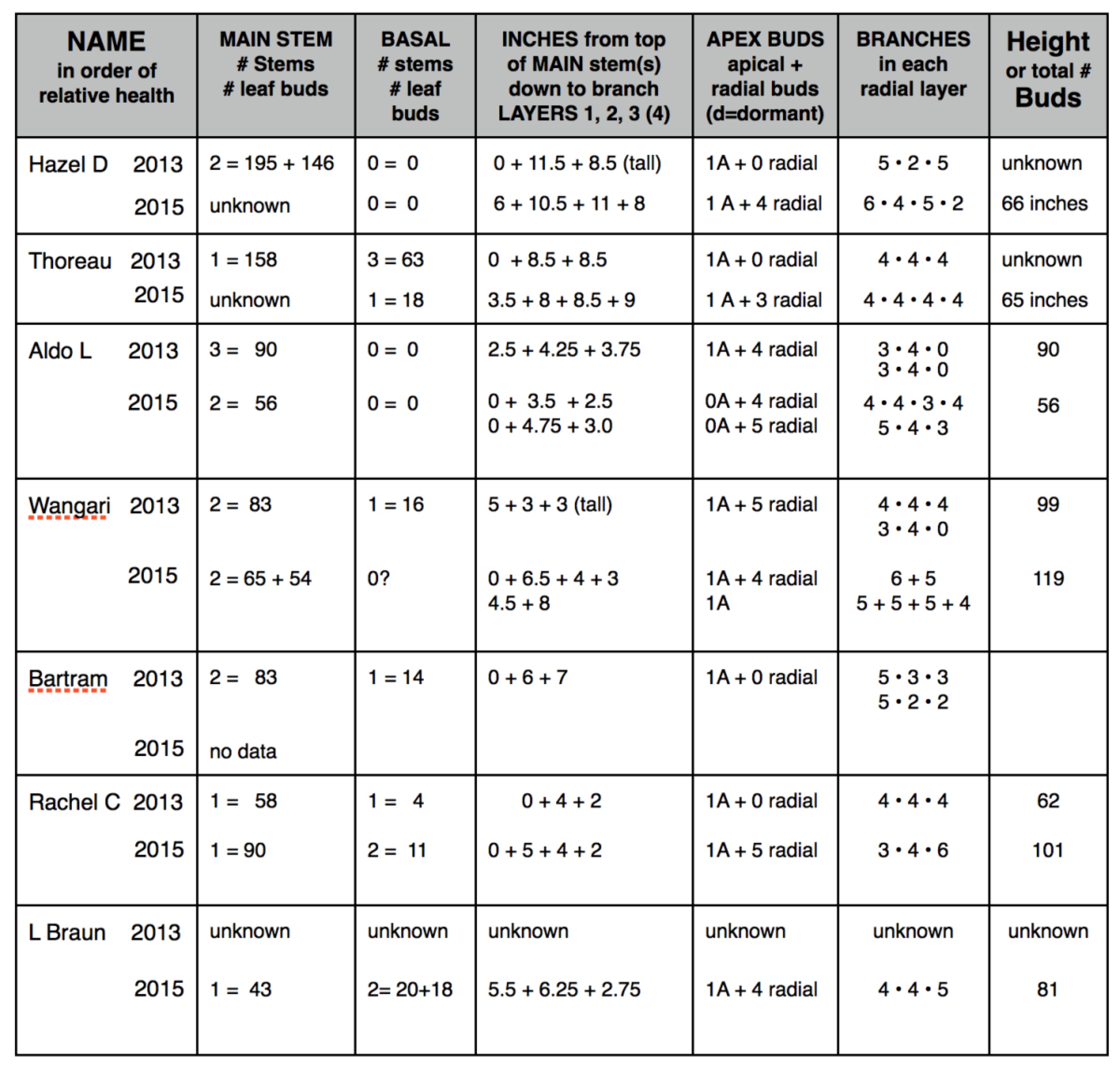 CAVEATS: (1) I noticed for the first time vegetative buds appearing through the bark of older branch segments and even the main stem itself, so bud counts entailing only those at branchlet ends may under-report tree vigor. (2) Because the potted seedlings we planted in 2008 were all "root bound" (too long in the pot), some had to abort their main stem a few years after planting and put all their energy into growing the basal sprouts. As you will hear in the pt 2 of the 2015 video report (above), the Aldo Leopold tree is an example of this "regression" in apparent vigor this year.
---
JUNE 2016 UPDATE (by Connie Barlow)
VIDEO-a: Root-eating rodents kill endangered Florida Torreya at Junaluska NC

Of the 5 remaining Torreyas planted in 2008 at the lower end of the garden, 2 were killed by rodents eating the tree roots overwinter 2015/16 and another is gravely injured in the same way. Both of the uninjured young trees are being dangerously encroached upon by rapidly expanding rhododendron patches. Connie Barlow narrates, with assistance by Michael Dowd. Note: This is a 2016 follow-up to 10b video filmed 2015 at Corneille Bryan Garden in Lake Junaluska, NC.

29 minutes - filmed 21 May 2016
Editor's note (December 2016 update): Thanks to our New Hampshire Torreya Guardian, Daein Ballard, we can now suggest that care must be taken to shake out perlite and loose soil from the roots of potted seedlings prior to planting outdoors. Chipmunks will be enticed to build their winter burrows in the loose soil (and therefore snack on the roots too) — especially if the natural soil in the surrounds is inferior or has a clay pan barrier to digging. The same goes for mulch: Mulch around the base of a torreya will also attract burrowing rodents. So, while bird-feeders may still be problematic in contributing to rodent overpopulation followed by famine, perhaps the biggest problem owes to the soil around the Torreya being overly attractive to burrowing rodents.
Photo left was taken in Spring 2016 by Connie Barlow at the Corneille Bryan Native Garden (Junaluska) site near Waynesville NC. That was where Torreya Guardians planted 10 potted seedlings in July 2008.

The photo left shows a rodent tunnel and rodent-gnawed roots of what, until Winter 2015, had been a vibrant little Torreya (Wangari Mathai). A second such planting (Lucy Braun) was discovered likewise killed the same day.

Previously, 3 Torreyas had been killed by rodents their first winter. All 5 deaths are in the plantings closest to a set of bird feeders at a seasonally occupied home. Equally important is that one can see tiny specks of perlite in the loose soil of the photo left.

These 2016 rodent-kill observations now confirm that perlite and soft soils must be shaken from the roots when out-planting potted seedlings!
VISIT THE RODENT SECTION of our "Propagate page" for more details on how to deter rodent herbivory.
---
VIDEO-b: Two biggest Florida Torreya trees still thriving at Junaluska NC

Both trees planted in full sun (as potted seedlings) in the upper end of Corneille Bryan Garden in 2008 are continuing to excel — despite now being fully shaded by deciduous border and canopy. A key finding is that neither specimen produced vertical apical growth in 2015, but both are doing so in 2016.

21 minutes - filmed 21 May 2016
---