---
Part 3. Assisted Migration of Glacial Relicts, Not Genetic Engineering
3A. APALACHICOLA AS GLACIAL REFUGIUM AND TORREYA AS GLACIAL RELICT ARE UNDISPUTED
Until 2021 it was undisputed that the Apalachicola area (within which is Torreya State Park) is a glacial refugium and that Torreya taxifolia is a glacial relict. The 2010 recovery plan, the original (1986) recovery plan, the (1984) listing in the Federal Register of Florida Torreya as an endangered species, and the original Draft Environmental Impact Statement all mention the refugial nature of the habitat and the relictual ecological status of the tree (see items below). First, a look at the limits of the decision-process that guided the agency's response to the Downlisting Petition.
• 2021 U.S. Fish & Wildlife Service "DECISION" on the "Petition to Downlist". (The downlist petition itself was filed September 2019 by Connie Barlow.)
EXCERPT: "... the petition has not provided substantial evidence that would lead a reasonable person to believe that the historical range of T. taxifolia is larger than described at the time the species was listed (Factor A). The petition cited our 1986 Recovery Plan and 2010 5-year review in support of the position that the historical range is larger than described at the time of listing. However, while we acknowledge that the 1986 Recovery Plan and the Service's 2010 5-year review speculate that the geographical range of T. taxifolia, or presumably an ancestral species (i.e. T. antigua), may have, in past geological times, included localities as far north as North Carolina, no native trees have been documented outside of the species' defined current or historical range, and both the Service's 2010 5-year review and the 1986 Recovery Plan confirm that all known native populations occur within four counties in Florida and Georgia."
Editor's note: Just as the USF&WS policy is not open to considering future range shifts forced by climate change, this document evidences that whether or not the species is a glacial relict, the only geographic focus for recovery is the established "historic range." Sadly, whether or not the species arrived at its present endemic range as a result of glacial advance and cooling is not a matter for discerning the boundaries of geographic locale that will be the sole focus for 'habitat amelioration." This is a significant departure from the early days of ESA recovery planning, when "glacial relict" status was deemed important for discerning how best to serve a listed species. And given 21st century rapid climate change, the confines of restoration merely to "historic range" become even more out of sync with reality — dooming the species to a future life, in any, merely of permanent "safeguarding" rather than a wild, forest future.
• (undated) Draft Environmental Impact Statement - "... the bluffs and ravines served as a refugium when northern species migrated southward during glacial times and today the area has a high rate of endemism and unique vegetation."
• 1984 Federal Register. EXCERPTS: The Service determines Torreya taxifolia (Florida torreya) to be an endangered species pursuant to the Endangered Species Act. This plant is endemic to the Apalachicola River area in Florida and Georgia. It is endangered by a fungal disease, which kills trees before they reach seed-bearing size.... An evergreen tree reaching 18 meters tall, Torreya taxifolia (Florida torreya) was first discovered in 1834 and formally described in 1838. The Florida torreya and other endemics of the Apalachicola River system have received much attention from scientists and local residents. The relictual nature of this area accounts for the presence of many unique species (James, 1967). During recent glaciations, species migrated southward by way of the Apalachicola River system, which served as a refugium during cooling periods. The Apalachicola River is the only Deep River system that has its headwaters in the southern Appalachian Mountains. With the receding of the glaciers, cool moist conditions persisted on the bluffs and ravines of the Apalachicola River after climatic change rendered the surrounding area much drier and warmer. The entire Apalachicola River bluff system today is an extremely diverse and unique ecosystem, of which Torreya taxifolia is a part. ... All mature viable trees are located in botanical gardens and arboreta. The wild trees do not now have good long-term survival prospects. The initial focus of recovery will be to address controlling the disease. After the disease has been overcome, recovery efforts would address reintroduction of the species into the wild."
• 1986 "Florida Torreya Recovery Plan", U.S. Fish & Wildlife Service - EXCERPTS: Torreya is a genus of four or five species from Florida and Georgia, California, China, and Japan. The present geographic distribution of the genus is similar to the distributions of several other plant genera. The distributions, together with fossil evidence, suggest that these genera had wide distributions during the Tertiary Period that were subsequently reduced by climatic changes during the Quaternary (James 1961, Delcourt and Delcourt 1975).... The decline of Torreya taxifolia in its native habitat may ultimately be due to environmental factors that stressed the trees, including alteration of its forest habitat, alteration of vegetation above the ravines it inhabits, alteration of water seepage into the ravines, or droughts. The proximate causes of the decline are an assortment of fungal infections, resulting in stem cankers, stem and leaf blight, and possibly other problems (see p. 6). The decline has affected all wild Florida trees (Godfrey and Kurz 1962) and possibly all cultivated trees.... The species may be restricted to the area because it failed to migrate northward at the end of the Pleistocene.
• 2010 "Torreya taxifolia (Florida Torreya) 5-Year Review: Summary and Evaluation", U.S. Fish & Wildlife Service - "... Based on fossil records, we can speculate that the geographical range of T. taxifolia included North Carolina and perhaps, it was forced south by glaciers, and when they retreated, it became isolated in small areas of the southeastern United States." (p. 12)
---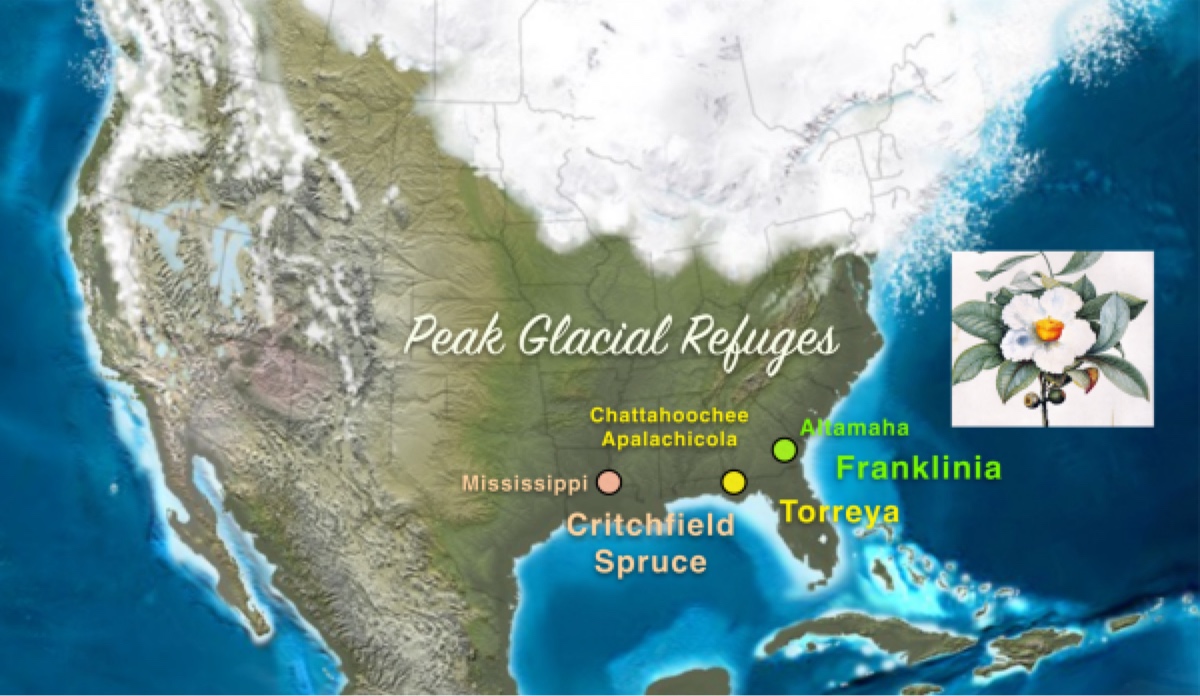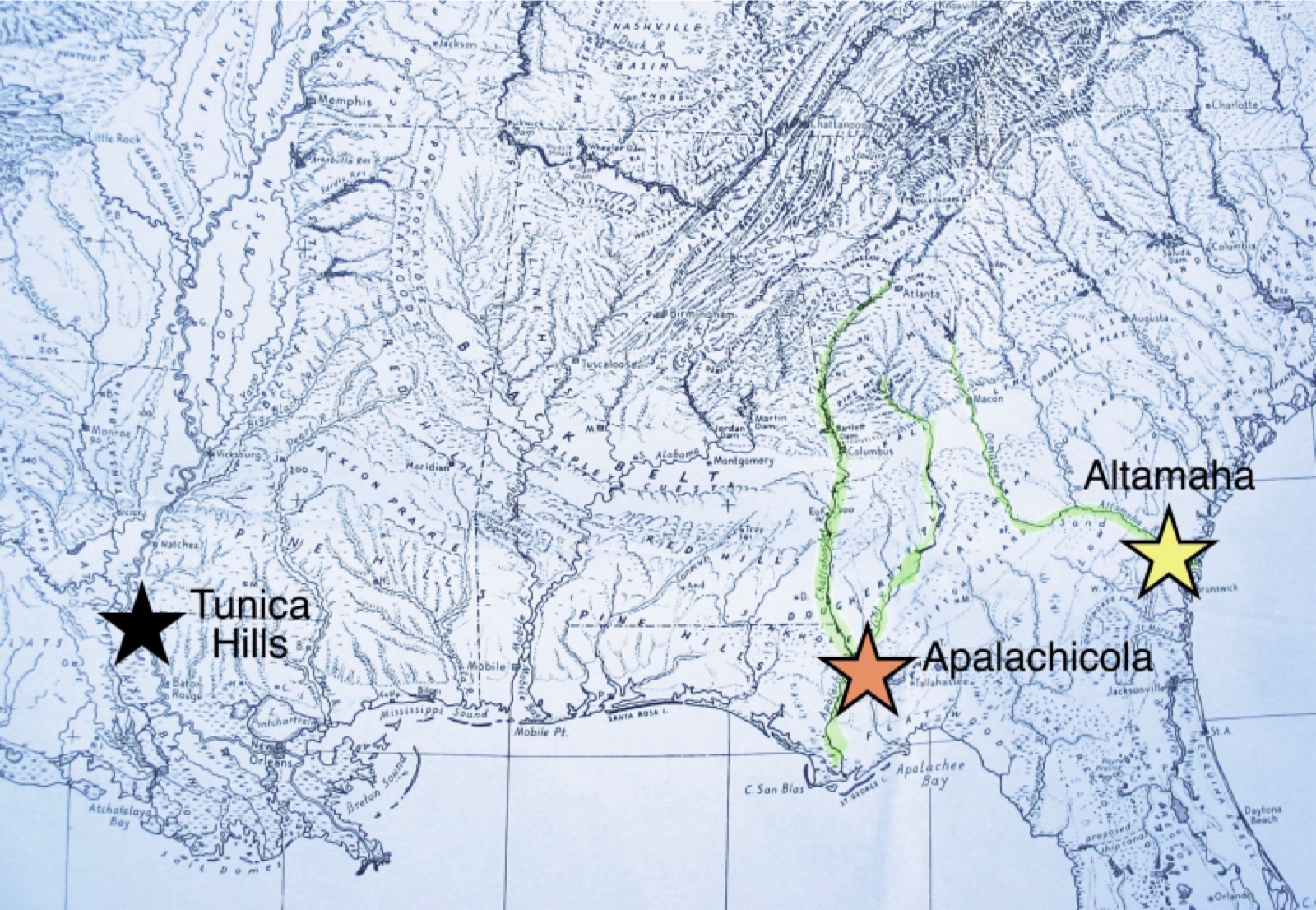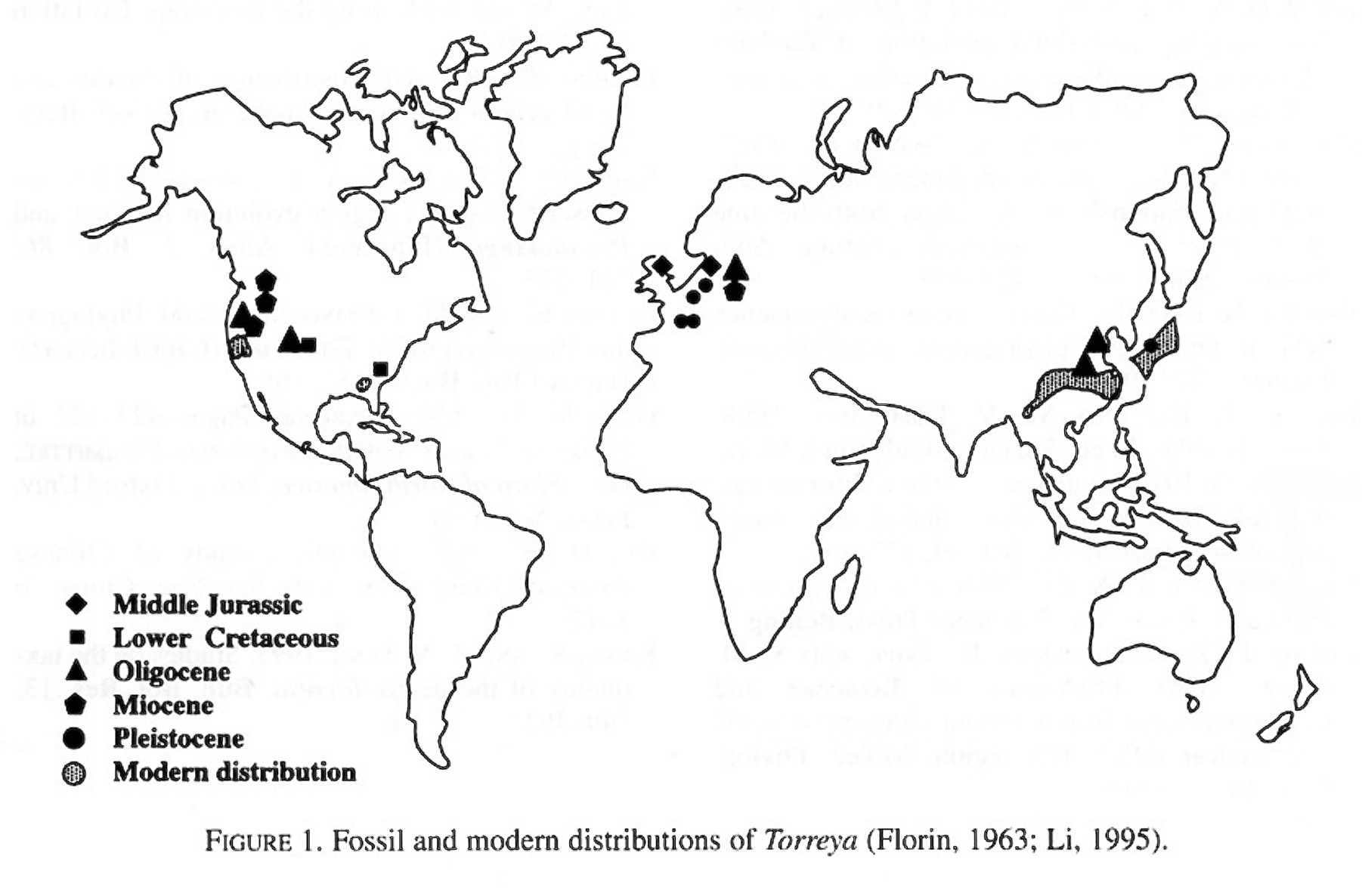 Source: "Phylogenetic Relationships of Torreya (Taxaceae)
Inferred from Sequences of Nuclear Ribosomal DNA ITS Region",
by Jianhua Li et al., 2001, Harvard Papers in Botany.
---
TWO BOTANY PAPERS IN 1905 PORTRAY TORREYA AS A GLACIAL RELICT:
• 1905 - "A Remarkable Colony of Northern Plants Along the Apalachicola River, Florida, and Its Significance" - by H. C. Cowles, in Report of the Eighth International Geographic Congress Held in the United States

EXCERPT: ... In this association one finds two of our most notable endemic plants — Torreya and Croomia. It seems likely, then that we should regard Torreya taxifolia as a northern mesophytic left stranded to-day only in Florida. It presumably is one of the plants that failed to follow up the last retreat of the Pleistocene ice, and is preserved here perhaps because of exceptionally favorable topographic conditions.

• 1905 - "Gameotophytes and Embryo of Torreya taxifolia", by John M. Coulter and W.J.G. Land, pp. 161-62 in Botanical Gazette

EXCERPT: ... It is associated with a remarkable and somewhat extensive group of northern mesophytic plants, and the conclusion is irresistible that Torreya is a northern plant of the most pronounced mesophytic tendencies, and to be associated with such forms as the beech-maple-hemlock forms of our northern woods, our most mesophytic type of association.
RECENT REVIEW PAPER IN JOURNAL OF BOTANY FEATURES TORREYA TAXIFOLIA AS EXAMPLE OF "MIGRATIONAL LAG":
"... Torreya taxifolia Arn. has experienced, range-wide decline, which may be due to lagged responses to climate change (Barlow and Martin, 2005)." — "Disequilibrium Vegetation Dynamics Under Future Climate Change", by Jens-Christian Svenning and Brody Sandel, 2013, American Journal of Botany, "Special Invited Article."
RECENT MAGAZINE ARTICLES PORTRAYING TORREYA AS A GLACIAL RELICT:
• 2007 - "The Florida Torreya and the Atlanta Botanical Garden", by David Ruland, in Conifer Quarterly, pp. 10-14. Note: As of 2019, David Ruland is Greenhouse Manager for Atlanta Botanical Garden.

EXCERPT: ... According to fossil records, the Florida torreya is estimated to be over 165 million years old. Like many other conifers with such an impressive age, it was once scattered throughout the northern hemisphere. Scientists theorize the species was driven south by glaciers that once covered the northern latitudes. When the glaciers retreated, the Florida torreya was left isolated in small microhabitats of the southeastern United States, where it thrived for thousands of years. ... The Florida torreya is a glacial relic, seemingly stranded in an increasingly hostile niche without any natural means of escape or survival. This tree would certainly be doomed without the intercession of concerned individuals and institutions....

• 2017 - "Steephead Salamander Search, and the Apalachicola's Ice Age Refugees", by Rob Diaz de Villegas, WFSU Ecology Blog, 16 November 2017 (contains many excellent photos)

EXCERPTS: ... If you go back millions of years, before the ravines that you see are in place, you would have had a relatively large, flat, sandy plateau," says David Printiss.  Printiss is The Nature Conservancy's north Florida program manager, overseeing the Conservancy's Apalachicola Bluffs and Ravines Preserve. "During the last glaciation," says David Printiss, "all species from the Appalachians were pushed southwards by the cold weather." These changes occurred over thousands of years, so everything from large tree species to little salamanders would shift their ranges as temperatures changed. When these Appalachian species found steep, narrow ravines with cool, flowing water, it felt like home. So when temperatures got warmer again, many northern plants and animals left behind small populations in ravines and slope forests. Some entire species remained here, and only here. And so we have an interesting mix of flora and fauna that makes steepheads unique. "We have the southern end of the distribution of species like mountain laurel that you wouldn't expect," says David Printiss. "And you have other species that you'd call glacial relicts. They were left behind, so their sister species are up in the Appalachians.... There are other [relict] species like the torreya tree that just simply could not run uphill fast enough and was left behind," says Printiss. "So its global distribution is Torreya State Park and the Apalachicola Bluffs and Ravines Preserve."
3B. PUBLICATIONS POST-LISTING (ENDANGERED SPECIES) LACK ASSISTED MIGRATION DISCUSSION
The 1986 recovery plan, p. 8, confines the geographical goal: "(3) ... investigate the decline to determine its cause, and, if possible, to find a cure; and (4) introduce cultivated plants into secure habitat within its former range."
Written records accessible online fail to indicate any intent (not even curiosity) about thwarting the lethal disease(s) by moving Torreya northward to cooler climes. Rather, discovery of a curative approach culminating in "reintroduction" to its currently native range was the only desired outcome set forth. A popular article published in 1990 and written by one of the scientists who participated in the official collection and rooting of branchlets from the remaining wild trees failed to mention that establishing northward sites might be helpful — even while pointing to "global warming" as a possible cause:

• Chasing Ghosts: The steep ravines along Florida's Apalachicola River hide the last survivors of a dying species, Torreya taxifolia, by Rob Nicholson, 1990, Natural History Magazine
EXCERPTS: ... All the unknowns confound any recovery plan. Is Torreya an early victim of global warming and a precursor of a new wave of inexplicable extinctions? Has local land use destroyed this Torreya habitat? Is there any point in trying to fortify existing populations by replanting if a virulent pathogen lurks unchecked? Will propagations of cuttings from existing wild trees carry a new pathogen wherever the new trees are distributed? Or, frozen by doubt, will plant scientists do nothing while the unique species slips away, tree by tree?
... The Apalachicola Bluffs and the ravines that dissect them are at the cusp of the deciduous woodlands and the lush subtropical jungle. It is an undecided forest, its luxuriant ecotone having been shaped by the forces of glaciation during the Pleistocene era. As a New Englander used to deciduous woods, I was unsettled by seeing beech, maple, and hickory mixed with bold fan-leafed palmettos, spiky yuccas, and huge evergreen magnolias.
"... In June 1989 I joined Mark Schwartz and we surveyed as many ravine systems as possible, carefully mapping and labeling the plants growing there.... When we returned in the fall, we collected small cuttings, tissue samples, and soil samples for genetic, propagation, and pathological studies. Alarmingly, in just a few months, a number of our mapped trees had been lost — to deer rubbing, disease, and even falling limbs from the upper canopy. The species was going extinct before our eyes and will probably not last another generation.
... More than 2,500 cuttings were collected from 166 trees and were treated with a variety of hormones to promote rooting. These were brought to Harvard's Arnold Arboretum, where 2,100 were successfully rooted and potted. The accession number of the sampled trees follows each of these clones (and any subsequent propagations) with the particulars as to the plant's original location in the wild. Therefore, in the distant future, ravines might be replanted with the same genetic material that once grew there. Cuttings taken from the wild five years ago are growing well and so far show no signs of disease.
... While the few remaining saplings may outlast the blight, not many people who have seen the trees would wager their homes on it. More likely, clusters of trees, propagated from specific ravines, will be grown in botanical gardens, universities, preserves, and state parks. This Florida native, as evidenced by the few healthy trees in cultivation, seems to thrive on the southern slopes of the Appalachian Mountains and is more cold tolerant than its present range would suggest. Possibly an Apalchicola refugium can be re-created, an artificial Torreya forest where pollen can float, genes mingle, and the evolution of the past hundred million years can continue, even if it is in a pitifully discounted format.
• CLASSIC BOTANY PAPERS are excerpted in a special section toward the bottom of this webpage. Two 1905 papers (one by John Coulter and the other by H. C. Cowles) identify Torreya taxifolia as a glacial relict. Their proclamations were preceded decades earlier by none other than Asa Gray.

3C. EARLY ADVOCACY OF ASSISTED MIGRATION BEGINS WITH BILL ALEXANDER AND CONNIE BARLOW
CONNIE BARLOW WRITES: I am founder of Torreya Guardians, and I am documented as having advocated for assisting Florida Torreya to migrate northward, beginning in 2001:
• The Ghosts of Evolution: Nonsensical Fruit, Missing Partners, and Other Ecological Anachronisms, by Connie Barlow, 2001 (Basic Books)
EXCERPT: ... In a study of endangered species published in 2000, Rob Channell and Mark Lomolino concluded that "most species examined persist in the periphery of their historical geographic ranges." The implication is that the last place a troubled species is found may not, in fact, be the best place to assist its recovery. Transplantation is an uncommon and controversial technique for biodiversity conservation today. But after the greenhouse effect has ratcheted up temperatures and rerouted rainfall, it surely will become the norm. If gardening a few local patches of endangered plants is tough today, it's going to get a lot tougher when, like it or not, we become gardeners of the planet. Helping plants track climate change from one patch of forest to another will be a routine tactic for conserving biodiversity decades hence. Is it too early to begin now with Florida torreya?

Note: My 1999 visit to Torreya State Park and subsequent ruminations appear on pages 229-231.
Later, I learned there had been an advocate for northward movement of Torreya before me. In late February 2004 I visited the Biltmore Estate and Garden near Asheville NC for the first time. There I met with Bill Alexander in his office before he showed me the otherwise unmarked site where Florida Torreya had been growing — and naturalizing. Bill told me that he had advocated (alas, to no avail) at a conference in the 1990s for assisting the recovery of Torreya taxifolia by planting more specimens in northward locales. I documented that conversation in a chapter I contributed to a 2009 book, published by MIT Press.

• Chapter 10, "Deep Time Lags: Lessons from Pleistocene Ecology", by Connie Barlow:
... One section of [my 2001 Ghosts of Evolution] book used the deep-time perspective to re-examine the circumstances of perhaps the world's most endangered species of conifer tree: the Florida torreya (Torreya taxifolia). It occurred to me that torreya's desperate plight owed to its failure to migrate north (perhaps for want of a seed disperser) from its Ice Age refuge in the Florida panhandle to habitat better suited to the tree's needs in peak interglacial times. That better habitat would likely have been the core of torreya's range during previous interglacials: the southern and central Appalachian Mountains.
As it turns out, I was not the first to make this suggestion. Bill Alexander, forest historian at the Biltmore Gardens of Asheville, North Carolina (in the central Appalachian Mountains), observed his garden's own grove of Florida torreya, and concluded that North Carolina seemed more conducive to the wellbeing of this conifer than was northern Florida (personal communication)...

EXCERPT CONTINUES: In a 1990 article, botanist Rob Nicholson speculated, "Is Torreya an early victim of global warming and a precursor of a new wave of inexplicable extinctions?" How prescient he was! Thanks to a host of recent scientific papers (e.g., Barlow and Martin 2005; McLachlan et al. 2007; Hoegh-Guldberg 2008) and popular articles (e.g., Fox 2007; Nijhuis 2008; Marris 2008), Florida torreya has become a "poster plant" for alerting the public and scientists alike to the lurking dangers of global warming and to the consequent need for what has come to be known as assisted migration. Assisted migration must not, of course, be promoted as an alternative to reducing greenhouse gas emissions. But it is decidedly unrealistic to assume that climatic change and its challenges to biotic diversity will vanish in the next decade or two. Again, time lags (melting polar and glacial ice) will take a long time to equilibrate even if the concentration of atmospheric CO2 could politically and economically be stabilized at today's levels....
• Next, in 2004 CONNIE BARLOW and Pleistocene ecologist PAUL S. MARTIN co-authored an advocacy essay: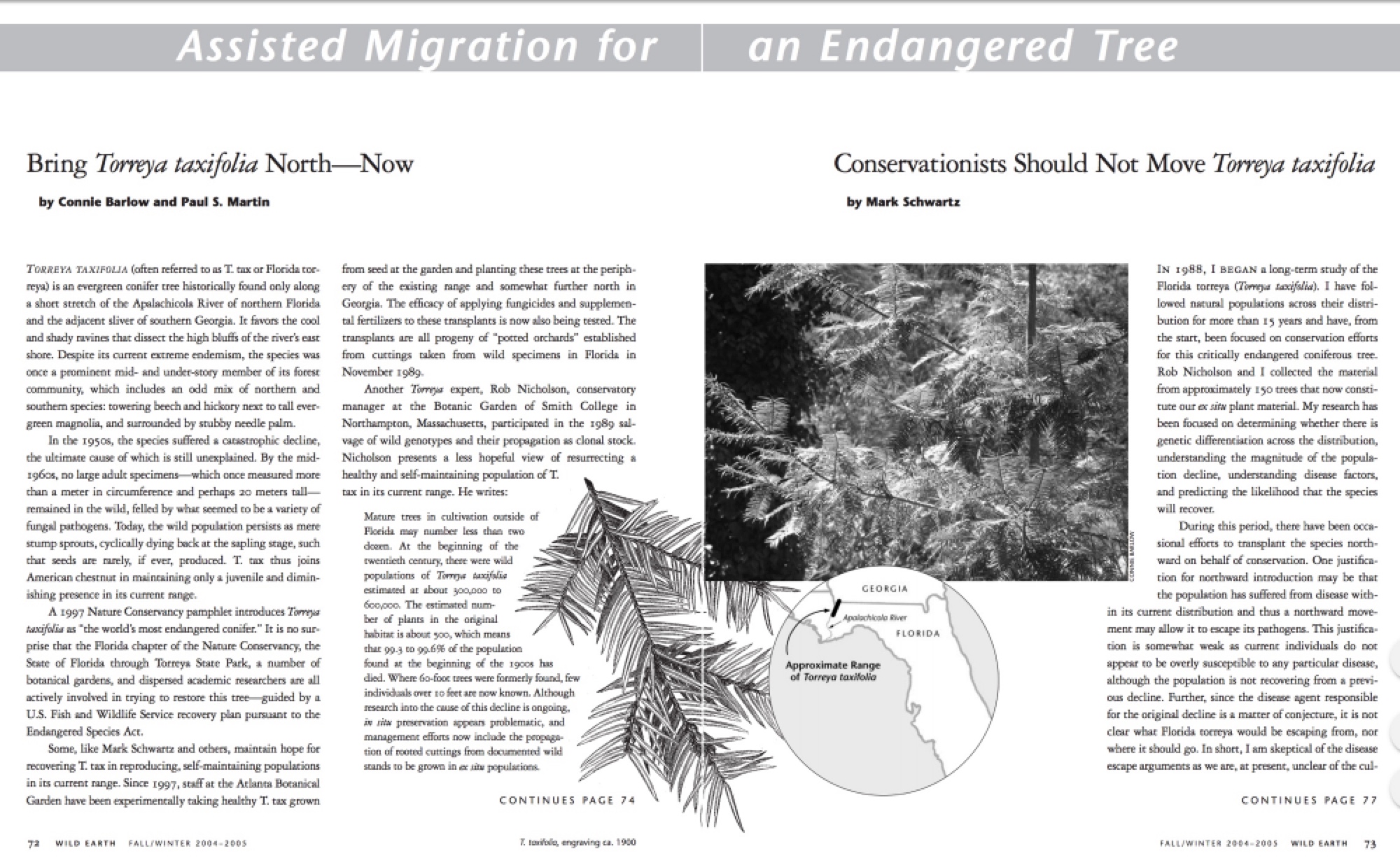 ABOVE: Wild Earth journal published a "Forum" pair of essays in its Winter 2004/2005 issue. Access in pdf the PRO Assisted Migration article by Connie Barlow and Paul S. Martin. Also, the ANTI Assisted Migration article by Mark Schwartz.
BACKGROUND ON THE ABOVE "FORUM" ARTICLES. Barlow initiated extensive communications with professional botanists and others in 2003-2004, hoping to work through issues and find common ground for joint publication of a journal article in favor of assisted migration for Florida Torreya. Discussions were helpful but ultimately failed to reach any consensus. Barlow and Paul S. Martin held the most radical position, so they stepped ahead with writing an article, and then recommended that Mark Schwartz would be the professional most suited for (and interested in) contributing an oppositional piece. More detail, along with links to archival documentation of communications can be accessed at Archived Documents of Early Roots of Torreya Guardians. An excerpt is below:
March 24, 2004 - title: Torreya: 10 questions for discussion
Hello Torreya Group: This is Connie Barlow. I am dedicating today to Torreya taxifolia, as I need to catch up with you all with thoughts and conversations that have come my way over the past few weeks, and which only now I am having a chance to assimilate and pass on. Bascially, since I last wrote to you in depth, I have visited the T. taxifolia propagation effort at Atlanta Botanical Garden (Ron Determann and Carol Denhoff), the thriving grove of T. taxifolia at the Biltmore Gardens in Asheville (Bill Alexander), the office of Hazel and Paul Delcourt at University of Tennessee Knoxville (from which I walked off with a lot of useful papers to read and a lot of sobering thoughts), and a potential private preserve for rewilding T. tax along the east side of the Cumberland Plateau.
....[final para] This realm of thought is very depressing for me, because I am a wildlands advocate and would vastly prefer us to simply make preserves big enough and corridors connected enough for nature to do what it needs to do without our meddling. The Fall issue of Wild Earth is on the theme of corridors, so what sorts of contributions might be generated from this group, from our discussion of T. taxifolia and all the ancillary thoughts that go along with that?
• CONNIE BARLOW has a peer-reviewed chapter in a 2009 book that advocates in behalf of Florida Torreya. (This book was already referenced above as documenting Bill Alexander's advocacy. Here it appears in chronological sequence to affirm Barlow's published advocacy.)

EXCERPTS CONTINUE (that focus on "assisted migration" as a new tool in conservation biology): ... Assisted migration as a conservation tool is both fascinating and frightening for anyone focused on plants. It is fascinating because endangered plants can be planted by whomever so chooses, with no governmental oversight or prohibitions—provided that private seed stock is available and that one or more private landowners volunteer suitable acreage toward this end. This cheap-and-easy route for helping imperiled plants is in stark contrast to the high-profile, high-cost, and governmentally complicated range recovery programs for mobile animals, like gray wolf, lynx, and California condor.
&nbps; Assisted migration frightens for precisely the same reasons it fascinates: anybody can do it, for good or ill, and with care or abandon. Its promotion could undermine decades of public education about the dangers of nonnative plants, as well as more recent efforts to promote the concept of wildlands corridors and connectivity. Still, in an age of deforestation, severe habitat fragmentation, and rapid global warming, assisted migration as a plant conservation tool should not be ignored. According to Peter Wharton, curator of the Asian Garden of the University of British Columbia Botanical Garden writes, "... the Torreya question is a door to immense issues relating to how we facilitate global 'floraforming' of vegetational zones in a warming world. It represents another layer of responsibility for those of us who have a passion for forests and wish to promote the ecologically sensitive reforestation of so many degraded forest ecosystems worldwide" (P. Wharton, personal communication).
The test case for assisted migration occurred in July 2008 when the citizen group I helped found (Torreya Guardians) undertook assisted migration for 31 seedlings of Torreya taxifolia purchased from a nursery in South Carolina. A handful of volunteers (and reporters documenting the action) gathered in the mountains near Waynesville, North Carolina, to spend a day planting the seedlings into wild forested settings on two parcels of private land. The Torreya Guardians' website documents that action....
---



Part 4
Torreya taxifolia is a Case Study in Conservation Biology

ENDANGERED SPECIES PROTECTION OF PLANTS V. ANIMALS: A 1988 paper published in Pace Environmental Law Review offers an excellent history of the long-held distinction in U.S. governmental regulation of plants v. animals ("wildlife") and how that distinction was forged into a compromise that entailed less rigid regulation (and to some extent, entire "exceptions") for how plants would be handled under the 1973 Endangered Species Act. See in pdf the 1988 article by Faith Campbell, "Legal Protection of Plants in the United States", which is also a reference for the PLANTS paragraph in the ESA 1973 wikipedia entry.

A visit to the Annotated Scholarly Links webpage on this website reveals that the controversy over assisted migration of Florida Torreya, (and the fact that citizens have stepped out ahead of official managers of this listed endangered species) has garnered a lot of attention within both the conservation biology and forestry professions.

The MEDIA have also given this controversy a great deal of attention. On the History of Torreya Guardians webpage one can learn about these citizen actions and also access a linked and excerpted list of Torreya Guardians in the Media.

Overall, TORREYA GUARDIANS IN THE MEDIA includes news reports in these science journals: Nature, Nature Climate Change, Science, Forestry Chronicle, Environmental Science and Policy. Non-academic news outlets and magazines have also reported on Torreya Guardians: New York Times, Los Angeles Times, Scientific American, Audubon, Orion, Sierra Magazine, Earth Island Journal.

Research papers published in FORESTRY JOURNALS have also paid a good bit of attention to the actions of Torreya Guardians. Foresters have a more use-oriented and practical relationship with tree species than do conservation biologists. Owing to ongoing and expected climate change (and the impacts of warmth and drought already evident even among common native trees), an urgency manifests among foresters to move past the assisted migration controversy. Hence, Torreya Guardians is helpful in that we serve as the radical edge of a continuum of possible climate adaptations actions, as pictured in the image below.

Nevertheless, because it is professionals in CONSERVATION BIOLOGY rather than FORESTRY who decide the actions authorized for Florida Torreya climate adaptation under the Endangered Species Act, several of the key multi-author or review papers published in conservation biology or botany journals will be focal points below. These demonstrate the high visibility that Florida Torreya receives.

4A. ACCESS PAPERS ON ASSISTED MIGRATION CONTROVERSY

Conservationist scientists, activists, managers, journalists, and others who need to become familiar with the 21st century controversy over assisted migration (a.k.a. managed relocation, assisted colonization) as a new tool for climate adaptation — not only of endangered species but of other plants and animals unlikely to track the rapid movement of climate zones on their own — may access the SCHOLARLY LINKS webpage on this website, as below.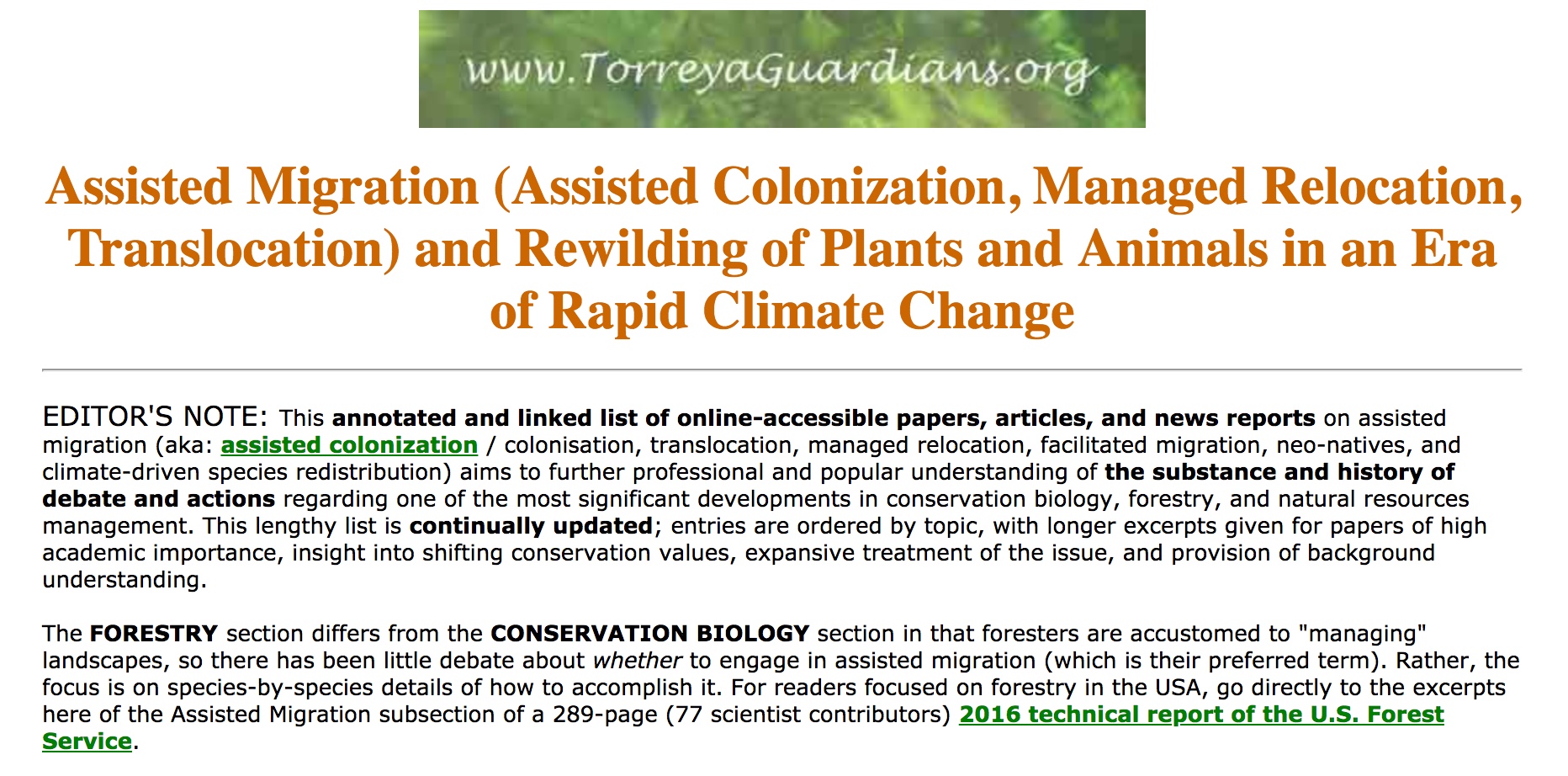 Although the modern debate about assisted migration began around 2007, prominent conservation biologists recognized decades earlier that, should global warming continue, humans would indeed need to play a role in assisting species to migrate to cooler realms.

Below is the first widely-cited CONSERVATION BIOLOGY paper, 1985, to recognize that GLOBAL WARMING would make HUMAN ASSISTANCE IN MIGRATION necessary. Published in the journal Bioscience, this paper by Robert L. Peters and Joan D.S. Darling is also highly recommended for its thorough and well-written overview of the basic concepts in conservation biology. EXCERPTS: "... If estimates of a several-hundred-kilometer poleward shift in temperate biotic belts during the next [21st] century are correct, then a localized population now living where temperatures are near its maximum thermal tolerance would have to shift northward at a rate of several kilometers per year to avoid being left behind in areas too warm for survival...."
"... Although some species, such as plants propagated by spores or dust seeds, may be able to match these rates, many species could not disperse fast enough to compensate for the expected climatic change without human assistance." (p. 711)
"... If such measures are unsuccessful, and old reserves do not retain necessary thermal or moisture characteristics, individuals of disappearing species may have to be transferred to new reserves.... "It makes sense to locate reserves as near the northern limit of a species' range as possible, rather than farther south, where conditions are likely to become unsuitable." (p. 715)

• "The Greenhouse Effect and Nature Reserves", by Robert L. Peters and Joan D.S. Darling, 1985, Bioscience
Note: A 2016 Research Summary (Technical Report) of U.S. Forest Service (289 pages in pdf), references the above 1985 paper, as excerpted below: Effects of Drought on Forests and Rangelands in the United States: A Comprehensive Science Synthesis, James Vose et al., editors (collaborative effort of 77 scientists).
Assisted migration, a management strategy where organisms are translocated from sites with suboptimal environmental conditions to sites with more optimal conditions, may become integral to conservation strategies as the rate of climate change increases (Peters and Darling 1985). Assisted migration can encompass a broad range of goals, from minimizing loss of biodiversity to preventing extinction, and operate at a range of spatial scales, from local to continental (Williams and Dumroese 2013). Seed transfer guidelines, because they determine transfer distances that avoid maladaptation (Johnson and others 2004) and can be re-projected using models of expected future environmental conditions (Thomson and others 2010), will play an integral role in the planning of assisted migration efforts under global change. (page 182)
4B. FLORIDA TORREYA IS A FOCAL SPECIES IN ASSISTED MIGRATION CONTROVERSY
CONNIE BARLOW WRITES: I initiated the above Annotated Scholarly Links webpage in 2007, when journalist Douglas Fox published in Conservation Magazine a cover story: "When Worlds Collide". Our citizen-led assisted migration actions of Torreya Guardians was the introductory example in that article, but our effort was presented as just the preview of what would follow as climate change pressed on. Nearly simultaneously, the New York Times posted a story by science writer Carl Zimmer: "A Radical Step to Preserve Species: Assisted Migration". Through 2014, I could barely keep up on all the papers and news reports dealing with this utterly new and (to many) disturbing conservation strategy. Using "Google Alerts" to ongoingly learn of new publications has been a great help in recent years for keeping this page current, while preserving its complex history.
As of July 2016 the debate and the publications arising from it have tapered off enormously. "Assisted migration" (by whatever term used) is now a standard entry in revisions to management plans for continuing to conserve lands, waters, and biodiversity in this century of rapid climate change. Assisting native species in moving upslope, poleward, and toward climate refugia is now just one more acceptable tool for moving ahead with "climate adaptation." By far, public and private forestry professionals have moved the fastest and farthest in forecasting when and where native tree species should be given a boost, and implementation is well underway in the forests of Alaska and western Canada (hardest hit by climate change in North America.)

Florida Torreya as focal species: As of March 2019, if you do an internal "Find" for "Torreya" within this Annotated Scholarly Links webpage you will discover that this word appears 171 times — at least 80 percent of which occur within the excerpts of papers, articles and news reports on assisted migration that are listed, linked, and annotated. 4C. FLORIDA TORREYA IS THE LONGEST-STANDING CASE STUDY ON ASSISTED MIGRATION IN CONSERVATION BIOLOGY

In 2008, at the annual meeting of the Ecological Society of America, a Managed Relocation Working Group

was formed to explore and aim for a coauthored statement on whether and how to professionally move forward on this new tool in conservation biology for assisting species and ecological communities in moving in sync with the expected shifts in climate zones. Two multi-author papers resulted from that initiative: David M. Richardson and 22 coauthors in 2009; then Mark W. Schwartz and 30 coauthors in 2012. The citizen actions of Torreya Guardians were mentioned in both papers, as below.

• 2009 - "Multidimensional Evaluation of Managed Relocation", by David M. Richardson, Jessica J. Hellmann, Jason S. McLachlan, Dov F. Sax, Mark W. Schwartz, Patrick Gonzalez, E. Jean Brennan, Alejandro Camacho, Terry L. Root, Osvaldo E. Sala, Stephen H. Schneider, Daniel M. Ashe, Jamie Rappaport Clark, Regan Early, Julie R. Etterson, E. Dwight Fielder, Jacquelyn L. Gill, Ben A. Minteer, Stephen Polasky, Hugh D. Safford, Andrew R. Thompson, and Mark Vellend, edited by Paul R. Ehrlich, 2009, Proceedings of the National Academy of Sciences.
ABSTRACT: Managed relocation (MR) has rapidly emerged as a potential intervention strategy in the toolbox of biodiversity management under climate change. Previous authors have suggested that MR (also referred to as assisted colonization, assisted migration, or assisted translocation) could be a last-alternative option after interrogating a linear decision tree. We argue that numerous interacting and value-laden considerations demand a more inclusive strategy for evaluating MR. The pace of modern climate change demands decision making with imperfect information, and tools that elucidate this uncertainty and integrate scientific information and social values are urgently needed. We present a heuristic tool that incorporates both ecological and social criteria in a multidimensional decision-making framework. For visualization purposes, we collapse these criteria into 4 classes that can be depicted in graphical 2-D space. This framework offers a pragmatic approach for summarizing key dimensions of MR: capturing uncertainty in the evaluation criteria, creating transparency in the evaluation process, and recognizing the inherent tradeoffs that different stakeholders bring to evaluation of MR and its alternatives.
This 2009 multi-author paper includes a "Supplementary information" pdf summarizing the application of their methods to 3 CASE STUDIES, of which Torreya taxifolia was case study #2. "Case 2: Translocating Torreya taxifolia to the Southern Appalachians"
EXCERPT: ... More recently, 2 efforts have begun for the conservation of this species. Torreya taxifolia has been planted in North Carolina in an attempt to establish populations in that region (http://www.torreyaguardians.org/). This effort was done as an indirect response to climate change. The species is in declining in its native range with no sign of recovery. Proponents felt that this species 'belongs' in the region where they relocated it. They also feel that this intervention is the best chance for the species to survive, given its condition in its native range.
Evaluation of Case 2 by Stakeholder A, "Advocate for a Broad Distribution of Torreya taxifolia." Feasibility score is 4 (±1): Seeds are moderately easy to germinate; plant material in the form of cuttings are legally available through several botanical gardens in possession of numerous genotypes of known origin. Cuttings, however, take many years to reestablish apical dominance, so the process is slow. With a small number of mature female trees at Biltmore Gardens (Asheville, NC), the most available seed represents a very narrow subset of the genetic variability of the species. Although this is a federally listed species, it is possible to plant legally obtained plant material on private lands without seeking state or federal approval or permits. Acceptability score is 4.5(±0.5): The species is generally sparse and does not tend to form monospecific stands. The likelihood of this species becoming weedy is low. Focal Impact score is 4.5 (±0.5): There is no supportive evidence that we can conserve the species in its recent historical range. Torreya taxifolia represents 1 of 2 North American species in the genus and 1 of 5 North American Representatives in its family; 1 of 7 species in its genus and 16 species in its family worldwide (17). Loss of this species significantly erodes biodiversity. Collateral impact score is 4.5 (±0.5): This species is slow growing, produces few seed and is of relatively small stature as a mature tree. Being dioecious and producing relatively few seeds, this species would be relatively easy to control. Related taxa tend to be found either in localized patches or as subdominants in mixed forests. It appears unlikely to dominate and displace other Appalachian forest species — [none of the 10 species in the family are known to be invasive when planted outside their range (18).
Continue reading the online pdf for the anti-assisted-migration perspective on Florida Torreya: Evaluation of Case 2 by Stakeholder B, "Advocate for Local Conservation of Torreya taxifolia." Feasibility score is 2 (±1)

Note: Case #1 in the above paper was on the Bay Checkerspot Butterfly. However, that case dropped out of continuing discussion when in April 2014, this mobile creature did something unexpected: "Endangered butterfly defies climate change with new diet and habitat". Case #3 centered on actions by commercial foresters. That leaves Florida Torreya as the focal species for discussion of assisted migration among conservation biologists.
• 2012 - "Managed Relocation: Integrating the Scientific, Regulatory, and Ethical Challenges" by Mark W. Schwartz and 30 coauthors, BioScience August 2012 (12 pp in pdf)
List of all authors: Mark W. Schwartz, Jessica J. Hellmann, Jason M. McLachlan, Dov F. Sax, Justin O. Borevitz, Jean Brennan, Alejandro E. Camacho, Gerardo Ceballos, Jamie R. Clark, Holly Doremus, Regan Early, Julie R. Etterson, Dwight Fielder, Jacquelyn L. Gill, Patrick Gonzalez, Nancy Green, Lee Hannah, Dale W. Jamieson, Debra Javeline, Ben A. Minteer, Jay Odenbaugh, Stephen Polasky, David M. Richardson, Terry L. Root, Hugh D. Safford, Osvaldo Sala, Stephen H. Schneider, Andrew R. Thompson, John W. Williams, Mark Vellend, Pati Vitt, and Sandra Zellmer

ABSTRACT: Managed relocation is defined as the movement of species, populations, or genotypes to places outside the areas of their historical distributions to maintain biological diversity or ecosystem functioning with changing climate. It has been claimed that a major extinction event is under way and that climate change is increasing its severity. Projections indicating that climate change may drive substantial losses of biodiversity have compelled some scientists to suggest that traditional management strategies are insufficient. The managed relocation of species is a controversial management response to climate change. The published literature has emphasized biological concerns over difficult ethical, legal, and policy issues. Furthermore, ongoing managed relocation actions lack scientific and societal engagement. Our interdisciplinary team considered ethics, law, policy, ecology, and natural resources management in order to identify the key issues of managed relocation relevant for developing sound policies that support decisions for resource management. We recommend that government agencies develop and adopt best practices for managed relocation.

Note: The word "Torreya" appears 11 times in this paper. Key excerpts below.

EXCERPTS: ... Managed relocation is already being applied. Climate motivated translocations have been implemented with an endangered tree, Torreya taxifolia, in the southeastern United States (Barlow 2011; www.torreyaguardians.org) and with two butterfly species in the United Kingdom (Willis et al. 2009). Additional undocumented cases may be more frequent than is realized. For example, giant sequoia (Sequoiadendron giganteum) has been widely planted outside its historical range, although the motivation for such plantings remains unclear. Pressure to undertake managed relocation is likely to increase as the consequences of climate change become more apparent.
"...Therefore, it may be as important to discourage ad hoc managed relocation by enthusiastic individuals or groups as it is to provide guidelines for well-planned actions. So far, there has been little discussion of how best to limit unsanctioned private actions. This is a curious gap, given that one of the most visible cases of managed relocation is being conducted by a citizen action group (www.torreya guardians.org) that has moved a federally listed endangered plant species across state lines and 600 kilometers north of the historical distribution of the species, without any regulatory oversight (figure 1). This is not to imply a governance failure. Plants are afforded limited protection under the ESA, no oversight was required by the agencies, and this private group sought no public consultation. Although legislating or regulating restraint sounds simple, it is difficult to do so effectively. Private translocation, as the Lake Davis example mentioned above demonstrates, can be extremely difficult to detect and prevent. However, individuals and groups like the Torreya Guardians, who are motivated by conservation goals, may be dissuadable by education efforts. An ideal policy framework for managed relocation would not rely on a simple prohibition of private actions but, instead, would include outreach efforts designed to inform well-meaning conservation advocates of the harm that inappropriate translocation can cause.
Comments on Schwartz et al. 2012 by Connie Barlow were posted on this website, December 2012.
EXCERPTS: ... A second reason why the 2012 paper's definition of "assisted migration" does not accurately depict the intentions of what we at Torreya Guardians are doing is that, with respect to our particular species, the core group of activists and private landowners believe that our actions are simply assisting this species in mirroring the natural northward migrations it is reasonably assumed to have undertaken in sync with the onset and intensification of previous interglacial episodes of climate warming during the Pleistocene. T. taxifolia's "historic native range" is, after all, also known to be a well-established "pocket glacial refugium," and thus it served as a vitally important refuge for eastern deciduous forest species at the peak of each glacial episode. That is why the late Paul S. Martin (Pleistocene ecologist) depicted Torreya taxifolia as having been "left behind in near time." See our 2004 paper on this topic, "Bring Torreya Taxifolia North — Now".
What the word "migration" thus means in this context is not the annual migration of seasonally resident animal species but the epochal movements of the species at the timescale of Milankovitch cycles. By using the term "migration" to depict what we are are assisting Torreya in doing, rather than "colonization" or "relocation," we hope that regional residents near our project sites will be able to grasp that we are simply assisting this endangered species in doing what it naturally has done in previous warming periods. The term "assisted migration" thus has a far less interventionist aura to it than does the hegemonic feel of "colonization" or "relocation."
...In my view, until conservation biologists and managers and the public at large are given an opportunity to reflect on how long-lived species and genera of plants (such as Torreya) have indeed had to migrate long distances in the past, this issue of "managed relocation" will continue to foment more discord than necessary. We must cast what we are doing (or thinking about doing) not in the light of purely artificial intrusions in natural ecological dynamics but rather as necessary assistance in helping plants do what they have naturally done over the course of millennia and millions of years.
Indeed, I would not have initiated the Torreya Guardians movement simply on the basis of experiencing the species as doomed and feeling sorry for it; a deep-time paleoecological perspective (which I gained largely thanks to Paul S. Martin and Hazel Delcourt) was the crucial impetus moving me into action. My sense was that the managers and ecologists in charge of the Endangered Species Act (ESA) management of Torreya taxifolia lacked this perspective, and thus would continue to constrict their management focus exclusively to the ever-degrading "historic range" in Florida. Sadly, this proved to be true: In June 2010 Torreya Guardians were the only participants to vote "Yes," when the USF&WS staffer in charge of the ESA management plan update for T. taxifolia asked the gathered advisors whether a "pilot project" to test planting Torreya taxifolia to the north of its historic range should be added to the management plan. (You can access ours and other comments via: http://www.torreyaguardians.org/esa-recovery-plan.html.)
Frustrated by the lack of a deep-time perspective by the ESA advisory group for Torreya, I wrote and posted online the essay that I am grateful the 2012 Bioscience paper chose to include in its references cited: "Paleoecology and the assisted migration debate: Why a deep-time perspective is vital". This 12-point summary aggregates the data and develops strong scientific reasoning in favor of assisted migration for Torreya taxifolia. The essay also advocates a shift in the foundational paradigm from assuming 1491 is the proper time-standard for assessing native range to a "deep-time" perspective grounded in a paleoecological understanding that native ranges for all plants in temperate latitudes of the Northern Hemisphere have undergone substantial altitudinal and/or latitudinal migrations that have tracked changes in climate during the past several million years of Pleistocene glacial and interglacial cycles.

Note 1: Barlow's above comments were written in 2012. In 2015 (following a site visit to a 19th-century horticultural planting of Florida Torreya along the Chattahoochee River by Columbus GA), she revised her "glacial relict hypothesis" to offer the possibility that at whichever glacial episode during the Pleistocene Florida Torreya extended its range into Florida while losing its populations northward, it may never have been able to return northward again. That is, Torreya may have had to survive previous interglacial warm times in its current Holocene range. It is only the anthropogenic warming within the last hundred years that pushed this species over a physiological threshold of tolerance. Access the full explanation of this, and the Chattahoochee Torreya Tree VIDEO at this section on the Learnings webpage.

Note 2: The lead author of the above paper, Mark Schwartz, was the lead scientist exploring Florida torreya's decline in field studies in the early 90s; he is also the author of the anti-assisted-migration Torreya paper that was paired with the Barlow and Martin pro-assisted-migration Torreya paper in the Forum section of the Winter 2005/5 issue of Wild Earth.
• 2017 - REVIEW: "Climate Change, Managed Relocation, and the Risk of Intra-Continental Plant Invasions: A Theoretical and Empirical Exploration Relative to the Flora of New England", by Jesse Bellemare, Bryan Connolly, and Dov F. Sax, June 2017, Featured Review, Rhodora.
EXCERPT RE TORREYA: In the well-documented case of T. taxifolia, a private group called the Torreya Guardians has already launched unofficial managed relocation efforts aiming to naturalize the species at sites in the southern Appalachians, where the tree apparently grows more successfully than within its small native range on the coastal plain (Barlow and Martin 2004; but see Schwartz 2004).
• 2017 - INVASIVE SPECIES ADVISORY COMMITTEE: "Managed Relocation: Reducing the Risk of Biological Invasion" - U.S. Department of the Interior, December 2017 (3 pages plus citations). ISAC Members: Edward E. Clark, Jr. (Wildlife Center of Virginia), Dan Simberloff (University of Tennessee), Mark Schwartz (University of California - Davis), Brent Stewart (Hubbs-SeaWorld Research Institute), and John Peter Thompson (Maryland Nursery and Landscape Association).
EXCERPTS: ... In order to further Action 4.1.3, a Managed Relocation Task Team was established under the auspices of ISAC. This paper reflects the work of that task team, including internal group discussions, expert consultations, and literature review. The Task Team considered two parallel bodies of science to inform the analysis: a) the species translocation literature (Schwartz and Martin 2013; Seddon 2010), particularly as it relates to changing climates and b) a parallel, more empirically rich and much larger literature on the harmful consequences of invasive species on ecosystems (Mack et al. 2000) and on prediction and management of the risks of invasion (Hulme 2009; Kolar and Lodge 2002; Simberloff 2009; Thuiller et al. 2005). See Annex 1 for examples of managed relocation scenarios, Annex 2 for a list of referenced literature, and additional as citations for further reading.
The task team offers the following key finding and recommendation to strengthen federal capacities to reduce the risk of biological invasion being facilitated through managed relocation practices....
At a minimum, the national policy and any supporting policies should:

A. Limit the use of managed relocation to extraordinary circumstances;
B. Delineate conditions that constitute legitimate exceptions to E.O. 13571 (e.g., imminent extinction of a keystone species), recognizing that the national need that may supersede the caution imposed by the executive order;...

EXCERPT from Annex 1: Private Landowner Effects on Public Lands - Private land managers have the capacity to a affect public lands by introducing non-native species to their property with little or no ecological justification. These species may spread onto federal lands creating a potential need for land managers to either declare the species an invasive species or of conservation value. The Torreya Guardians began a program to actively spread Torreya taxifolia more than a decade ago (http://www. torreyaguardians.org). The group began with an effort to expand this species' range from northern Florida and southern Georgia over 600 km northward to North Carolina. The group has continued the spread of T. taxifolia as far north as Michigan and New Hampshire and west to Oregon with apparently no effort for ecological justification. In all cases the group has endorsed private plantings of this federally listed endangered tree species on private lands in a manner that is ecologically unjustified and risky, though they have not violated any rules or guidelines adopted by any governing body...

Factual correction by Connie Barlow: Torreya Guardians did not move the species into Oregon; that was done by a private landowner in Oregon several decades before the group was established; the group did accept 3,900 seeds offered by the Oregon grower in 2016, for experimental plantings east of the Mississippi.
Alert by Connie Barlow: Two of the authors of this 2017 DOI policy statement have been among the strongest critics of assisted migration (managed relocation) of Florida Torreya since the onset of this controversy:
• Daniel Simberloff, well known for his long leadership in invasive species policy, is coauthor of "Assisted colonization is not a viable conservation strategy", 2008, Trends in Ecology and Evolution, which is the most-cited anti-assisted-migration paper in the academic literature. It includes this direct mention of the torreya controversy:

"... A recent position paper by the Ecological Society of Australia supports assisted colonization as a management response to climate change (http://www.ecolsoc.org.au/Position_papers/ClimateChange.htm). Other organizations could follow, driven by desperation in the face of anticipated species loss. Indeed, some scientists have claimed that rejecting assisted colonization will 'greatly increase the threat of climate-driven extinction' [4]. At least one private group has already taken matters into its own hands: the 'Torreya Guardians' (http:// www.torreyaguardians.org) are planting seeds and seedlings across the eastern USA to expand the range of an endangered conifer, Torreya taxifolia, whose modern distribution is confined to the Florida panhandle. These events signal the emergence among some conservationists of a new philosophy regarding species introductions that is at odds with the traditional objective of preservation...."

• Mark Schwartz did a great deal of field research on Torreya taxfiolia (with many publications) in the 1990s. (An internal find for "Schwartz" within this webpage turns up 28 instances.) The issue of assisted migration (managed relocation) as a potential conservation action to assist this endangered species first appeared in the Winter 2004/5 Forum of Wild Earth in which Schwartz wrote the anti-assisted-migration opinion piece in contrast to the pro-assisted-migration piece by Connie Barlow and Paul S. Martin. His leadership on this issue continued, culminating in first authorship of the 30-coauthor paper linked and annotated above.
---



Part 5. U.S. Forest Service Leads the Way in Assisted Migration Policy

5A. U.S. FOREST SERVICE LEADS THE WAY IN U.S. GOVERNMENT FOR ASSISTED MIGRATION POLICY.

• REPORT: "Assisted Migration"

, 2018, prepared for USDA Forest Service Climate Change Resource Center