---
• Summary of Learnings 7:
Nature Free-Planted Seeds in Historic Groves

NATURE FREE-PLANTED SEEDS (example A): Harbison House, Highlands, NC
PHOTO LEFT: April 2015 - Jack Johnston and Connie Barlow visit this oldest grove of Florida Torreya trees in April 2015.

Because this grove and surrounding regrowth forest was left undisturbed for most or all of the grove's century of growth, it is the best site for studying how this tree grows and reproduces in a wild forest.

The overtopping deciduous canopy creates deep summertime shade. Absence of other conifers offers full sun in the leafless months.
PHOTOS BELOW: Jack measures circumference of one of the largest of the seven original trees. Right: Among the offspring is a young tree on a steep little slope, 30 yards from the parent grove (and thus presumably planted naturally by a squirrel).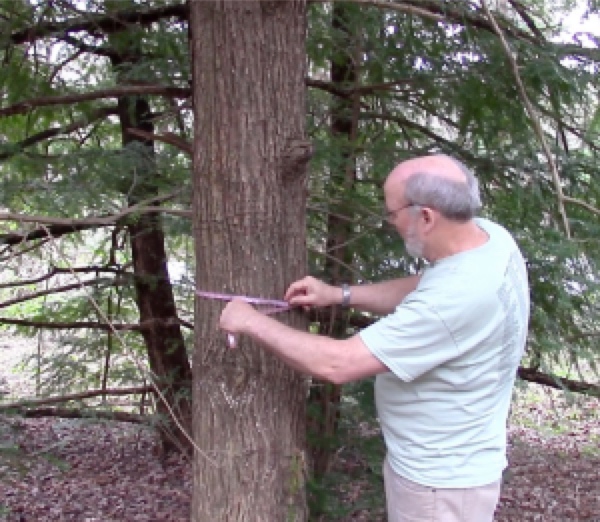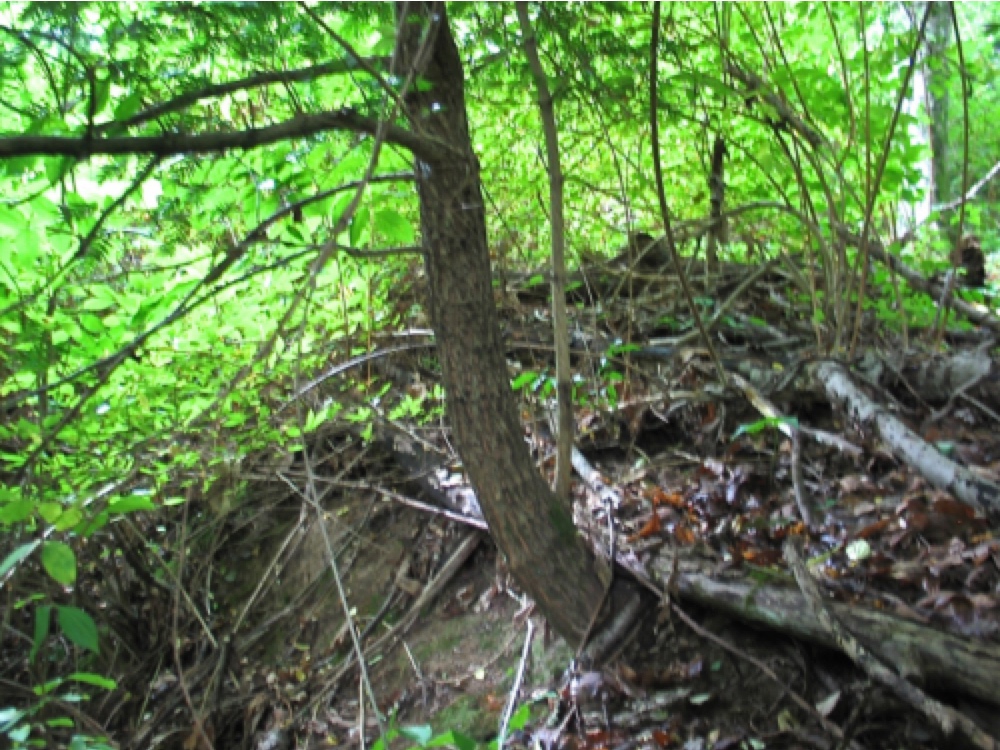 __________
NATURE FREE-PLANTED SEEDS (example B): Biltmore Gardens, Asheville, NC
Connie Barlow has visited this mature grove 4 times since 2004. Photos here are from two site visits: April 2015 and November 2018, with Michael Dowd as assistant.

LEFT: November 2018 Connie reported to staff that a volunteer sapling (planted upslope from its parent tree some 40 feet, presumably by a squirrel) had started producing seeds. (The large trunk on the left is of a deciduous tree alongside.)
PHOTOS BELOW: Michael Dowd taking a measurement (left) and pointing out a new volunteer (right) that had fallen into the ivy ground-cover just a short tumble downslope of its parent. (The seedling had been nipped by herbivores twice, yet persisted.)
| | | |
| --- | --- | --- |
| | | |

__________

NATURE FREE-PLANTED SEEDS (example C): Kennedy Home, Clinton, NC
October 2015 Connie Barlow and Michael Dowd contacted Mrs. Kennedy, who was happy to have us venture onto her front lawn and harvest the still-hanging seeds — and any seedlings we found in the vicinity (as the surrounds would be mowed).

PHOTO LEFT: This specimen shows the classic growth form of a Torreya: the main stem is supplemented by two grown basal stems that may have emerged simultaneously. Even now, young leafy basals are healthy and waiting, should their services be needed in the future.
PHOTOS BELOW: Connie and Michael collected fallen seeds and dug up six seedlings October 2013. The seedlings they found were all beneath the parent Torreya or its neighboring Southern Magnolia or Chestnut Oak. Photo below right shows a one-year-growth seedling near a fallen fruiting body of the magnolia.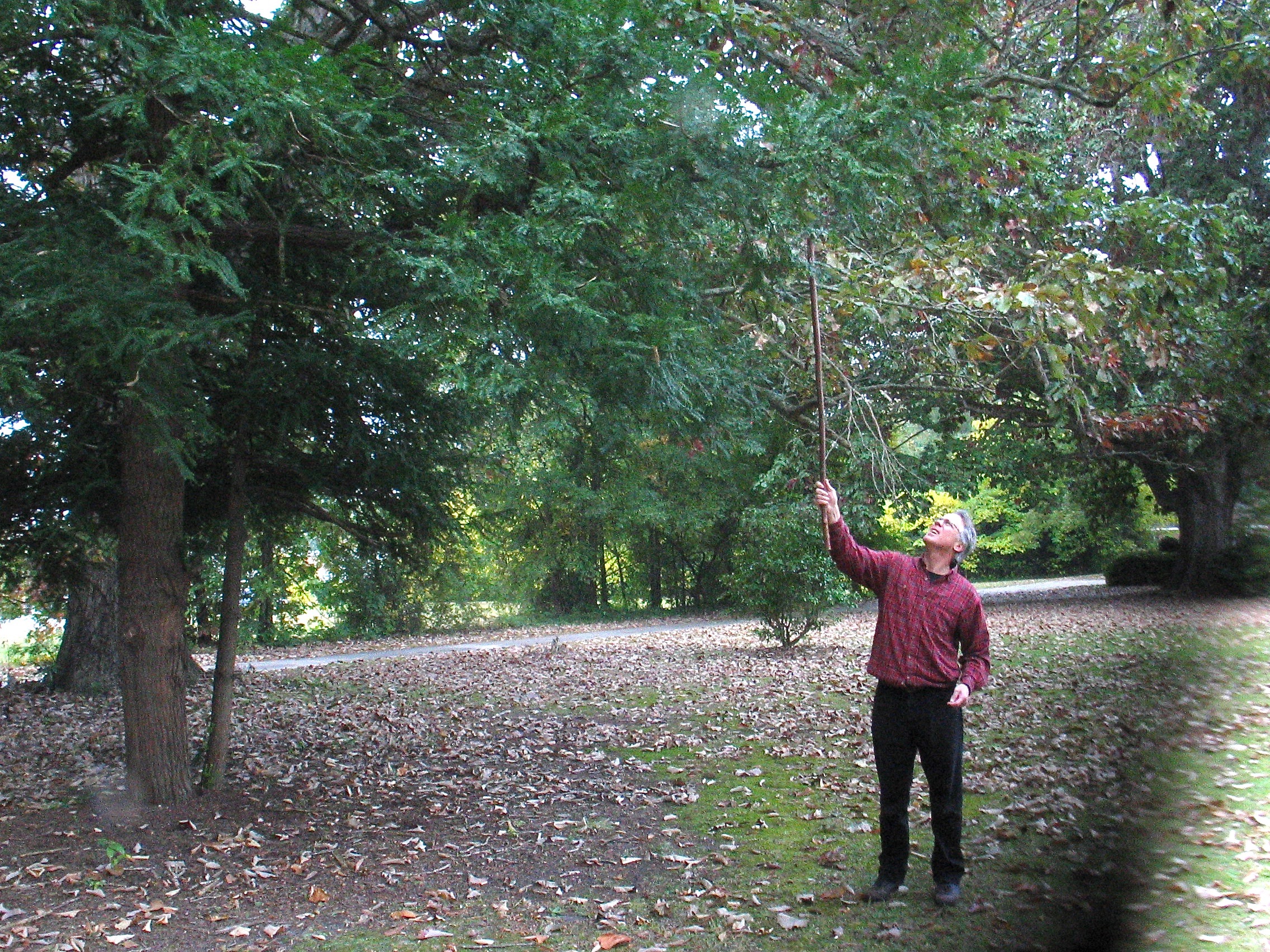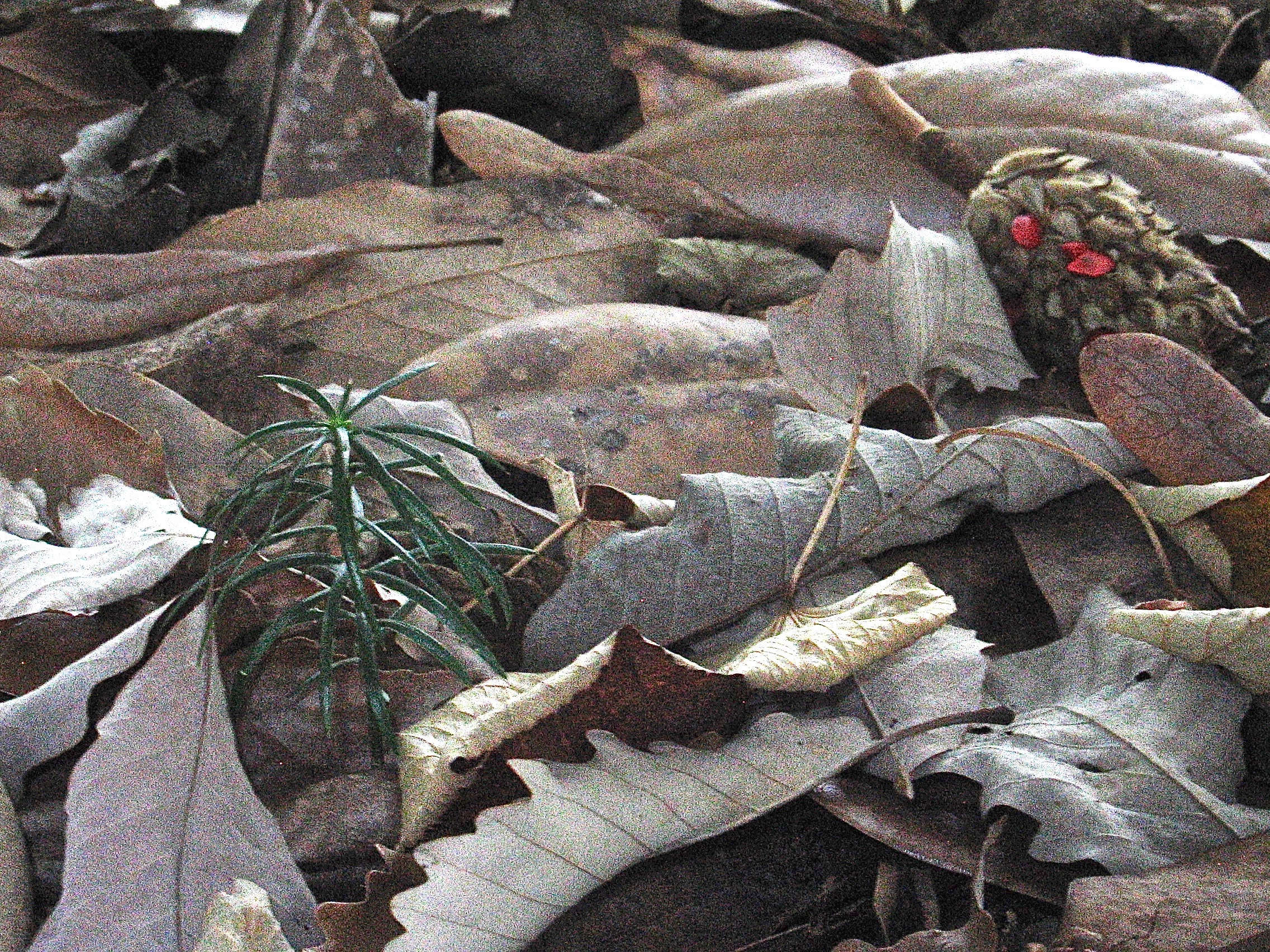 They delivered the six seedlings to Jeff Morris of Spencer NC. In 2014 Jeff made a second seed harvest at the Kennedy home and observed additional seedlings in distant flower beds. He also noticed that a 6-foot-tall basal sprout had grown from the stump of an additional original torreya planting that had blown down in the late 90s. Whether or not that basal is a continuing pollen source is unknown; nonetheless, the remaining original tree still produces viable seeds. Jeff wrote, "There is at least one additional volunteer about 3-ft-tall along the driveway, bordering a neighbor's property. Finally, we learned that there used to be two additional mature Torreya taxifolia trees, larger than either of the Kennedy's pair, about a block away."
__________
NATURE FREE-PLANTED SEEDS (example C): Caroline Dormon Nature Preserve, northern Louisiana
The Caroline Dormon Nature Preserve is 120 acres, at the northern tip of Natchitoches Parish. Three generations of Johnsons have been the stewards: Richard, Rick, and David. David is holding the leaf of a Big-Leaf Magnolia in the photo at bottom.
Only since about the turn of the century has the largest of 3 specimens begun producing seeds — and no more than 14 seeds in any year. The Johnsons report that this tree began as a male, still produces pollen on some branches, but has begun also producing a few seeds on other branches. (The technical term for this reproductive pattern is subdioecious.)

November 2018, Torreya Guardians Clint Bancroft and Connie Barlow visited the preserve and were guided by the Johnson family. This year, 3 of the 4 seeds were still hanging. A fruit-collecting device on a large pole enabled us to collect those ripe seeds. The inset of top photo shows one seed. All 4 seeds were donated to Torreya Guardians.

The Johnsons report that, thus far, all seedlings have been found directly beneath the canopy, so squirrels are not distributing them. Most of the seven to ten seedlings have been outplanted amidst the young grove of Bigleaf Magnolia about 30 feet beyond the Torreya's canopy (visible in bottom photo).

Two characteristics of Bigleaf Magnolia make it a good companion: it is deciduous and it supports the same class of mycorrhizal fungal symbionts as torreya does.
---
• Summary of Learnings 8:
Clues from assisted migration of Torreya grandis in CHINA

Six species of genus TORREYA are found, all in the northern hemisphere: 3 species in China, 1 in Japan, 1 in California, and our focal species in Florida. Seeds of Chinese Torreya grandis and Torreya nucifera are culturally valued for their medicinal, nutritional, or oil values. The former is even grafted in cultivation to ensure the highest value seeds. Many publications exist on T. grandis best practices for cultivation and seed processing. In 2021, a paper was published that effectively evaluated and offered best practices for helping grandis spread into, what is concluded to be, a vast area of suitable landscapes — including some that would be opened up by expected climate change in the decades ahead. Some of the practices suggested in that paper may be helpful for us here. As well, our discovery that native evergreen Christmas Ferns seem to camouflage seedlings from being noticed by deer may be of help to the Chinese team. Here is their paper, followed by key excerpts:
"The potential for using rare, native species in reforestation — A case study of yews (Taxaceae) in China" - by Ditte Arp Jensen et al., 15 February 2021, Forest Ecology and Management.
EXCERPTS: ... Precipitation (especially winter precipitation) is generally more important than temperature for describing the distribution of Torreya grandis, while the most important factors for Taxus cuspidata were summer temperature and precipitation (Table 1).... The area for potential reforestation including To. grandis is substantially larger at 499,600 km2 spanning 18 provinces and 608 counties including the provinces of Taiwan and Yunnan where currently only few or no To. grandis are present.... Tang et al. (2015) experimentally determined 75% shade as the optimal light conditions for To. grandis seedling growth, corresponding well to light conditions in our study site in Tianmu, where most To. grandis individuals were found under close to full shade (mean canopy openness = 5%).... Another well-known factor affecting regeneration and survival of Taxaceae individuals is browsing on seeds and seedlings. Several studies have found that Taxus sp. seedlings are at risk of damage by browsing animals such as deer, and that fencing out deer results in higher survival and growth compared to unfenced individuals (Holmes et al., 2009; Iszkulo, Nowak-Dyjeta and Sekiewicz, 2014). Taxus is however, known to be quite resistant to browsing and combined with the protection from spiny shrubs such as Rubus spp., seedling survival rates are reported to be unexpectedly high in some cases (Thomas and Polwart, 2003; Iszkulo, Nowak-Dyjeta and Sekiewicz, 2014). Additionally, growing in spiny fruit-producing scrub by species such as Rubus spp., has another advantage of attracting frugivorous birds that can help regeneration of Taxus sp. by dispersing their seeds to suitable habitats (Thomas and Polwart, 2003). Although we did not see any signs of animal browsing on To. grandis and Ta. cuspidata or shrubs/trees acting as nurse trees in our study sites, it is worth taking into consideration when planning forest restoration in areas of dense deer or rodent populations (Iszkulo, 2011; Feng et al., 2018).
From our study, it seems that light and competition are driving the establishment and growth of the two Taxaceae species, especially the young individuals. Therefore, in a reforestation setting it is important to create moderately shaded conditions allowing the smallest individuals to escape competition from herbs, while at the same time providing enough light for the growth of larger individuals. These conditions could be created simply by planting the species in a mix with other woody species that can provide the needed shade, or even by using nurse trees/ shrubs (Yelenik, Dimanno and D'Antonio, 2015). At the same time, planting seedlings and saplings under a nurse shrub could potentially protect them from browsing by deer and thus enhance their chances of survival.

CONCLUSIONS: In this study, we show that there is substantial quantitative potential of using Taxus cuspidata, Torreya grandis, as well as likely other native Taxaceae species, in reforestation in China. Based on our results and on findings from the scientific literature, we argue that Taxaceae species can contribute to generate structurally complex stands of increased value for biodiversity and increased stability, hereby also contributing to climate change mitigation as well as other important ecosystem services. Further, using rare Taxaceae species in reforestation will also help conserve these rare species in a changing future.

INSPIRATIONAL QUOTATION: "Let us not abandon species because their natural setting is being lost. We should acknowledge that 'natural settings' rarely exist anymore anyway; climate change means all settings are impacted by human activity. Do not be so quick to abandon species because their ecological context is changing. If possible, find them a new one." — Brian Buma, 2013, "Don't Give up Just Yet: Maintaining Species, Services, and Systems in a Changing World", Ethics, Policy, and Environment 16:1, 33-36
---