---
• October 2021 / Fred Bess / 168 seeds collected from his grove in Cleveland, Ohio
Fred planted his trees from potted seedlings in 2009. Because he planted in his front yard, in full sun, he started getting a few seeds in 2017.

Now, in 2021, he reports an astounding 168 seeds.

More PHOTOS and commentary at the Cleveland, OH Torreya webpage.
---
• October 2021 / Clint Bancroft / 64 seeds collected from century-old grove near Highlands NC
For the second year in a row Clint Bancroft led the effort to harvest seeds at this old horticultural planting. This year the owners are new. CLINT writes:
"The new owners are aware of the trees and their rarity. They are doing a lot of landscaping work and have cleared a significant space on the north and east of the existing grove.

So the Torreya grove is now exposed to much more light. It will be interesting to see if seed production will be greater next year if we are allowed to return next year.

I am sending pictures of the grove as it appears now. All of the trees appear in very good health."

More PHOTOS and commentary at the Highlands Torreya webpage.
---
• October 2021 / Sharon Mohney / First germination of free-planted 2020 seeds into Virginia forest
SHARON writes 20 October 2021:
"I was walking a part of my place today, looking for any burning bush seedlings to pull up, and decided to walk one of my torreya flag lines. Look what I found!"

Ed. note: November 2020, Sharon "freeplanted" seeds freshly harvested from private plantings in Clinton and Mt. Olive, NC.

She placed them alongside an ideal "nurse" plant for Torreya: Polystichum ("Christmas") ferns.

Visit her Buchanan, VA homepage.
---
• October 2021 / Connie Barlow / TORREYA GUARDIANS WIKIPEDIA PAGE is in final form
CONNIE BARLOW WRITES: This summer an experienced, anonymous wikipedia contributor created a new page, Wikipedia: TORREYA GUARDIANS. For controversial topics (such as us) there are wikipedia editors who monitor to ensure that any changes or additions reflect factual reporting of a neutral stance, supported by "third party" references — such as journal articles, newspapers, magazines, and books. Wiki editors are particularly vigilant when someone tries to contribute to or edit a page who is directly associated with that topic. Well, I certainly am!
For the past several weeks, I have been adding content to the wiki page, with substantial third party references. Sometimes I would find the next day that something I had written had been somewhat changed, maybe even deleted. Interestingly, in all instances, I found myself agreeing with the wiki editor. So I never contested anything.
The morning of October 17, I found that two entire sections, "Case Studies", and "Interactions with U.S. Fish & Wildlife Service" had been deleted (except for one paragraph with its journal reference, which had been moved up into an earlier section). At first I was shocked, but soon I again agreed with the editors.
Within an hour or so, I realized that I could turn the event into a useful thing: I could add the deleted content to the Torreya Guardians website. Check it out here: "Torreya Guardians Interactions with U.S. Fish and Wildlife Service".
---
• October 2021 / Connie Barlow / USF&WS TORREYA PETITION DECISION reveals agency has no "climate adaptation" policy to aid "recovery" of endangered species

CONNIE BARLOW WRITES: Because Torreya Guardians is an informal organization and does not make decisions nor speak with a single voice, in Sept 2019 I filed, as a lone individual, a PETITION TO DOWNLIST THE FLORIDA TORREYA. (Scroll down to Sept 2019 on this chronological reports page to see my own statement and link to the petition.) On Sept 29, 2021, the USF&WS posted its decision, ruling against my proposed downlisting to "threatened" status.
My original intention was not to achieve actual downlisting, but to compel the agency to publish a decision that recognized our substantial achievements in documenting northward thrival in historic plantings and our own learnings as to best propagation techniques and choice of planting sites.
Ultimately, I hoped that such recognition would lead to official embrace of "assisted migration experimentation" — and thence to agency and public pressure aimed at calling out the climate-denying standards established by the two botanical gardens controlling ex situ seed dissemination.
My continuing hope and advocacy is for the Atlanta Botanical Garden and the State Botanical Garden of Georgia to be compelled to cease requiring botanical gardens north of Georgia to assent to Memorandums of Understanding pledging to utilize the seeds exclusively for genetic safeguarding. Until that limitation is removed, those of us engaged in poleward planting and experimentation will be barred from accessing the full genetic diversity of Torreya seeds — thus resulting in assisted migration projects unnecessarily burdened by limited (and possibly dangerously inbred) genetics from seeds produced from limited horticultural parents.
LEFT: Excerpts from the 11-page decision.

YELLOW highlights passages where USF&WS acknowledges the value of Torreya Guardians' contributions in discerning "best propagation practices," "natural history" learnings, and documentation of "localities and conditions of recent and historical outplantings ... seed sources and seed distributions."

PINK highlights crucial passages where the agency reveals an absence of any climate adaptation policy.

See the implications below.
EXCERPTS OF BARLOW'S RESPONSE TO THE AGENCY, 30 September 2021:
... My aim was not so much to achieve a downlisting, but to get some attention that the policy of "historic range" needs to have a "climate adaptation" update, as pioneered by the National Park Service in April via its new "RAD" policy [Resist-Accept-Direct]. USDA has long been moving in the climate adaptive direction, without a great deal of fanfare. USFS research staff have published tree species range shift projections. As well, the agency is working to make the science of range shift accessible to forest owners and managers in the USA — including some very substantial work with tribal forestry staff. That work is carried out by staff at the Northern Institute of Applied Climate Science.
... Bottom line: I believe the USF&WS branch of DOI can produce a policy statement that would authorize, on a case-by-case basis, "endangered species" decisions to begin including climate adaptive responses in favor of suitable conditions in "projected ranges" — not just limited to trying to manipulate the habitat of "historic ranges" to enable species thrival again. This is especially vital for any plant species classified as a "glacial relict" to ever achieve suitable habitat in this rapidly changing climate. New habitat poleward is the only chance to ever delist the plant. Otherwise "safeguarding genetic materials" will be perpetual and never enable a full wild presence.
NOTE: This petition decision outcome has also been summarized on the case study page of this website: CASE STUDY: Agency and Institutional Failures in Endangered Species Management of Florida Torreya. It is listed as:
14. FAILURE to include in the agency's PETITION DECISION on downlisting Florida Torreya any climate adaptive policy for enabling species "recovery" to track geographic climate range shifts — rather than being restricted to "historic range."
BARLOW NEXT STEPS: "Because 2 of the 10 authors of the National Park Service climate adaptation policy (published Spring 2021) are staff of the U.S. Fish & Wildlife service, I plan to reach out to those staff members and ask for their support in urging F&WS to adopt a similar climate adaptation policy to guide management of endangered species — and to then apply it immediately to freeing up T. taxifolia seeds produced in the official ex situ orchards from current barriers to northward distribution."
---
• October 2021 / Jack Johnston / Update on Torreya planting at Tessentee Bottomland Preserve
October 25, 2021 Jack Johnston reported:

"Tessentee Preserve, Otto, NC: Voles killed some Torreyas, which have been replanted.  The site is less friendly to voles now that the grass is cut more.

The tallest trees are the ones with the most sun and are 8 feet tall.  Height of the planting is from 8 feet to 10 inches."
---
• September 2021 / Connie Barlow / SEEDS can adapt to climate only before germination
It makes a difference what climate a Torreya seed experiences during the months (and sometimes years!) while the embryo is slowly maturing, prior to germination of the rootlike "radicle."
ADVICE FOR TORREYA PLANTERS: If you live in the southern or central Appalachians, it is surely fine for you to purchase and plant nursery-grown seedlings from more southern states (such as South Carolina and Georgia).

But if you live in the northern states, it is important to acquire seeds directly and put those seeds into the outdoor ground ("freeplanting") so that they can experience a full winter at their ultimate destination prior to embryo maturation.
Recent research (as in the research paper above) on commercially valuable conifers turned up surprising abilities of seeds to permanently shift the ultimate budburst timing in the spring and vegetative hardening in the fall. Because this has nothing to do with changes in the seed's DNA, it is called "epigenetic" adaptation, not genetic.
So, for northern-state planters, if you store your seeds in your refrigerator or germinate them in your basement, or if you purchase potted seedlings from a southern state nursery, your torreya trees may permanently be less capable of thriving in your climate than they would have been had you put seeds directly into their ultimate destinations in your forested property. Genus Torreya might have even more exceptional epigenetic talents than the younger Pinaceae conifers that have already been tested. Click the image above to read the technical science paper.
---
• August 2021 / Clint, Jack, and Paul / Clint Bancroft's injured torreya recovered with 3 tall leaders at the top (Ocoee watershed, TN)
Aug 28 - CLINT wrote: "Earlier this year, I know not what happened, the growth tip of my oldest Torreya disappeared. I watched to see what it would do, expecting a new vertical leader to form. I was almost right! Since then, it has put up three separate vertical leaders. One is a bit taller than the other two. I have wondered about what is best to do since the tree had perfect symmetrical growth up to this point which I would like to see continue. I don't know how a Torreya with three crowns will look, I suppose one will eventually predominate and the others will kind of be like basals, but five feet up from the base. My thought is to remove the two smaller verticals in October and root them, leaving a single vertical leader. Your thoughts? This is an interesting development, an unplanned experiment, but I was disheartened that my baby (my first and oldest) was damaged and now has funky growth.

Aug 29 - JACK wrote: "The crotch angles between the 3 shoots is too narrow. Two need clipping, which is what I understand you plan to do. Deer rubs continue to be an issue here. I have some cages in place. Last year I had one plant killed to within one foot of the ground due to rubs."

Aug 29 - PAUL wrote: "I like your idea of cutting off the two (weaker) of the three terminals, and rooting them. You clearly want to keep the symmetrical growth of that plant — so do it! Usually this happens here when birds land on the new growth of spruce trees and snap it off. Usually a few shoots compete and if you cut off the weaker competing shoots, then business continues as normal. Clint, the growth for all three is strong. You are going to have two new nice plants after rooting! • Three of the six Highlands NC seeds have sprouted here (Capac MI). I also noticed that my Torreya in full sun had a second sprout of growth in late July, but the Torreya in the woods did not this year. Perhaps the ratio of sun/shade has something to do with this?"
---
• August 2021 / Connie Barlow / Torreya Guardians has a Wikipedia page and is linked from a major page
A new wikipedia page, Assisted Migration of Forests in North America was created in 2021. I noticed it in July, and because it was focused on assisted migration as it applies to climate adaptation in FORESTRY, rather than conservation biology, it was easy for me to add neutral content (required by Wikipedia) with many scholarly references. I have been compiling such academic publications for years in the Forestry section of the "Assisted Migration Scholarly Links" page on our Torreya Guardians website.
---
• July 2021 / John Patterson / Out-planted torreyas in Ohio forest seem immune to huge deer population
• July 2021 - In Loveland Ohio near Cincinatti, John Patterson reports:

"So far, of the nine torreya trees I have moved the last two years into my woods with high overhead canopies all have done well — despite the fact that this year two of the properties near me had seen a group of 18 does in their pastures one day and there are three major paths the deer use crossing my property along with between 9 and 12 bucks. Yet, only one tree has been nibbled on but little damage to the tree.

The 9 remaining trees in my garden are getting big, so I know I will have to dig deep to move them this fall."

Note: This project was started by Bob Miller, neighbor next door to John Patterson, in November 2015. See the photo-rich webpage of their combined effort.

LEFT: Tree #6.
---
• June 2021 / Connie Barlow / Torreya Guardians in article about international efforts to prevent extinctions
EXCERPT: "... But while researchers are using computer models to predict the future needs of threatened species, one group has decided that the time to act is now. The Florida torreya, the most endangered coniferous tree in the US, has been moved north by a group of citizens known as the Torreya Guardians. They exploited a loophole in US law that allows plant translocations on private land by the public but prevents federal conservation authorities from doing the same thing. The species' current range is extremely restricted but was much more widespread before the last global ice age. The Torreya Guardians argue that the specimens of Florida torreya growing across the US provide evidence that the species can thrive beyond its current restrictions."
---
• June 2021 / Lee Barnes and Daein Ballard / New Hampshire Torreya planter featured in regional newspaper
"Mason man works with organization to research new habitats for endangered tree", by reporter Ashley Saari, in Monadnock Ledger-Transcript, 9 June 2021.
EXCERPTS: Hidden away on a property in Mason, about two dozen seedlings of Torreya taxifolia are quietly growing, watched over by Daein Ballard. They may be the only specimen of their kind in New Hampshire.
... So far, since starting the project in 2014, he said the results have been about 50/50 whether the trees survive.
"It can definitely survive here, but they may not thrive," Ballard said. "They're growing more slowly than they are in the south. It's probably too far north for them here."
That's OK, he said — at the moment, his results are just a data point for where these trees might do well, and where they might not. And, Ballard said, the success or failure of Torreya taxifolia might inform how the process works with other endangered plants.
... Ballard said the [torreya] is a good test case for human assisted migration because it has such a small, niche environment where it grows in the wild.
"It's a prime example of a tree in a habitat that is no longer suited for it," Ballard said. "But a lot of trees are starting to have that problem. There are a lot of trees no longer in their ideal habitat."

... "Trees grow slower than us and live a lot longer than us. So who's to say? Maybe the climate in New Hampshire 100 years from now will be better for them. It's a long game." Read PDF of full new story.
---
• June 2021 / Connie Barlow / Torreya Guardians actions featured in new video "Helping Forests Walk"
| | | |
| --- | --- | --- |
| | | Retired now to my home state of Michigan, I just launched a new video series that builds upon the foundation laid by Torreya Guardians. I have titled it "Helping Forests Walk", and it is a more reflective series on the topic of "assisted migration" than my 2014-2020 video series filmed across America: "Climate, Trees, and Legacy". The previous series featured field experience and learnings of these native trees: Torrey Pine, Joshua Tree (5 vids), Arizona Cypress, Rocky Mountain Trees (10 species), Engelmann Spruce (2 vids), "Becoming Passenger Pigeon" (eastern USA large-seeded trees), Alligator Juniper (9 vids), Redwoods and Sequoias (9 vids), and my 2015 lecture on assisted migration at Michigan Tech U. |
This new VIDEO series will feature traditional natural history ways of observing and interpreting as a possible bridge between indigenous and modern science. The first episode is an introduction to the series. It is 52 minutes long. The section on Florida Torreya and the work of Torreya Guardians begins at timecode 26:51.
2021 END-OF-YEAR UPDATE on this new video series: Click the IMAGES above to watch any of the additional 2021 videos. Of most relevance to TORREYA is HFW 04 on subcanopy trees — as both torreya and pawpaw are featured. In that video Indigenous values are advocated as well as the "natural history" style of observation and interpretation — which is the foundation of western science.
"Thinking Like a Yew" will be very useful for any Florida Torreya planter who is also planting Florida Yew — or wishes that this glacial relict could receive the kind of attention and support that its Florida co-resident, Torreya, has achieved. Anyone interested in the technical history of the assisted migration debate in forestry will find value in HFW 02, which is a reposting of Connie Barlow's 2015 presentation at Michigan Technological University.
---
• June 2021 / C. Barlow / Video short by Verge on assisted migration includes Torreya Guardians
EDITOR'S NOTE - This is an extraordinarily well-written and illustrated short video on "assisted migration" as a climate adaptation tool. Two scientists provide the faces with quotes. The first is Angie Patterson, a plant ecophysiologist at Black Rock Forest in New York. She's the one who gathers data by shooting leaves off the full-sun tops of trees. The other is Jessica Hellmann, University of Minnesota ecologist and an author of academic papers on "managed relocation" for many years. Torreya Guardians has a cameo role, too. (See below.)
EXCERPTS OF VIDEO NARRATION: "... At first, assisted migration was controversial in academia. In fact, one of the most well known efforts was carried out by a loose collective of citizen-scientists called the Torreya Guardians. They've been trying to save the critically endangered Florida Torreya. A fungus blight brought on by environmental changes has pretty much wiped them out.

... Human-induced climate change has irrevocably altered the planet.... We have to make pragmatic decisions about what is worth saving and why. And then we probably do have to intervene.... Indigenous perspectives are incredibly important too."
---
• June 2021 / Connie Barlow / 2018 Video presentation by staff of Atlanta Botanical Garden reports 13,000 Torreya seeds produced at the Blairsville ex situ planting in the mountains of north Georgia

Note by Connie Barlow: Periodically, I revisit the Torreya taxifolia pages of the key institutions that are working with this critically endangered tree. Here in the USA, the main institutions are U.S Fish & Wildlife Service, Atlanta Botanical Garden, State Botanical Garden of Georgia, and the Center for Plant Conservation. Any significant new postings of theirs (or others) I then list and link on our own "Efforts to Save" webpage. The 2018 powerpoint VIDEO featured here was posted back in 2019, but I only encountered it this week. Here is the documentation of seeds produced in ex situ plantings

for which, just five weeks before Dr. Coffey's talk, I had submitted an FOIA data request March 2018 in order to find out. The agency (Fish & Wildlife Service) required to produce such documentation, found none for the years I asked for: 2007-2017. Yet here, a relatively new staff member of Atlanta Botanical Garden (Dr. Coffey lists her start date as June 2017 on her Researchgate page), reports the number publicly, for her first harvest season with the ex situ plantings. The revelation that 13,000 seeds were produced in one of the north Georgia sites — and the implication that some 8,000 seeds may have been uncollected and undistributed that year (and ongoingly?) — breaks my heart. We Torreya Guardians plead for seeds for our own experimental "assisted migration" plantings on private properties (and botanical gardens) in northward states. Owing to an exception just for plants in the U.S. Endangered Species Act, we have been acquiring seeds from horticultural plantings in North Carolina, but most of these sites have sorely limited genetic diversity. An opportunity to strengthen these northward ex situ plantings with broader genetics (and vastly greater numbers) would be a blessing not only for us, but for future generations trying to stave off plant extinctions as the climate crisis worsens.
PHOTO LEFT: Here is a slide from timecode 04:11 drawn from a video posted of the May 2018 presentation made by Dr. Emily Coffey, of Atlanta Botanical Garden, at the national meeting of the Center for Plant Conservation. The linked title of her 10-minute presentation:

• VIDEO: "What's New for Torreya taxifolia, North America's Rarest Conifer?"

EXCERPT: "So this year [Fall 2017] we actually had a bumper crop. We had 13,000 seeds that we collected from our Blairsville site.... The biggest issue is that they are recalcitrant so that the only way to store them is through somatic embryogenesis. We have cryo storage but 13,000 seeds is a lot of seeds. So we were not able to obviously utilize all of those seeds. But we have been able to distribute a large number of them."
Note: Barlow collected a half-dozen screenshots, with spoken word excerpts, and posted these images and excerpts of Dr. Coffey's VIDEO on a new webpage.
---
• May 2021 / Fred Bess / Rooting success of branch cuttings plus documentation that Torreya is facultatively monoecious
PHOTO LEFT: Fred Bess of Cleveland, Ohio, sent this photo of success in rooting branchlet cuttings, from the tree at Spring Grove Cemetery in Cincinnati.

EDITOR'S NOTE: Fred Bess also reports young seeds forming on both of his female trees, but what is also exciting is that he sent a photo documenting one of his "male" trees forming seeds on a branch right next to another branch producing pollen.

This is the second photo-documentation contributed by Torreya Guardians establishing that this dioecious genus is facultatively monoecious. The first was by the late A.J. Bullard, among the torreyas he planted at his home in Mt. Olive, NC.
Note: After we reported Bullard's documentation of male and female cones on the same individual, the WIKIPEDIA entry on Torreya taxifolia did shift to calling it "facultatively monoecious." But the page has shifted again, and in many ways now seems to be rather strange. So our webpage here does not link to it.
---
• May 2021 / Connie Barlow / "Assisted colonization" paper in Science signals need to call out agency and institutional failures
While our What We Have Learned webpage offers a chronological (and linked) annotated list of our achievements, there was no single page on this website where people could find and assess for themselves the agency and institutional decisions and actions that have stood in the way of helping this beleaguered relict species move north. So when Science journal published a forum piece, "Global Policy for Assisted Colonization of Species", by Jedediah F. Brodie and 7 coauthors, and because it was critical of our "unregulated" actions, Barlow decided it was time to publish the history of agency and institutional decisions and actions that she interprets as thwarting effective implementation of the Endangered Species Act in this time of rapid climate change.
• Access Barlow's May 2021 CASE STUDY: "Agency and Institutional Failures (13 identified failures).
PHOTO LEFT: Connie Barlow with Fred Bess in Cleveland Ohio, October 2018. They are examining the tallest of Fred's 4-specimen grove of Florida Torreyas, which he planted in his front yard. Nearby is a female, which bears 19 seeds.

To comply with the ENDANGERED SPECIES ACT prohibition of interstate commerce of designated plants, Fred had to drive to South Carolina to purchase the potted seedlings at a nursery in 2009. That's a distance of 780 miles, as the Passenger Pigeon would fly.
---
• May 2021 / Connie Barlow / Connie Barlow retires to Michigan and launches Pawpaw study
This is a note for our TORREYA VOLUNTEERS:
My husband and I retired to my homestate of Michigan to help out with a new grand-daughter. Torreya will always be my top priority in how I spend my time. So do keep sending me updates and photos of how your own plantings are doing. But I may be a bit slow in posting them on your site webpage and responding to you. The reason is that I am launching a citizen-science effort here to discern why some wild pawpaw patches produce fruit and others do not. Amazingly, no scientific paper yet establishes who the actual pollinators are (vs. casual visitors that don't effectively pollinate the blossoms). If you are curious — and especially if you have access to wild or horticultural plantings to spend time observing insect visitors —then do visit my Pawpaw Ecological Survey in Michigan webpage.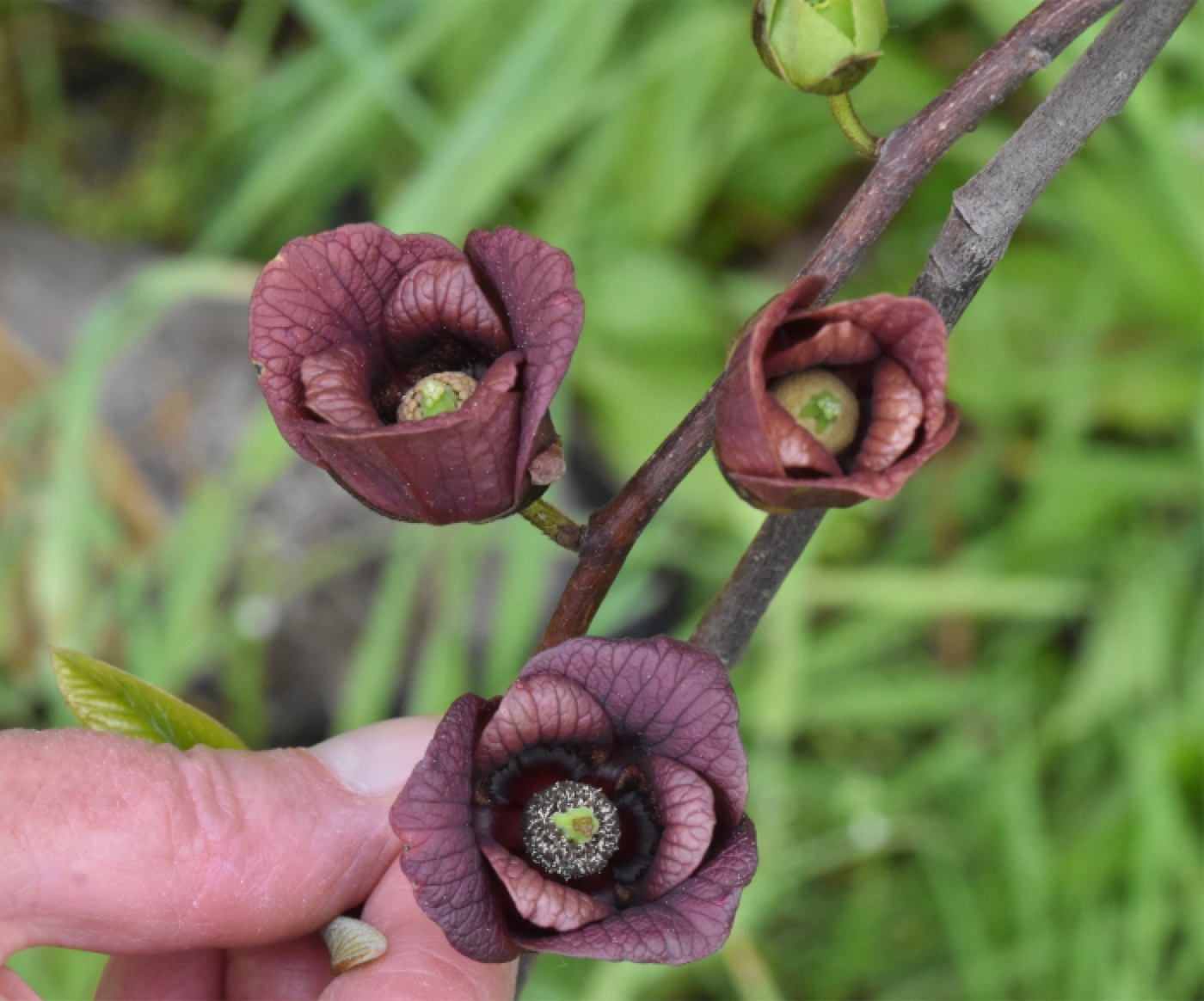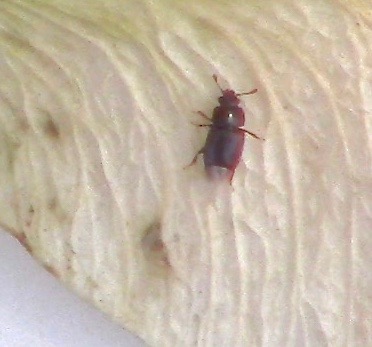 ---
• April 2021 / David Buckner and Connie Barlow / Baby photos of seedlings north of Asheville NC
David Buckner free-planted Florida Torreya seeds in March 2017, which were donated by Frank Callahan from seeds he germinated and then planted in Medford OR more than two decades ago. This month David sent Connie photos of two seedlings now visible in his forest. So Connie created a new webpage for David's Torreya site north of Asheville, NC here: Mars Hill, NC webpage. Look carefully at the photos of the two seedlings below and you will see in each an evergreen frond of native Christmas Fern — indicative of a superb planting site for torreya. Connie also added the Mars Hill site to our list of old and new plantings in North Carolina.
---
• April 2021 / Connie Barlow / Long-form essay places Florida Torreya in context of people, place, and history
A half dozen Torreya planters made sure I was aware of this beautifully illustrated, literary, and evocative essay by Martha Park:

"This Is Paradise". It was published in the April issue of The Bitter Southerner. The tagline summary:

"The rare Florida torreya tree grows only in the wild along a narrow stretch of the Apalachicola River. In the 1950s an eccentric lawyer named E.E. Callaway declared it was the gopher wood tree from which Noah's Ark was built. Today the Florida torreya is on the brink of extinction. Can the story of this tree and the people who love it help bridge the gap between science and faith?"

LEFT: Illustration from the essay, captioned "Chris Larson admires a Torreya tree at her property at Mossy Head" [FL].
Chris Larson (pictured with one of her torreyas above) bridges the usually contentious positions of residents of the deep south who are determined to keep their struggling native tree in place and Torreya planters farther north — who have been helping this left-behind glacial relict return northward since 2008. Chris owns land due west of Torreya State Park that has its own spring-fed steephead ravine. While she is determined to keep this ancient tree alive on her property as long as she can, she also says, "Assisted migration is necessary." Learn more about Chris and Robert Larson's torreyas at Shoal Sanctuary, FL. As to the essay overall, it helps us all to understand the inherent conflicts. It features the in-place dedication to historic range of scientists associated with the Atlanta Botanical Garden and the Nature Conservancy. The essay also features landowners who love their torreyas but are wary of the ways of the scientists. For an overview (with references) of the various positions, visit our own Efforts to Save webpage.
---
• April 2021 / Connie Barlow / Update on USF&WS official pages on Florida Torreya
Every time there is a change in federal administration, it is crucial to take a fresh look at the official page and the updated tabular report of actions pertaining to Florida Torreya as an officially listed endangered species. The image below entails the General Information section as it appears this month: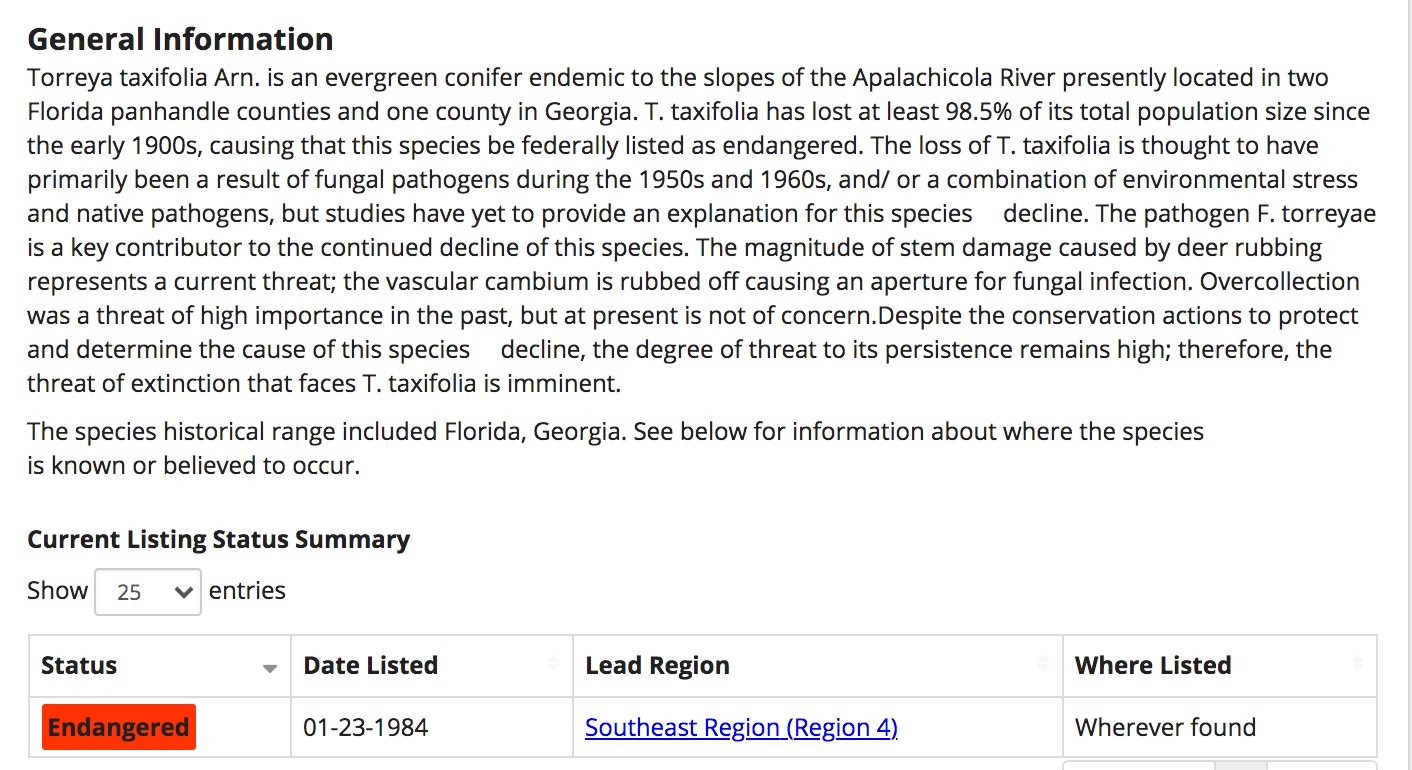 Crucially, the information in the image above signals a return to the long-standing official assessment that a variety of pathogens, none of which is categorized as non-native, entail the proximate cause of species decline. Crucially, "environmental stress" is mentioned, too. However, "glacial relict" status, which was mentioned in the draft EIS, endangered listing of 1984, and the first (1986) and second (2010) recovery plans, is not yet restored in this single paragraph. Even so, it is possible that stances of the previous administration that forced agency staff to retrench on mentioning "climate change" may continue to be rolled back. Certainly, if Florida Torreya can be recognized as a left-behind glacial relict, a rational response would be for the federal government to insist that this endangered species be offered poleward "managed relocation" before any other species is offered that level of conservation and/or climate adaptation action.
For those who remember the "Torreya Symposium" of March 2018, co-sponsored by University of Florida, Florida State Parks, and Atlanta Botanical Garden, and especially the various reportage on its results, not only was a genetic engineering proposal announced, but warnings were made that past and future translocation actions northward could put several other widespread native conifer species in danger of an implied exotic pathogen, the newly named Fusarium torreyae. Thankfully, the prospect of genetic engineering against a (wrongly) presumed exotic disease may be over. Perhaps one day the governmental staff in charge of "recovering" this species will take seriously the substantial LEARNINGS documented over the course of 16 years by volunteers known as Torreya Guardians, especially our detailed documentation of the health and seed production in horticultural plantings far north of the peak glacial refuge in n. Florida.
Two additional documents merit attention that are linked from the official USF&WS Florida Torreya page:
1. "View Implementation Progress" links to a matrix format, in which the "Comments" column is key. There I learned that "The Torreya Keepers received funding in 2019 and 2020 from Section 6 and FEMA."

2. Under the "Petitions" category, I saw that the "downlist" petition I personally submitted September 2018 is still listed and linked, but no action on it is reported.
POSSIBLE ACTIONS: As my own volunteerism within Torreya Guardians entails interaction with the federal officials, it is time for me to take another look at whether this administration might have more helpful approaches in (a) responding to my Petition to Downlist Torreya to "threatened," (b) removing from the 2020 Recovery Plan update the unjust and slanderous reference to Torreya Guardians as "a religious group based out of northern Georgia," (c) responding more accurately to a renewed pre-FOIA inquiry for documentation of "numbers of seeds and their ultimate destinations" produced each year at the official ex situ "safeguarding" sites, managed by Atlanta Botanical Garden and the State Botanical Garden in Georgia, and (d) expressly recognizing that volunteer citizen-science, such as our documentation of Historic Groves far north of native range, can accelerate moving ahead with scientifically informed climate adaptation projects for conserving native biodiversity.
---
• March 2021 / Connie Barlow / A reminder of how big genus TORREYA can grow
Ever since my visit in 2005 to 5 regions in the Coast Range and Sierras where Torreya californica grows in the wild, I have maintained a set of site-specific California torreya webpages.

My own photos from 2005 are posted — but also new photos that contributors send to us for posting on this website.

LEFT is one of 3 photos recently contributed by Eric Ettlinger of a likely near-champion torreya north of San Francisco. (Notice the large trunks of Coast Redwood directly behind him.) Visit the photo-essay we have posted of his contribution.

A number of photographs on our "About Torreya" webpage show just how big Torreya species native to California, China, and even the eastern USA are capable of growing.
---
• March 2021 / Connie Barlow / "Helping Forests Walk" is Indigenous term for "Assisted Migration"
LEFT: Title and section of the 2021 update of this webpage begun in 2008.

Motivated by the covid quarantines in 2020, my husband (Michael Dowd) and I ended our 18 years of living on the road by settling in southern Michigan. Looking around for a local native tree to serve, I have adopted the subcanopy fruiting pawpaw tree....
... In researching what is still a mystery about this tree, I co-founded the "Pawpaw Pollinator Watch citizen science project. Native Americans, I have learned, played a crucial role in assisting the migration northward of this delicious fruit as the glaciers waned. An Indigenous term for what they have achieved: "Helping Forests Walk".
---
• December 2020 / Buford Pruitt / Photo-essay of superb torreya growth, Brevard NC
Editor's note: Here are photos of the two tallest seedlings (from 2011 seed crop) growing in mature forest along Buford Pruitt's driveway near Brevard, North Carolina. Visit the Brevard NC torreya webpage to see the entire photo-essay report that Buford sent to Connie Barlow this month.
Buford finally finished building his forest home (photo right) and thus had time to photograph and record the heights and sunlight stats of all 14 torreyas.

The two tallest are shown here. Each is 71 inches tall. The shortest (in the driest site) is 13 inches tall.

All torreyas are caged. Buford reports that in his neck of the woods, uncaged trees of this height risk damage by buck deer rubbing off antler velvet. Even though some of the lower branches extend beyond the cages, no browsing is evident on those unprotected leaves.

With this stellar accomplishment of healthy, near-decade-old torreyas "rewilded" into the southern Appalachians, Buford Pruitt's project is now shown as the lead volunteer planting on the North Carolina Torreya webpage. Bravo, Buford!

Photos were taken December 2020.
---
• December 2020 / Russ Regnery / Photo comparison of 2 years torreya growth
RUSS REGNERY, rural forest site near Cashiers and Franklin NC, rediscovered one of the 6 seedlings that Connie Barlow was able to find two years earlier (November 2018). A careful survey may well reveal the other seedlings too.

NOVEMBER 2018 (left-most): A torreya growing from a seed free-planted 3.5 years earlier is still just a single stalk. By DECEMBER 2020, the same seedling evidences 2 lateral growth spurts.
See the full history of seed and seedling plantings at this site (including videos).
---